Singapore's Ministry of Trade and Industry (MTI) recently announced that the food & beverage services sector grew 5.7 percent year-on-year in Q2 2023. The government concluded that this growth was driven by higher sales volumes in food catering, cafes, food courts & other eateries, and fast food outlets.
Although this data shows that the F&B sector has recovered and experienced positive growth after the pandemic, it is still difficult for the business to attract the necessary talent and manpower. Based on data from the Ministry of Manpower Singapore in the Job Vacancies 2022 report, 16% of job vacancies from F&B services are still unfilled for six months or more.
This situation continues in 2023. The satisfaction aspect of workers in this industry remains a challenge. According to the same report, unfilled positions are generally due to physically strenuous job nature, non-conductive work environment, and unattractive pay.
How do employees and staff working in the F&B sector actually rate their companies? Are they satisfied with the company they work for? StaffAny conducted a research to find out the happiness index of F&B sector workers using assessment data from 592 companies/business entities in Singapore, Malaysia and Indonesia.
This data was collected from Glassdoor, a platform that gathers information and reviews from employees or former employees about companies. To maintain its relevance, StaffAny filters companies based on 4 sectors of F&B businesses; Food Service, Food Store, Food Manufacturing, and Restaurants & Cafes. Data was collected in August 2023.
Understanding Staff Happiness Index in Singapore
Employee happiness is critical to the success of company goals and employee productivity. However, as we mentioned earlier, many companies struggle to find the right formula to attract talent and keep their employees happy.
Based on the average employee satisfaction rating data, F&B companies in Singapore as a whole have a happiness index of 3.5 out of 5. If you look at this score, of course the level of employee satisfaction is considered quite good. But what about the reality in each sector? Here's a breakdown of the four sectors studied by StaffAny.
Happiness Score Each F&B Sector in Singapore
Before we break down the scores of each sector, let's first understand what business groups are covered in this happiness index. StaffAny categorizes F&B companies and businesses into 4 groups, namely Food Service, Food Store, Food Manufacturing, and Restaurant & Cafe.
Definition of food service is a business that is specifically contracted to customers in certain situations, such as multi-type events. Food service is also known as catering. Food store is a store that sells a wide range of food and beverage products, both fresh and packaged. Food manufacturing is a company engaged in processing, packaging and distributing products made from raw food ingredients. Companies in the food manufacturing industry make a variety of packaged consumer foods.
Of these four business groups, the data found that employees working in food service companies had the highest job satisfaction compared to the others. Food service companies had an average score of 3.63 out of 5. See the chart below for score comparison.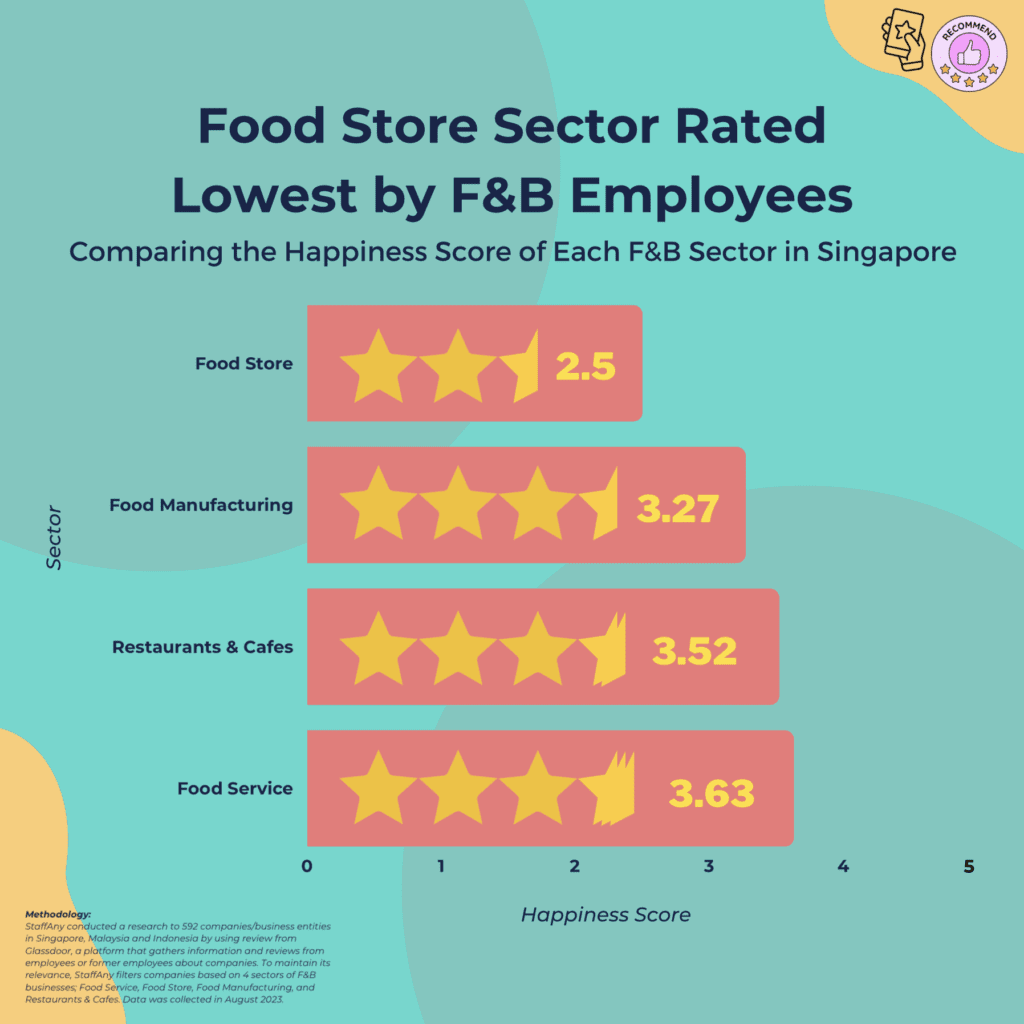 The dynamic work environment may be one of the factors why food service companies score the highest compared to other groups of companies. Food services such as catering give their employees the opportunity to work in various event locations with some other unique opportunities to network both within and outside of the industry.
Additionally, one of the biggest advantages is scheduling flexibility. Unlike a typical 9-to-5 office job, no two days will be the same. There will be many days in the week where employees will only be following leads or designing events, with easy hours and no actual catering work to do. Not to mention, Singapore is also a melting pot of cultures and activities, so there are many events that can be hosted by food service companies.
Restaurants & Cafes and Food Manufacturing sectors follow in second and third place with scores of 3.52 and 3.27 respectively. Employees of Food Stores such as grocery stores are found to be the least fond of their companies. Food Stores are generally in a monotonous indoor setting. The staff may feel stagnant, especially after working in the same position for a long period of time, as many tasks are repetitive.
Singapore Has a Happiness Index of 3.5, The Lowest Compared to Indonesia and Malaysia.
When compared to their closest neighbors such as Indonesia and Malaysia, the Happiness Index of workers in Singapore is the lowest. Indonesia, 3.7 out of 5, has the best ranking among the three Southeast Asian countries in terms of employee happiness. Malaysia follows with an average of 3.6 out of 5.
It's no secret that F&B workers in Singapore have it tough. The high pace of the industry and the limited talent makes the workload for staff higher than they can control.
However, there are a number of ways that F&B industry staff can get something more decent. For example, the Singapore government provides 7 Government Grants for F&B Businesses in Singapore so that they can keep up with the challenges, including the challenge of hiring more attractive talent.
Beyond that, business owners can also increase incentives for their staff, both in terms of salary and rewards. StaffAny itself has a feature called EngageAny that can help companies to be more engaging and increase employee satisfaction.
With the EngageAny feature, you can implement performance-based rewards that accurately incentivize your employees based on their achievements and work. No more guesswork, just consistent and fair rewards that drive results. Plus, we integrate seamlessly with your existing StaffAny system, making setup a breeze.
Learn more about EngageAny here.