If you're running an F&B business in Singapore, you'll know that it can be a challenging industry to be in. With fierce competition, high overheads, and the ongoing impact of the COVID-19 pandemic, you might be struggling to keep your business afloat. The good news is that the Singaporean government offers a range of incentives and government grants for F&B businesses to support them financially.
In this article, we will take a closer look at some of the available grants and initiatives, so you can decide which ones might be right for your business.
7 Government Grants for F&B Businesses in Singapore
There are several government grants available specifically for F&B businesses in Singapore. Here are some of the most popular:
1. Productivity Solution Grant (PSG)
The PSG is available to all Singaporean businesses, including F&B businesses. The grant can cover up to 50% of the cost of equipment, software, and consultancy services aimed at increasing productivity. This could include anything from new kitchen equipment to a customer management system.
To be eligible, your F&B business must be registered and operating in Singapore, and the equipment or services you're applying for must be used in Singapore. You'll also need to hold a minimum of 30% local share, have a company annual sales turnover of ≤ S$100 million or ≤ 200 employees, and demonstrate how the investment will improve productivity.
2. Food Delivery Booster Package (FDBP)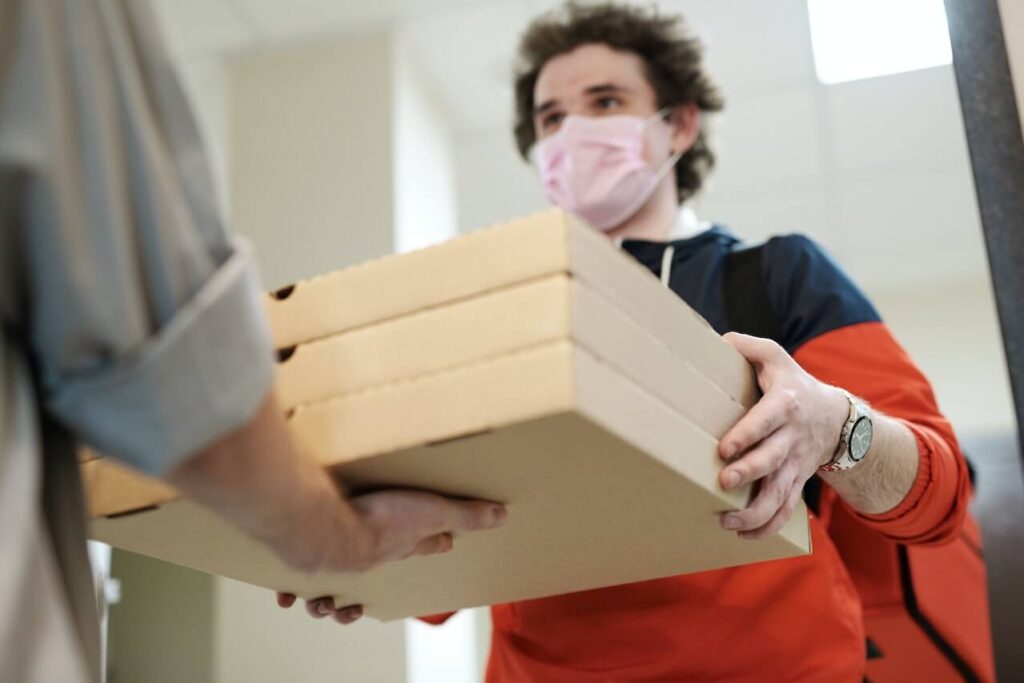 The FDBP is a grant aimed specifically at helping F&B businesses pivot to food delivery services in response to the COVID-19 pandemic. The grant can cover up to 80% of the costs associated with setting up a food delivery service, including equipment, marketing, and training.
To be eligible, your F&B business must have a physical storefront in Singapore and must have been in operation for at least six months prior to the application. You'll also need to hold a minimum of 30% local share and provide a business plan outlining how you plan to use the grant to set up or improve your food delivery service.
3. Capability Development Packs (CDP)
The CDP is a set of training packages designed to help F&B businesses improve their capabilities in specific areas, such as digital marketing, financial management, and HR. Each package includes a range of training courses, coaching sessions, and networking opportunities.
To be eligible, your F&B business must be registered and operating in Singapore, and you must demonstrate how the training will benefit your business.
Read More: A Comprehensive Guide for Small Business Human Resources Management in the F&B Industry
4. Enterprise Development Grant (EDG)
EDG is a grant that provides support for small and medium-sized F&B businesses in Singapore. Eligible F&B businesses can receive up to 80% of the grant amount. The EDG is intended to assist SMEs in their efforts to innovate, develop and transform their businesses by leveraging technology to build long-term digital capabilities. This can be achieved through various strategies, such as creating a virtual brand and developing an online-to-offline (O2O) strategy.
5. Digital Resilience Bonus (DRB)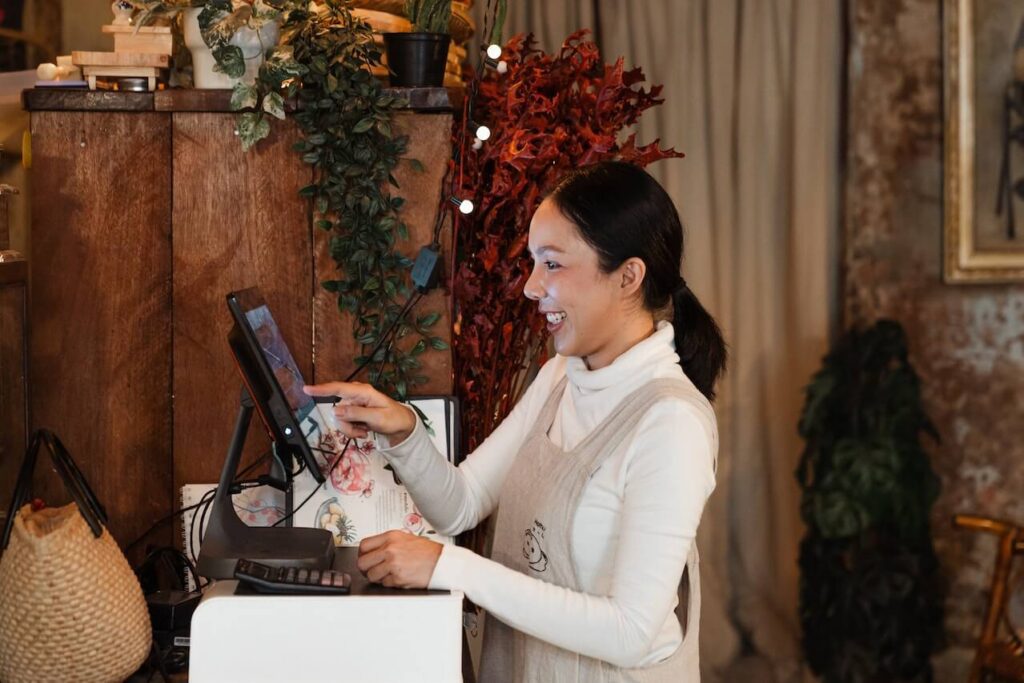 DRB is a grant that can provide small and medium-sized F&B businesses in Singapore with up to $10,000 to help them enhance their digital competitiveness and productivity. To qualify for the DRB, F&B businesses must meet two requirements: they must use Paynow Corporate and PEPPOL e-invoicing. Once these criteria are met, F&B businesses can choose which category they want to apply for.
The DRB payout is divided into three categories:
Category 1 (S$2,500 payout) covers business process solutions such as accounting, HR payroll, and digital ordering for dine-in/takeaway. If your F&B business uses any of these solutions at least once a month, you will be eligible for the payout in Category 1. For instance, if you are using the iCHEF POS system, you fulfil the criteria for Category 1.
Category 2 (S$2,500 payout) covers online food delivery platforms and e-procurement. If your F&B outlet is on GrabFood, FoodPanda or Deliveroo at least once a month, you will be eligible for the payout in Category 2.
Category 3 (S$5,000 payout) covers data mining and analytics. If your F&B business is using a qualified solution to enhance productivity, you will be eligible for the payout in Category 3. However, the list of pre-approved vendors for Category 3 has not been released yet.
6. Professional Conversion Programmes (PCP)
PCP offers subsidies for course fees for individuals aged 40 and below up to 70% and for those above 40 years of age up to 90% for F&B sector training. The program is designed to attract fresh entrants and mid-career PMETs (Professionals, Managers, Executives and, Technicians) to re-skill and shift to the F&B industry.
Eligibility criteria for candidates to apply for PCP include the following:
Singapore Citizen or Permanent Resident.
Newly hired and nominated by their employer.
Have at least two years of work experience in a different job position before joining PCP.
There are three modes of PCP, which are:
Place and Train, where PMETs are hired by participating employers before receiving training to take up a new job role.
Redeployment or Job Re-skilling, where PMETs are trained to undertake a different job role within the same company.
Attach-and-Train, where PMETs are given training and work attachments before employment.
The duration of training varies from 3 to 24 months depending on the job requirements, such as a six-month program for PMETs to become competent in managing restaurants. After completing the course, participants are awarded a certification in Food and Beverage operations from Singapore Workforce Skills Qualifications (WSQ).
7. Hawker's Productivity Grant
The Hawker's Productivity Grant (HPG) is a financial assistance program that aims to increase the productivity of hawkers by leveraging automation and technology. Hawkers can claim up to 80% of the cost of automation, which is capped at $5000 over a period of three years.
To be eligible for the HPG, hawkers must hold a valid hawker licence issued by NEA/SFA, possess a valid Tenancy Agreement with NEA with at least one year of remaining tenure, and comply with all NEA regulations. The types of automation equipment that are eligible for grants include the automatic stirrer, vacuum sealing pack machine, dough divider, and others.

Various Initiatives and Incentives for F&B Sector in Singapore
In addition to the grants listed above, there are several other initiatives and incentives available to F&B businesses in Singapore. Here is the guide to incentives for the F&B sector in Singapore:
1. F&B Sector Innovation Incentives
The F&B sector can receive incentives for innovation through the Capability Development Programme (CDP) launched by SPRING Singapore in March 2007. A budget of S$12 million has been set aside for the next three years to help enhance the capabilities of local F&B businesses. The goal of this programme is to support small and medium-sized enterprises (SMEs) in the F&B sector to develop innovative concepts, improve their service and efficiency levels, and ultimately succeed in their business endeavours.
To be eligible for the programme, the SMEs must meet certain criteria such as having at least 30% local share, fixed assets not exceeding S$15 million, and less than 200 employees for non-manufacturing establishments. The programme provides funding for up to 50% of the project cost for innovation, process improvement, food safety, and service projects. Consistent innovation and improvement are critical to success and can help F&B businesses stand out in the market.
2. F&B Sector Service Incentives
Service quality is becoming increasingly important across all industries, and it is particularly crucial in the F&B sector as it directly impacts customer satisfaction and the reputation of Singapore among tourists and business delegates. As Singapore aims to become a leading convention hub in Asia, it is imperative to improve all aspects of a visitor's experience, including the F&B sector. To achieve this, a nationwide movement called Go the Extra Mile for Services (GEMS) was launched to improve service levels.
As part of GEMS, the Customer Centric Initiative (CCI) scheme was introduced in June 2007, which focuses on enhancing service quality in the F&B segment. This initiative is a collaboration between SPRING and a few other agencies and aims to help businesses improve their service quality and benchmark themselves against industry standards. The fund is granted on a case-by-case basis, with up to 50% of the project cost being covered after a careful appraisal of businesses.
SPRING is also working with the Restaurants Association of Singapore to develop service standards for different types of establishments. This will enable businesses to identify service gaps and benchmark themselves against the established standards.
Read More: Importance of Employee Engagement in Human Resource Management and How to Improve It
3. Food Safety Incentives
The governing bodies in Singapore recognize the importance of food safety in their efforts to establish the city-state as the gastronomic capital of the region. The National Environment Agency (NEA) enforces strict quality, safety, and hygiene standards for all F&B outlets and imports, which account for 90% of national consumption.
To achieve the vision of becoming a leading gastronomic destination, it is necessary to adopt world-class standards. One way to do this is by encouraging F&B establishments to implement the Hazard Analysis and Critical Control Point (HACCP) international food safety standard. Originally adopted by food manufacturers, HACCP is now widely used in F&B outlets in America, Australia, China, and the Middle East.
The Programme provides funding of up to 50% of the costs associated with implementing international food safety standards. Each approved project must be completed within two years. This initiative can benefit establishments that plan to expand into overseas markets where food safety standards are a priority. In the current globalised environment, it is crucial to meet international standards to remain competitive.
4. F&B Sector Workforce Development Incentives
In addition to direct benefits for businesses, there are also programs and schemes available under the Local Enterprises and Association Development (LEAD) program that can help F&B associations. The Restaurant Association of Singapore (RAS) has received LEAD support to launch projects that will benefit the industry as a whole. RAS is working on projects to build a skilled and professional F&B workforce, develop market intelligence and resources for the F&B sector, and enhance the capabilities of F&B businesses.
In the service industry, personnel are a critical element, particularly in the F&B industry, where they play a vital role in interacting with customers and influencing every aspect of service. Therefore, it is essential to invest in their skills development, and the government takes responsibility for managing this by providing workforce development grants through schemes such as CRAFT for Chefs (CRAFT), F&B Workforce Skills Qualification (WSQ), WSQ Certificate in F&B Service, WSQ Culinary Scholarships, and more. These schemes subsidise course fees by offering grants ranging from 50 to 90%.
Read More: What is Strategic Workforce Planning and What are Its Benefits?
One of the most important things in F&B businesses' success is scheduling. In order to achieve success, you can try using StaffAny's free employee schedule maker to streamline your scheduling process. To learn more about our free employee schedule maker and how it can benefit your business, contact us now!