We'd say this is one of the most important articles you'll ever read because a time & attendance tool simply affects your business more than you imagine!

Besides yourself and your staff, it also spills over into internal processes like timesheets & even schedules. However, choosing smartly can save you lots of headaches — here's how:



1. It must capture time records, accurately
A great time/attendance system should get you accurate clock-in and clock-out time records. This means:

(1) staff can only clock-in/out for themselves
(2) staff only clock-in/out when they've actually, physically, reached their workplace
(3) staff cannot come super early just to clock-in and clock more pay
(4) or stay longer just to "clock OT pay"

Sounds like basic requirements, but you'd be surprised how traditional time & attendance tools may not tick off all the requirements here. Having accurate records is what helps businesses optimise labor costs. It's also the way to avoid losing over 90k a year due to time theft.

2. It should give you "clean data"
Businesses track time, to process payroll accurately and pay employees on time. So imagine the nightmare your HR has when they have to transfer time records from paper to computer: like hmmm, did this staff write 3, or 8? And over here… is it 0 or 9 ah?

Difficult to read records, or missing records give HR a huuge headache when the month end comes. However, reviewing CCTV records and double checking records with staff only stirs mistrust and inefficiency in the team. This is significant because poor data quality can set HR back 2-3 more days per month. (Yes, that's almost one month's salary of your HR executive!)


3. Bonus: It helps with your timesheet calculations
HR spends a bulk of the month-end neatening timesheets for payroll. For businesses without a digitalised and seamless process from attendance to timesheets, this is a Struggle. Manual transfers, or eyeballing every row line by line on Excel just to ensure each employee's data is correct, just ask your HR about it!
An integrated time & attendance solution, that not only captures clock in and clock out, but also does timesheet calculations for you, is going to save you loads of time.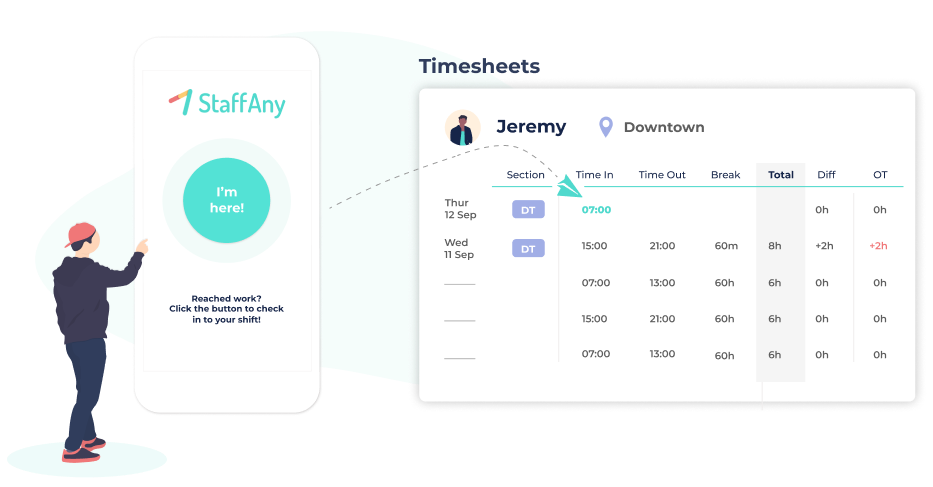 Yep, we do exactly that ????
4. It should improve staff punctuality
Staff lateness tends to be the last thing managers bother to work on. "Wah.. you know how many times I've already told them, don't be late?" We feel you, but nagging doesn't seem to work, does it 🙁

While traditional time & attendance solutions can't "talk to your staff", digital time & attendance apps like StaffAny can. Staff get immediate feedback about their performance:
"Hey! You were late 3 times this week! Clock-in on time!"
"Don't forget, your shift starts in 1 hour! :)"
Since time records are linked to pay, staff have their own incentive to come on time. Don't belittle the power of such notifications – our customers have seen up to a 50% reduction in lateness, without them even saying a single word 🙂
5. Bonus: It's linked to your schedules
To all businesses in the blue collared industry: the numerous types of shifts can be quite overwhelming. What's worse is having to link them to the time/attendance records when processing payroll!
If your business is in the shift work industry and deals with part-timers and full-timers, you must consider the over-arching impact of the choice of the time & attendance solution. How does it integrate with my schedules? What complications may arise? What do I need to optimise, and what can help me get there?


6. Powerful ones help your managers manage the team more easily
Imagine how beneficial it is for managers (or yourself) to have real-time visibility of who has reached – without needing to be in store? If this flexibility and ease is something crucial to your business, you need something better than punch cards or biometrics.

Without needing to ask on WhatsApp group chats, call in, or check the CCTV, managers simply open their mobile phones from anywhere on earth (with an internet connection) and see who is in, late or absent. Ta-da 🙂
7. It should be easy to set-up, use & maintain

Lastly, don't forget to consider these factors:
Is hardware required?
How reliable is the hardware; how often does it break down?
What are repair fees like? Maintenance fees?
Can I foresee me growing with this tool as I expand in the future?
Is this tool user-friendly for young and elder staff?
Are they user friendly for both staff and also HR?
Is there customer support, is it local and immediate?
A time and attendance tool grows with your business, so you want to ensure longevity with all parties involved: staff, managers, HR, as well as Operations.

Make an informed choice
With these 7 factors, we hope these helped you to ponder deeper about your team's needs and the most important considerations for your time & attendance tool.
Managing part timers & full timers and optimising HR/Ops processes is not that straightforward. A time & attendance tool (or any HR or Ops related tool) will surely impact the business – both the people and processes affected.


Want expert advice?
StaffAny has been in the time & attendance, timesheets and scheduling space in the blue-collar industry since 2018. Working with over hundreds of such companies, we're aware of the in-and-outs of this industry as well as understand the multitude of concerns and needs based on the different stage of the business.

We'd love to chat with you to understand your challenges and needs – and definitely if we would be a good fit! Simply fill in this form and we'll be in touch 🙂