When it comes to owning a business, large or small, creating the perfect work schedule is something many managers strive to do. Of course, there will always be implications that come with balancing work-life and de-conflicting schedules. However, technology has increased the effectiveness of planning around these events with in-app communication and private messaging.
The best work schedules should have every shift with the appropriate number of people working in every available role. Be aware of peak hours and festivities that could potentially cause a spike in customer activity while planning. All your staff should be accounted for.
The three most common mistakes that employers make when making their schedules are:
1. Scheduling a worker twice, working in different positions
2. Scheduling an employee with a task they haven't performed before or been trained to do so yet
3. Under-scheduling or over-scheduling certain employees
With businesses and teams learning to work more independently or at home, scheduling people for particular projects and different shifts can be confusing and even overwhelming. With these selected work scheduling apps, our smartphones can now be turned into an efficient work scheduler.
---
The Best Work Scheduling Apps
StaffAny is a scheduling app with a vision to create a productive workplace environment, anytime and anywhere. Made for businesses who want to scale, StaffAny is like a personal assistant that keeps track of your employee's timesheets and work schedules.
Better manage your manpower budgets, track overtime hours, and see everyone's schedules – all on one single screen. Schedules can be easily amended and sent to your staff with a single click. Instantly notify your team of any changes to your work schedule. Part of a productive workplace is a connected workforce – how StaffAny envisions the future of the hourly workforce.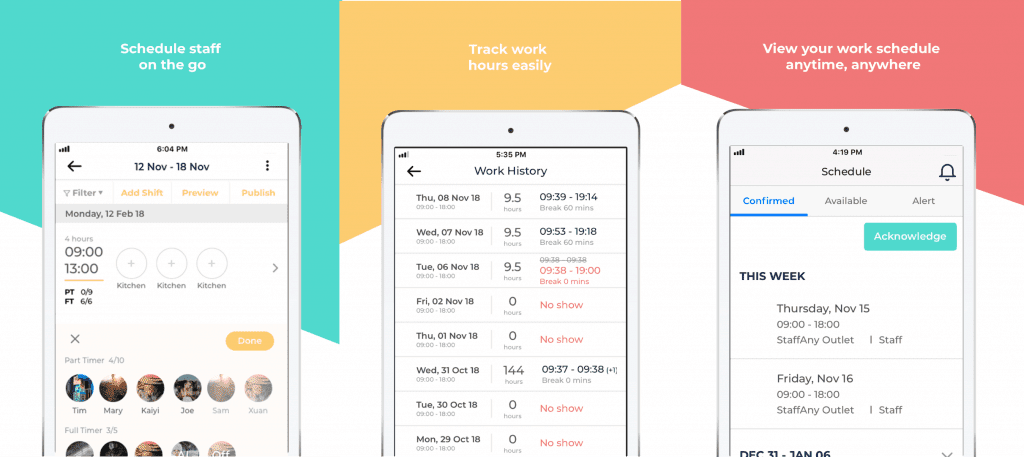 When I Work is a mobile app that helps constructs schedules, sends them out to all employees, and allows the user to receive quick feedback on the work hours. When I Work is a free planner for smaller businesses with under 75 employees, and has 2 paid plans for bigger-sized companies.
With large companies, there are just too many locations that require your attention as an operations manager. If you enjoy creating schedules from templates, When I Work has pre-made templates for convenience.
The work chat feature on this app encourages workers to communicate freely and quickly with their managers about any complications. The manager can then promptly update the published work schedule and re-release a new schedule to everyone on their roster with one touch.
Homebase is a very organized tool for viewing logistics, schedules, and finances for brick and mortar businesses. Workers' shifts can be made, managed, or switched with this app. Similar to When I Work, there are free plans, essential, and premium. Despite being limited to one storefront, Homebase allows for an unlimited number of employees to be scheduled.
As more and more work schedules are created and sent out to employees, Homebase recommends schedules based on your staff's availabilities and requested time-off through in-app communication and automation. Users can post pictures in the work chat and communicate with their fellow workers for easy schedule swaps.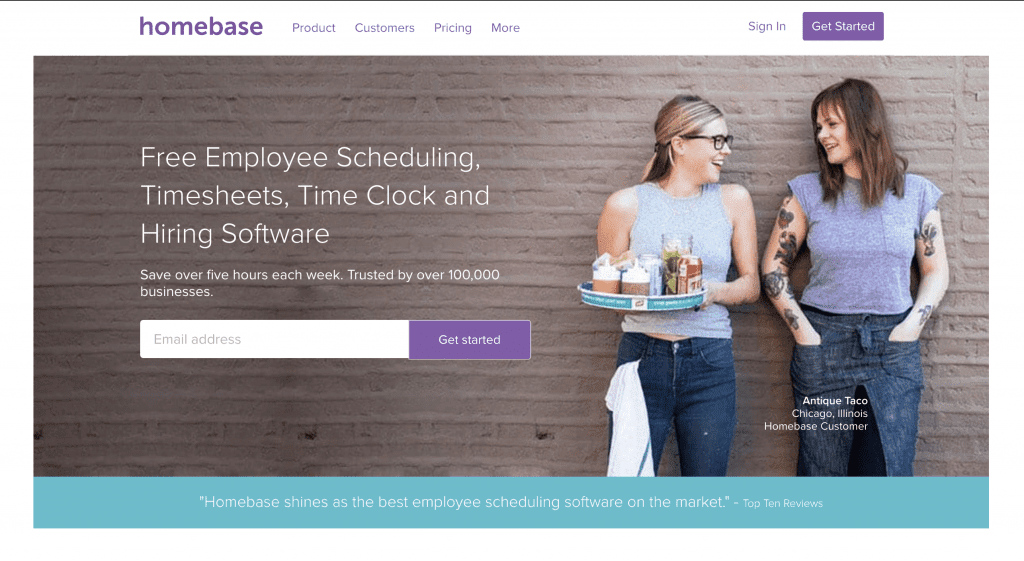 Deputy's mobile and web app has the ability to schedule people from multiple storefronts yet prevent over-scheduling.
Deputy's basic plan starts from $2.50 per month with every employee. Their unlimited number of locations and employees makes it convenient for larger industries and businesses. With several added features such as offering insights for future consumer purchases, Deputy can even predict when to schedule more or less workers.
Find My Shift is great for a multi-level brand or business. The pricing plan is straightforward – a flat rate of $35 per team for an unlimited number of members. Many companies take advantage of this pricing when they have multiple teams with a large array of workers. Scheduling is easy with its drag and drop features. The app also allows managers to contact their workers (and vice versa) through SMS messaging.
Find My Shift has timed features such as releasing schedules on a certain day or time on a periodic basis. When employees log in through their app, they will be able to see their updated schedules and request for changes. You can even sync your Find My Shift's mobile app with Alexa and Google Home, and get ready to ask when your next shift is.
Sling is a satisfying and visually appealing scheduling app that gets the job done quickly and efficiently. Schedule your employees in a breeze with the helpful hints that Sling provides. Sling notifies you in the occasion of any conflicting schedules or double-booking of your employees.
The set up process is easy – simply input the names and roles of your staff. To stay consistent with scheduling, Sling has a repeating shift option that replicates or creates a similarly-styled schedule which can prove to be beneficial for long term use.
Sling's news feed will allow all or selected team members to communicate about any schedule conflicts. Your staff can supplement the chat by uploading any comments, files, pictures, or videos. One thing to note is that only higher-level plans come with time-tracking and payroll plans.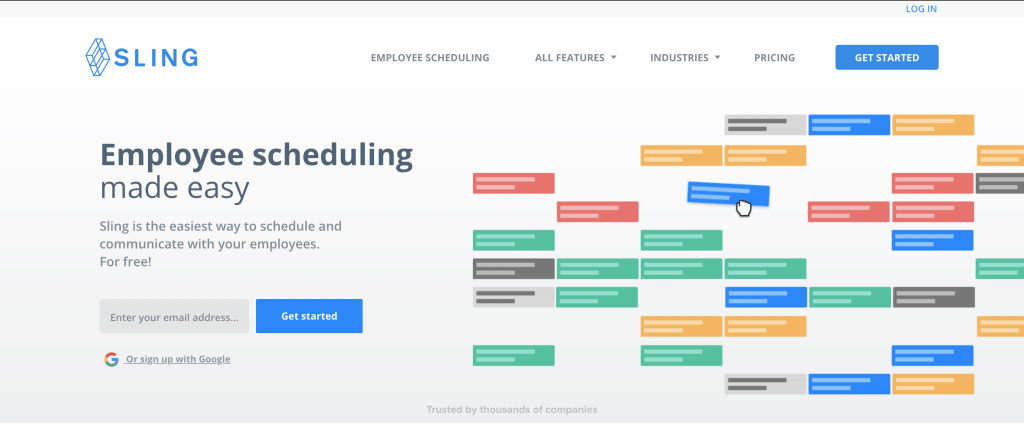 ---
We understand that it can be painful scheduling your staff and tracking their work hours with Excel sheets and pen-and-paper. Fortunately, automation has once again made the job easier, so businesses can be more productive. Schedule a call with us today to find out how we can help you save up to 60% of your time taken to create rosters and consolidate timesheets!