Time tracking tool, time management system, timeclock, time attendance system – whatever it is, business managing shift workers have one. Whether your choice was the most suitable for you: check out this ultimate comparison on the pros, cons and pricing differences of punch cards, biometrics & mobile apps.
P.S. If you haven't yet, check out the 7 things you Must know before choosing a time & attendance tool. We cover all the grounds there so read that first, then come back to this 🙂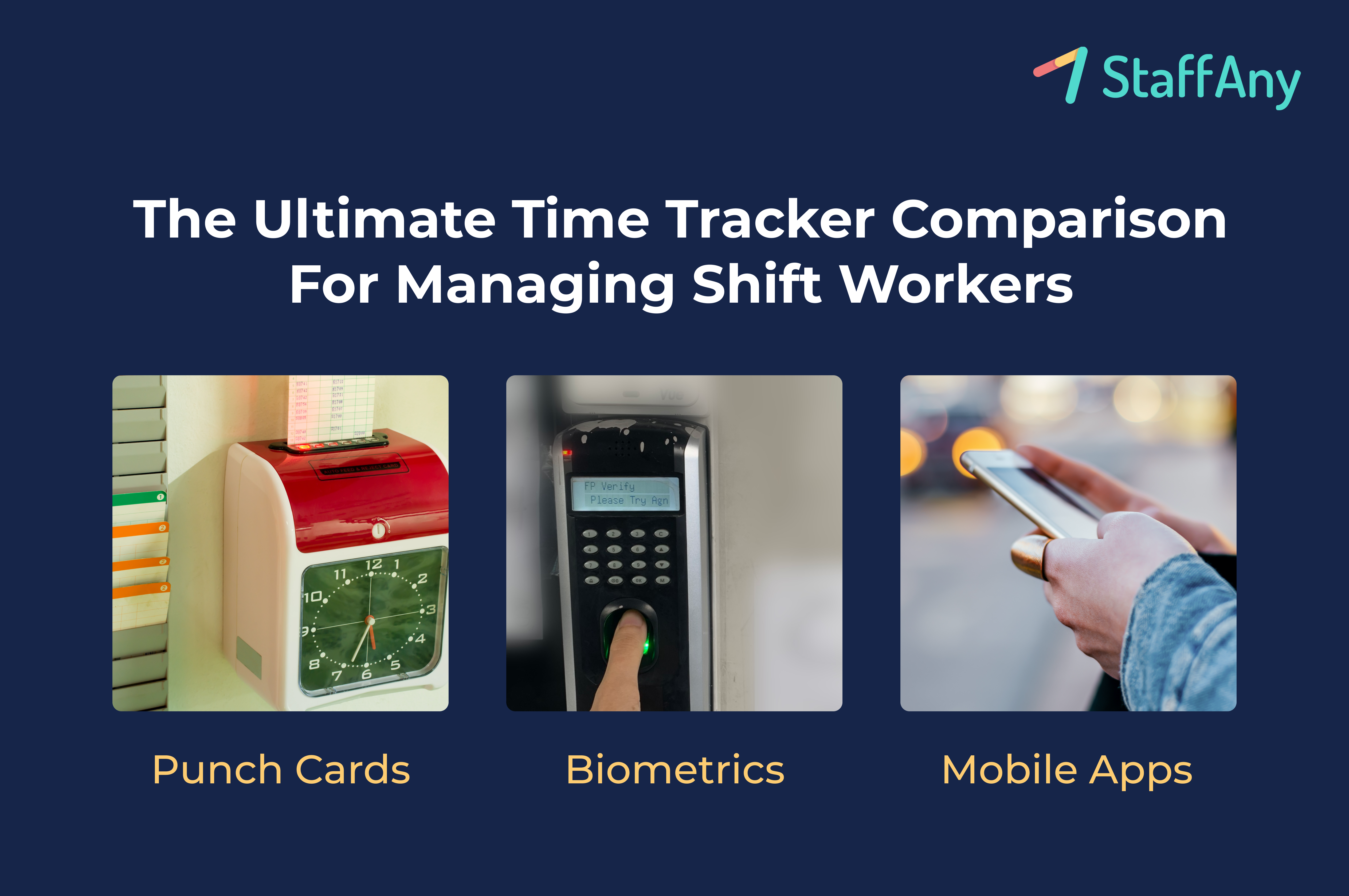 1. Punch Cards
When starting a business, it makes sense to focus on a few things: a great product, good customer experience and smooth operations. You care about:
The traffic
If the customers liked your stuff
If operations and processes are running well
Everyone should know how awesome you are!
Moreover, after a huge capital investment, punch cards seem affordable and convenient. It's like the default "starter-pack" for businesses managing shift workers.
However, when businesses evolve without upgrading operational tools, that keeps them stuck in low productivity and poor efficiency.
Once operations are stabilized: the priority is optimizing costs, enlarging profit margins and increasing efficiency. HR then realizes that transferring punch card records to Excel every single month is taking up an annoyingly big amount of time (not to mention the calculations one by one!).

That's frustrating because manual work keeps you from spending time on important stuff (like hiring, right HR?)
Price:
Punch card machine: $100 on average
Punch card: ~$10 for 100 pieces
Total damage per location: <$200
Advantages:
Pretty no brainer: slot your card into the machine!
Clock-in can only happens when at least 1 person is at work
Disadvantages:
Machine failure – at times
Kind of old fashioned
Buddy punching – punch in for your friend and celebrate with extra cash: earlier clock-ins, later clock-outs
Manual work – HR still has to transfer those numbers manually every month end to process payroll, which can take 2-3 days per month.
Suitable for:
Businesses who prefer starting out with the traditional way of doing things
Businesses that don't find the monthly extra admin work a hassle, yet
Punch cards are okay, but just… okay. Check out how Jasmine from The Royals now gets her timesheets done in a few hours after ditching punch cards!

2. Biometrics System
You're probably a little bit more tech savvy if you're a biometrics user. A clear level-up from punch cards, you get an extra layer of accuracy because now, nobody can clock-in for a friend. Accurate clock-in timings means paying your employees accurately; you're not shortchanging them, or yourselves (smart!)
Again though, system issues sometimes only happen down the road. Complaints about biometrics often involve machine breakdown affecting timesheet data, as well as some machines being unable to recognize faded thumbprints of older workers.
As a stand-alone tool to track attendance, biometrics aren't too bad. However, when the team realizes the inefficiency in
Having to match shift timings to clock-in data, and
Still having to manually do timesheet calculations
The question is now: must we do it this way? Is there a better way to link time tracking from scheduled shifts, clock-in clock-out records, and calculated timesheets? Price:
Biometric hardware cost: $600-$1000
Biometric repair cost: $500
Total damage per location: $600-$1000
Advantages:
Secure clock-in (nobody can clock-in for you; it's fingerprint based!)
Disadvantages:
Still doesn't solve admin work of neatening timesheets every month end
Elderly shift workers may have difficulties clocking-in
Suitable for:
Businesses who prioritize accurate time records
Businesses who purely want to track time but still can tolerate the monthly extra admin work
Businesses who don't consider it beneficial yet to integrate time & attendance with other processes like scheduling, leave & timesheets
Overall Rating:
Feel the inertia as you think of your biometric machine? Yes, it's painful doing away with an expensive hardware investment. But check out how Tea Tree Cafe reduced cost equivalent to 50% of manager's salary when they switched out of biometrics.
3. Integrated Mobile App
And saving the best for the last – a tool like StaffAny that integrates them all: scheduling, time tracking & timesheets! Clearing out inefficiency in basic processes helps your team to work on actually growing the business, rather than:
Matching time records across Excel
Calculating OT line by line
Spending time "wondering" if the records are accurate
Losing costs to time theft and hardware repair
With a proper secure record, HR, Ops and your team is all looking at a single system for the information. Transparency means a much smoother payroll for you 🙂
Price:
Cost: depending on your team's needs, can range from $49 to $99/month
Total damage per location: maybe… none?! Check out why:
Advantages:
Potentially save 50% of your manager's salary like Tea Tree Cafe
Save on sneaky time theft that could hold you back up to 90k/year
Save up to 70% of your manager's time spent planning & coordinating schedules
Ease of communication with staff
Reduced staff lateness..
And many more 🙂
Disadvantages:
You might take awhile to get used to the extra time you never had!
Based on cost price comparison alone, more expensive than punch cards & potentially biometrics
Suitable for:
Businesses that wish to do away with manual work and free up time to grow their business
Businesses that wish to digitalise & reap the benefits of reduced labor costs
In sum
With that, considering your business stage and needs, choose the best one and don't forget that your entire business (manpower, strategy, structure, tools and equipment) should evolve with you 🙂
If you're dealing with shift workers, a solution made to suit the shift work industry is what would really benefit you.
Ready to make a change?
We're opening a free consultation session this week for businesses currently using punch cards & biometrics. Share your concerns and needs with us – based on the businesses big and small we've worked with, our experts may be able to share a tip or 2 with you too! 😉