Perhaps you are an event planner or agency who regularly hires freelancers for your events, or depend largely on freelancers for your social media management. You might have had great experiences working with gig workers, and wondered:
Can I rely on more gig workers for my ongoing business operations? When should I hire full-time staff and when should I hire more gig workers to streamline by costs?
While certain industries such as the advertising and marketing industry may already rely on large numbers of gig workers (including freelance writers, web designers and developers) for daily operations, a business owner in a different industry might be highly skeptical.
Here's what you need to know when deciding to hire full-time workers or gig workers for your business.
Employment Types in Singapore Explained
Full-time Work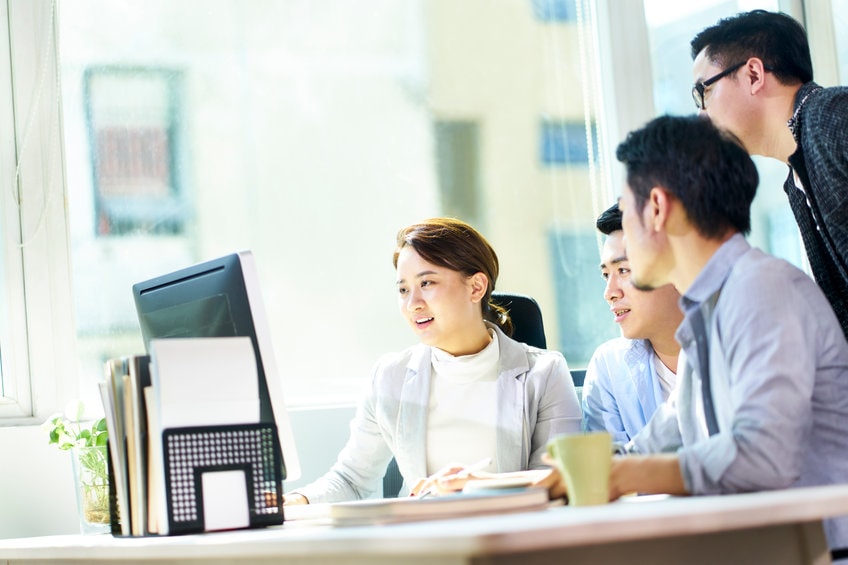 Full-time employees are hired to work regularly for more than 35 hours per week. They work under a fixed-term contract or an employment contract that doesn't have an end date.
Generally, full-time staff are covered under the Employment Act and are eligible for statutory benefits.
Minimum Number of Hours Worked Per Week
An Employment Contract should specify the minimum number of working hours in a day, weekly working days, and weekly rest days.
Employees should not work more than 44 hours per week or nine hours per day if you work 5 days or less a week, and this becomes eight hours per day if you work more than 5 days a week. Otherwise, overtime pay applies for extra hours worked unless you earn more than $2,600 for a non-workman and $4,500 for a workman.
Employee Benefits
Employee benefits in Singapore include health insurance, medical leave, annual leave, performance-related bonuses, CPF contributions, and family (childcare, paternity, and maternity) benefits.
Other Legal Obligations
Employers should be aware of other legal obligations, including the need to safeguard confidential details of their employees, providing a safe work environment as well as their responsibility as per common law.
Part-time Work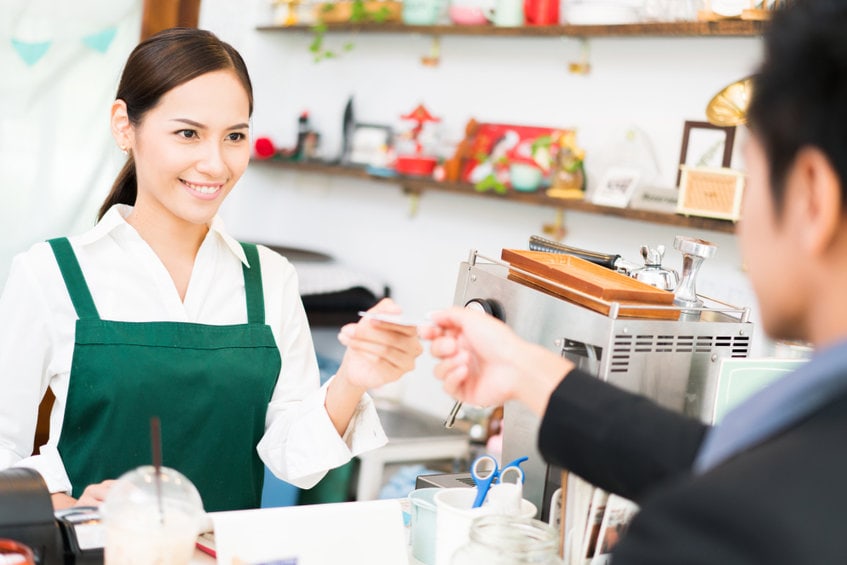 Part-time employees are also hired to work regularly, but they work for less than 35 hours per week. They work under a fixed-term contract or an employment contract that doesn't have an end date.
Unlike in some other countries, part-timers in Singapore enjoy some of the same benefits as permanent staff if they have a Contract of Service! Part-time staff are covered under the Employment Act, so they are eligible for statutory benefits. However, some benefits such as annual leave may be prorated depending on the number of hours worked as compared to the hours worked by a full-time employee.
Maximum Number of Hours Worked Per Week
Under the classification of a part-time worker, employees should not work for more than 35 hours a week. Otherwise, overtime pay conditions will apply.
Contract Work and Temporary Work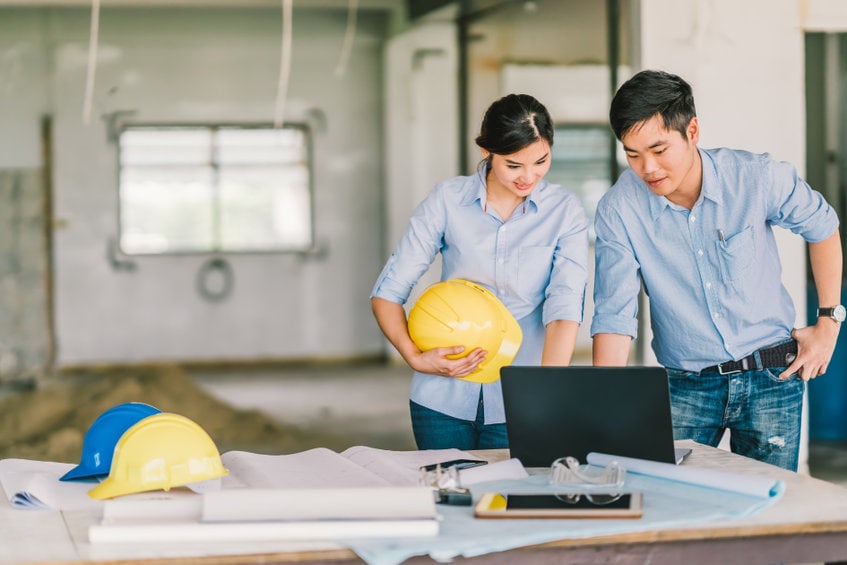 Many gig workers are contract workers or temporary workers. Contract or temporary workers may sign a contract to work on an assigned project or for a certain period of time.
Temporary workers and contract workers in the gig economy are eligible for coverage under the Singapore Employment Act provided they agree on a Contract of Service. This means that they can enjoy government paid leave and employee benefits, subject to certain conditions and the terms of their contract.
However, contract workers may not be eligible for certain privileges like medical insurance and bonuses, which permanent staff are entitled to.
Maximum Number of Hours Worked Per Week
Temporary and contract employees who have a Contract of Service will have similar requirements to full-time staff where they should not work more than 44 hours per week or nine hours per day if you work 5 days or less a week, and this becomes eight hours per day if you work more than 5 days a week.
However, they may not enjoy employee benefits such as annual leave, performance-related bonuses, health insurance, and annual wage supplement.
Self Employed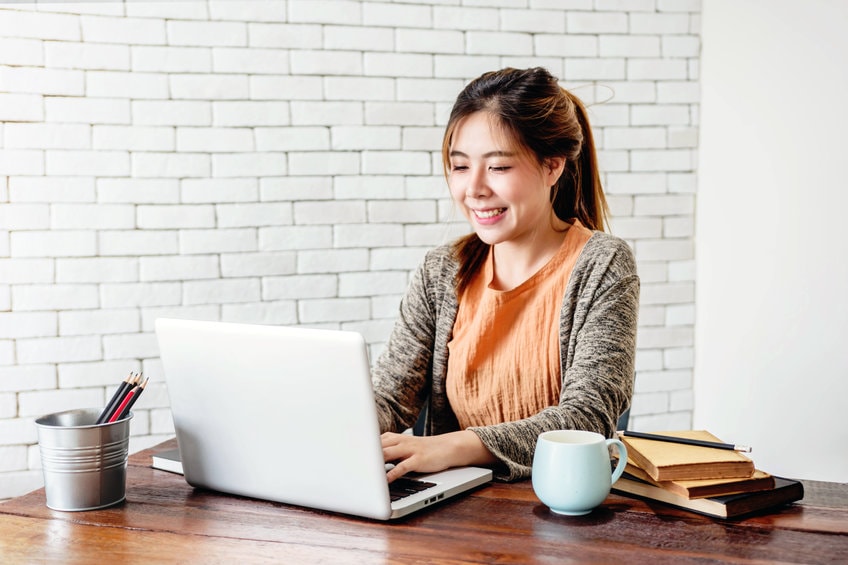 Freelancers, self-employed individuals, and sole proprietors are not considered to be employees. They may earn income by running a business or carrying on a vocation, trade, or profession.
They are core parts of the gig economy which has gotten a huge boost in the past few years. While more people are taking on gigs to supplement their income, an increasing number of people are becoming "full-time" gig workers. Own account workers (full-time independent contractors and freelancers) have increased from 8.6% in 2010 to 9.7% in 2020, while a recent study by the Manulife Investment Sentiment Index (MISI) showed that 31% of Singaporeans perform digital tasks in the gig economy, at least on a freelance basis.
However, as independent contractors, they are not eligible for coverage under the Employment Act. They are also not eligible for any statutory benefits like rest days and overtime pay, coverage or other employment benefits if they agree on a Contract for Service with their client.
They are considered to be traditional businesses working with clients which could be other businesses or professionals. There are no limitations on the number of hours freelance workers can work each week or the number of gigs they can take up.
Eligibility for CPF Contributions and Government Paid Leave
A worker's eligibility for CPF contributions and government paid leave can vary depending on whether they are a full-time, part-time or temporary worker. The eligibility is also different for a self-employed individual or freelancer. Here are the differences you need to know.
| | | | |
| --- | --- | --- | --- |
| | Full-time workers | Part-time and temporary workers | Self-employed or freelancers |
| Eligibility for CPF Contributions | Eligible. Employers must make monthly contributions without fail and the amount can vary depending on the employee's age, salary and citizenship. | Eligible if the following conditions are met: Singapore Citizen or Permanent Resident Employed Earning at least $50 per month | No CPF contributions needed. Self-employed persons with a Net Trade income of more than $6,000 have to make Medisave contributions. |
| Eligibility for Government Paid Leave | Eligible if workers have been with their current employer for at least 3 months. Each employee is eligible for at least seven days of annual leave during the first year of work. In Singapore, however, the norm among companies is at least fourteen days of annual leave each year. | Eligible if workers have been with their current employer for at least 3 months. They are entitled to paid annual leave and may also be eligible for childcare, paternity and maternity leave. The leave will be prorated according to the number of hours worked. | No eligibility for paid leave. |
Contract of Service vs Contract for Service
While the names sound similar, the implications of a Contract of Service are very different from that of a Contract for Service.
A temporary employment relationship between the employer and the employee is formed when you sign a Contract of Service. One person agrees to be employed by the other person, while the other person agrees to employ the person. The understanding is that the employee does business for the employer. On the other hand, a Contract for Service is between a client and an independent contractor, and the contractor does business on their own account.
Anyone with a Contract of Service is eligible for employment benefits under the Employment Act, but benefits don't apply to those with a Contract for Service.
Pros and Cons of Hiring Full-time Employees
Pros of Hiring Full-time Employees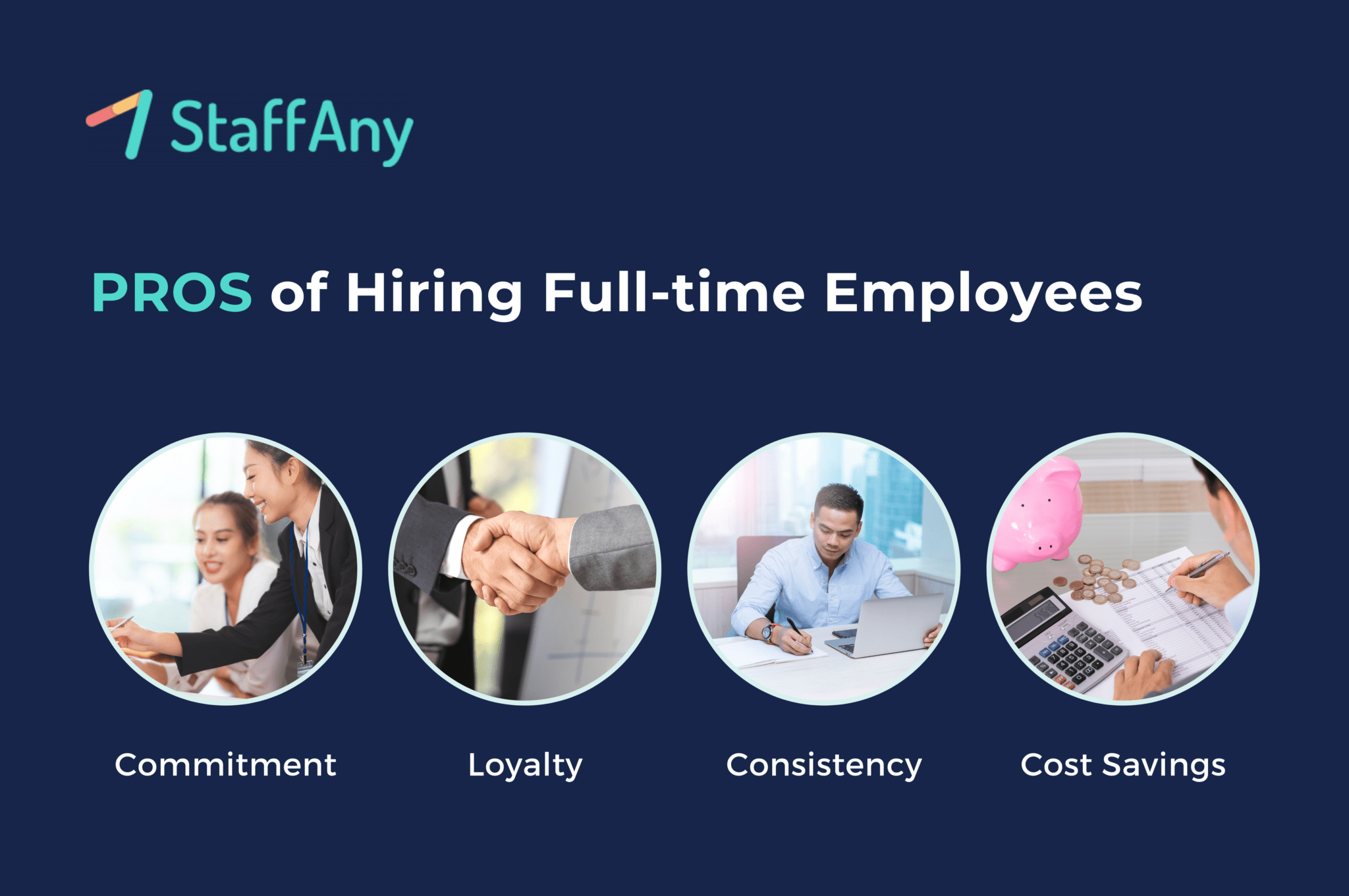 Commitment: Full-time employees are more likely to remain committed to their work, particularly if they get attractive employee benefits. They have signed a legal contract of employment which may enforce notice periods before termination, and employees are subject to performance reviews. Bonuses are typically awarded based on the performance review to incentivise good performance.
Loyalty: Full-time employees tend to be more loyal to the employer. Your employees have signed a contract after all, and cannot leave their jobs at short notice.
Consistency: Have a long-term project and need a single point of contact? It may be a better option to hire permanent employees. This is because they provide a reliable point-of-contact for customers and clients and can work on the project for the entire timeline.
You don't have to constantly re-train people and don't run the risk of losing knowledge from the company. Clients may also have a better impression if they have a point of contact that has been around long enough to understand their needs well. A employee may even be a major part of the reason why a client chooses to work with you, and you might be thankful that you have them as a full-time staff!
Cost savings: A full-time worker usually receives a monthly salary that is fixed.
If they can take up multiple roles in the company, they can save your business a lot of money in the long term as opposed to hiring freelancers or part-timers to fill different roles. It's a win-win situation, since a full-time worker also can get more exposure and development!
Cons of Hiring Full-time Employees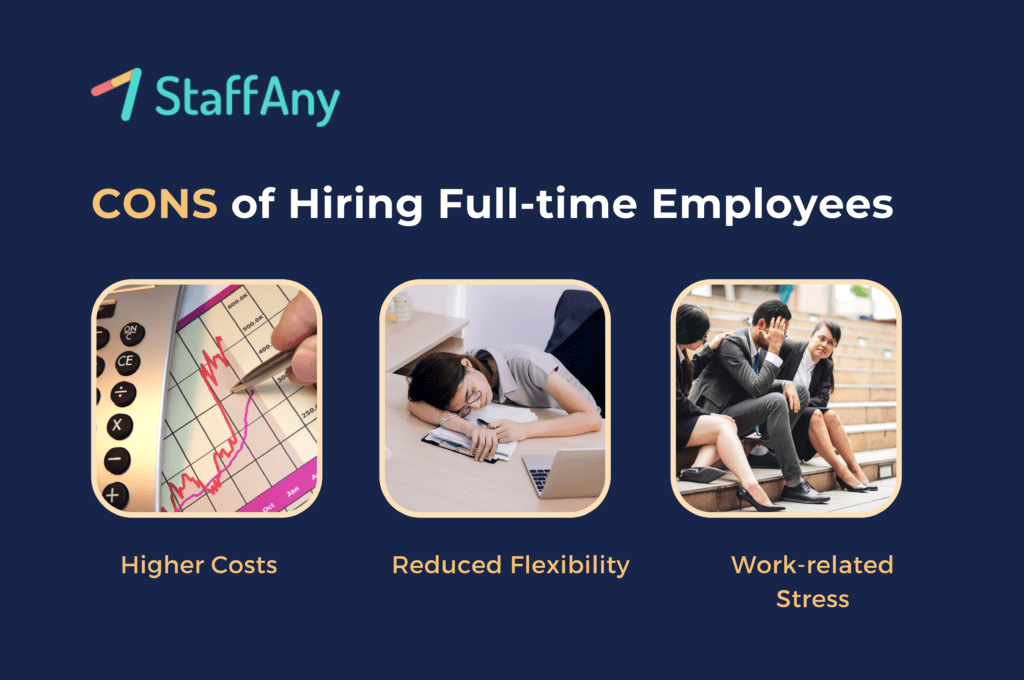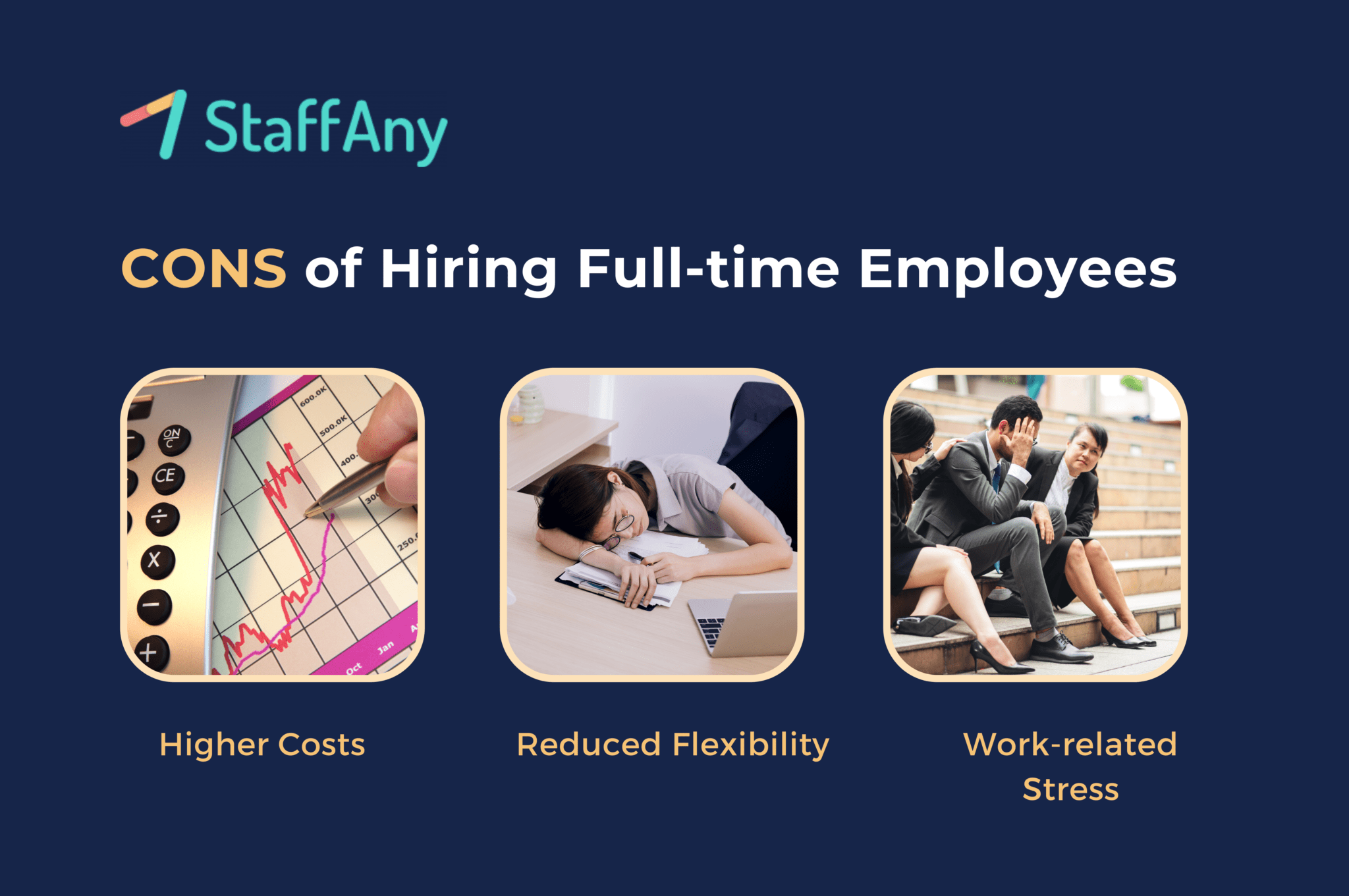 Higher costs: Hiring a full-time employee can result in extra costs for businesses since the company needs to offer employee benefits and make more CPF contributions since they typically work for longer hours.
Reduced flexibility: Permanent employees have a fixed number of working hours in their contract.
If there is a downturn, employers may find it hard to easily reduce headcount or fully utilize manpower resources. It can also be harder to reduce employee expenses as a result.
Work-related stress: Employee burnout and stress due to working for long hours may decrease productivity. If there is a toxic workplace culture and unhappy employees, staff may eventually leave to find another job.
Businesses thus have to invest into resources to improve employee engagement and satisfaction, which can increase operational costs.
Pros and Cons of Hiring Gig Workers
Pros of Hiring Gig Workers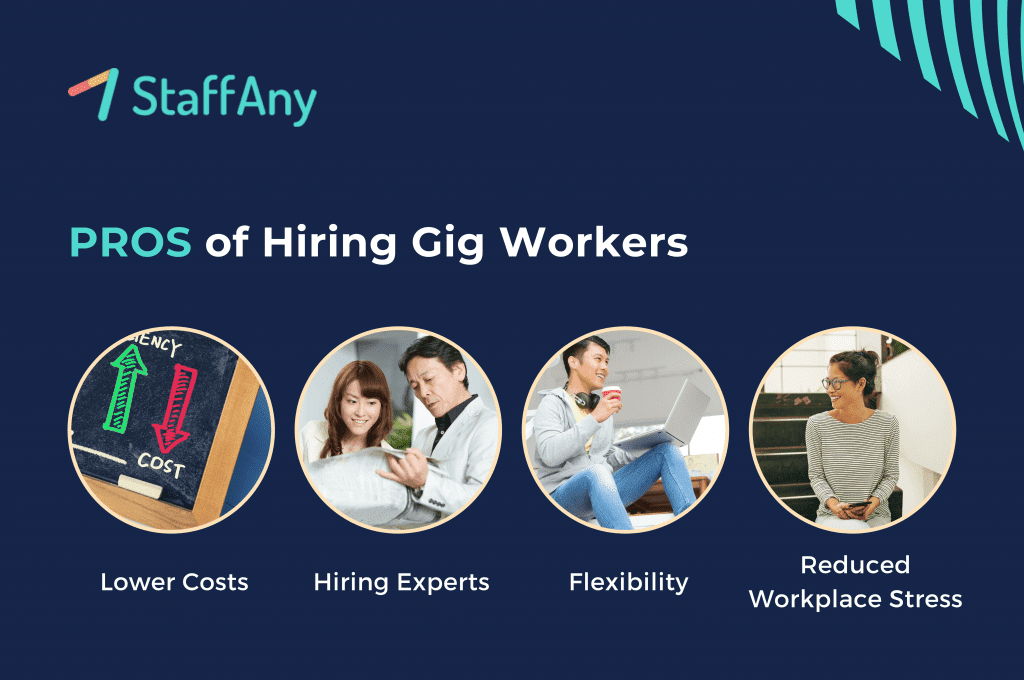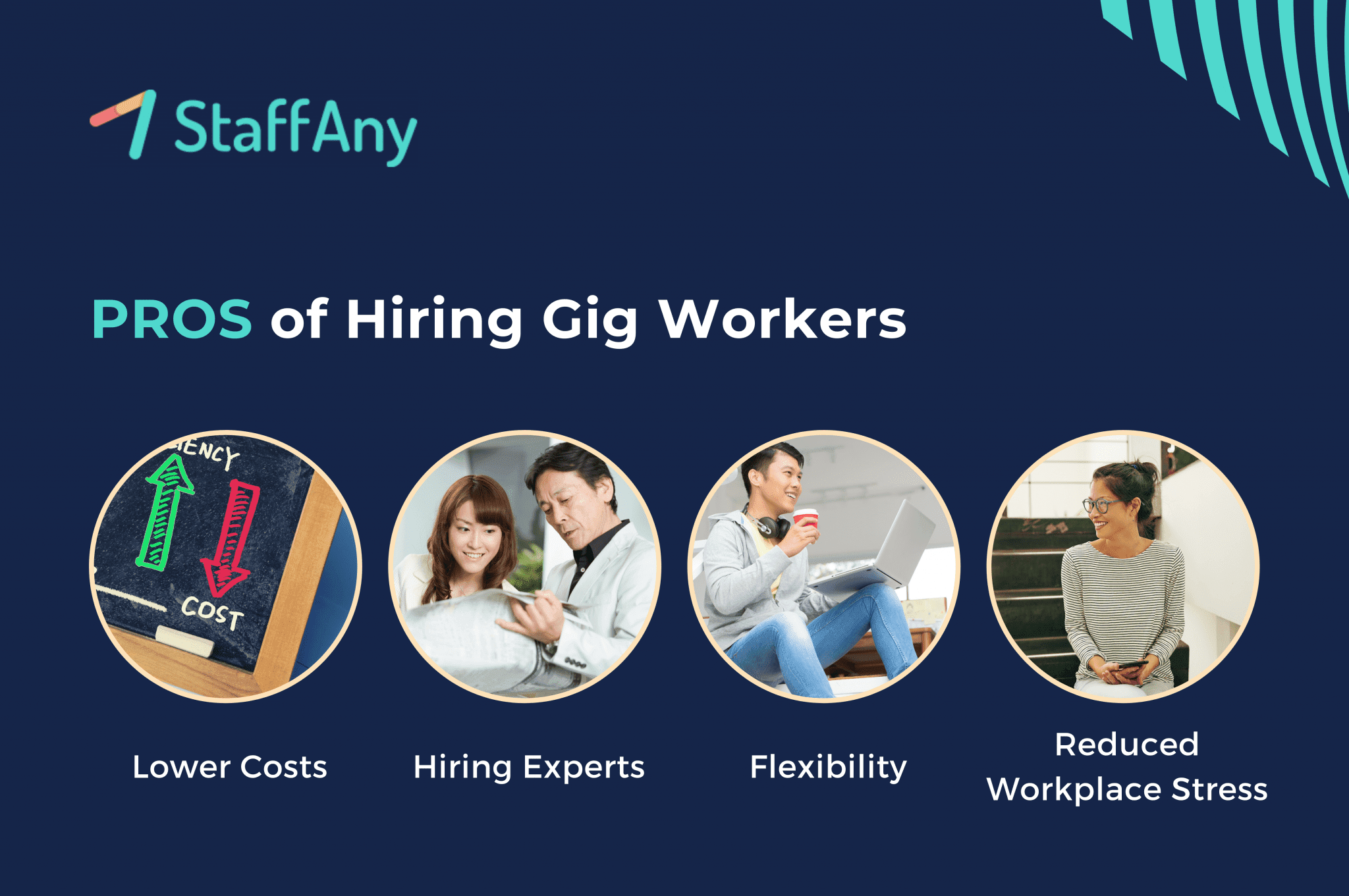 Lower costs: Concerned about employee expenses? The good news is that hiring a gig worker often involves less expenses, so you reduce the cost of…
Detailed background checks
In-depth interviews with multiple rounds
Long training periods
Salary negotiation
Overtime payments
CPF contributions
There is also no CPF contributions required if you hired freelancers and self-employed individuals. All these can make gig workers highly compelling additions to your business while giving you more flexibility ????
If you don't need someone to work for you for 8 hours every day in the long term, it can be much cheaper to pay a gig worker an hourly rate instead of a fixed monthly salary.
Hiring experts: Need an expert? Have an important job that you need done right the first time round?
One benefit of the modern gig economy is the ability to hire experienced freelancers or part-timers to complete short-term projects with excellent output. It can be challenging to find or afford that type of expertise on a long-term, full-time basis.
Flexibility: You can easily reduce operational costs by not engaging freelance workers for some time, not renewing part-time contracts and hiring less part-time employees. This is particularly beneficial if you're downsizing.
Has business slowed down a little and you have less client projects? You can hire only the freelancers and contract workers that you need without having underutilised manpower.
On the other hand, you can also have the flexibility to hire on more freelance workers during periods where demand surges, such as festivities, and you need more manpower support. No more headaches or staying up at night wondering how you're going to serve all the clients!
Even if you're looking to hire someone full-time in the future, you can also hire on gig workers in the beginning and gauge their performance since they are only working for you for a short period. If you like working with the gig worker, you can always negotiate with them or give them a full-time employment offer.
Reduced workplace stress: Companies can hire independent contractors, part-timers, or freelancers for a given period of time, so they are unlikely to feel like they are being overworked. In turn, employers may not have to incur higher costs to invest into wellness programs for employees.
Cons of Hiring Gig Workers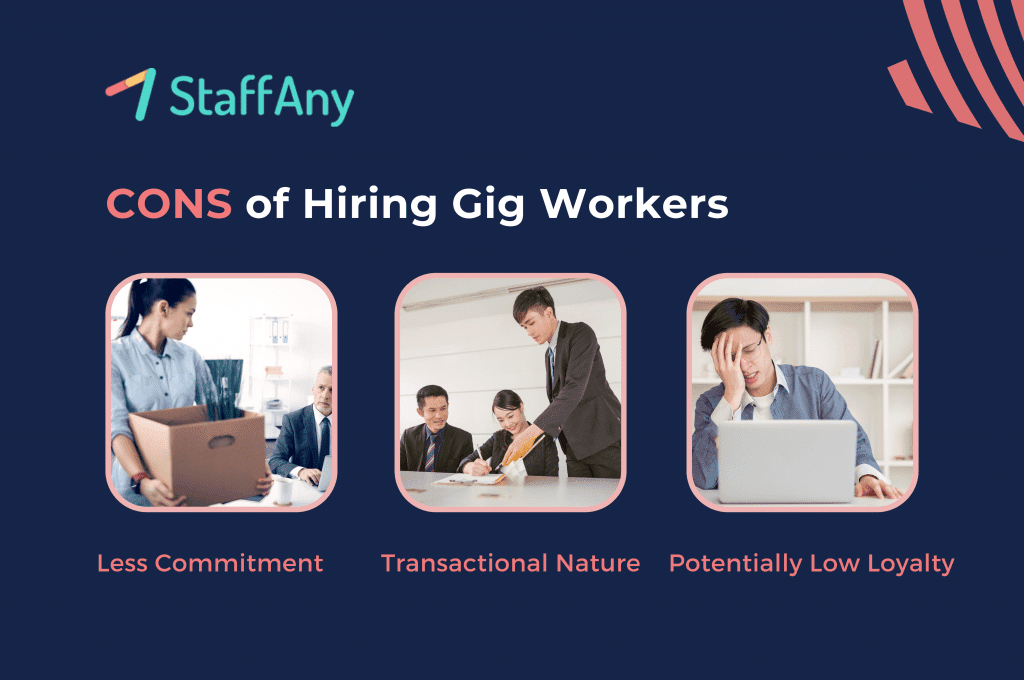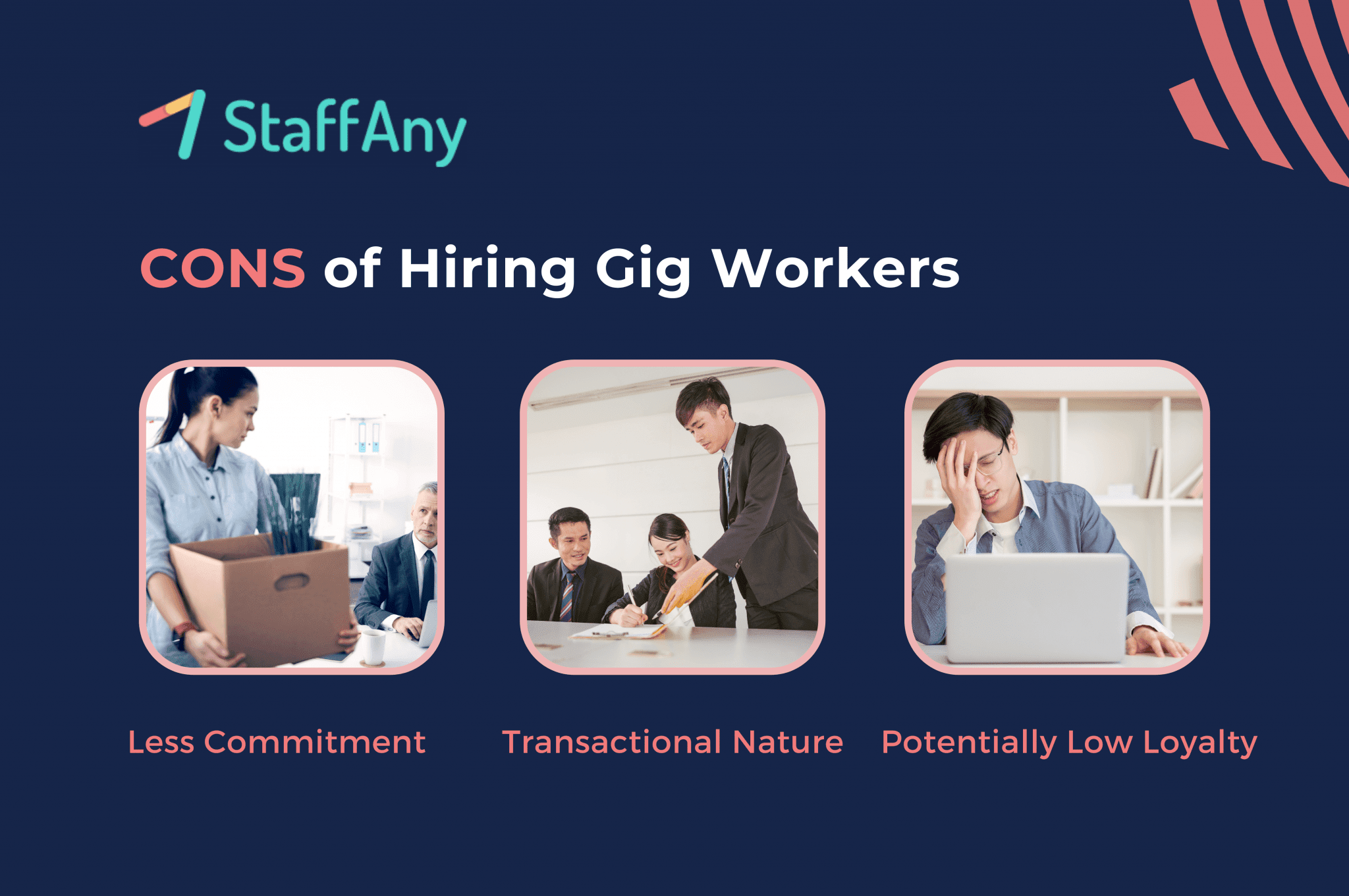 Less commitment: Since gig workers are hired for a short period of time, there is a possibility that they might be less committed since they are only hired for a specific task. Many times gig workers also do not receive performance bonuses so there is little to no incentive for them to go beyond their scope of work.
Freelancers and part-timers who are taking on projects in addition to their full-time job may also have lower productivity if the demands of their job increase.
You may want to be strategic about the functions you hire gig workers for. Many times, businesses also opt to have a full-time employee manage gig workers. They can stay on track with business objectives and keep close communication with gig workers to understand their workload and help them manage their priorities.
A good manager who can form positive working relationships with gig workers can also motivate them and improve productivity!
Transactional nature: Contract workers and freelancers have little incentive to take on additional responsibilities or tasks since they only earn money from doing their current scope of work. Some of them may have the view that there is no opportunity to ask for higher pay or advance to a higher position in the company. Many freelancers may also charge extra for doing additional tasks.
It's important to have a conversation with the contract worker or freelancer about their future objectives before you hire them on. If they're open to longer-term employment, you can share with them more information about potential future projects or full-time positions. This can motivate them to think long-term and step up to do additional tasks, because they can feel more invested in the growth of your business!
If they're not interested, then you can focus on scoping out the work properly and ensuring that both of you can agree on a reasonable rate and the specific tasks involved.
Potentially low loyalty: There's very little to stop a gig worker from taking another job positionif it guarantees more flexibility, job security/stability, better pay, and more benefits. They can also easily take on another project in addition to your current project. In some cases, you might also want to re-hire freelancers for your next project but they may have already signed on to another project.
If you enjoy working with a gig worker and value their skills, knowledge and attitude, talk to them about what they're looking for in their future goals. This gives you the opportunity to negotiate the terms for a full-time position or a longer-term contract before they take another job. If you're interested to hire them again, let them know as early as possible! Giving them a heads-up is always beneficial and can start the conversation.
Full-time Employees Vs Gig Workers?
The decision to hire full-time staff or gig workers in today's gig economy is not a straightforward one! It depends on your business requirements. You need to consider the employee commitment, logistical issues and costs involved so you can make the best decision for your business. Freelancers and contract workers are a part of the gig economy that has experienced significant growth, but they may not be a fit for every business.
If you're moving towards the trend of leveraging on the gig economy, or already employing gig economy workers yourself, you might realise the complexities of doing so. For instance, engaging in lots of manual work for planning weekly schedules or consolidating monthly timesheets!
We know that pain and so that's why we built StaffAny – especially for teams managing shift workers/ gig workers.
StaffAny digitises scheduling, time attendance and timesheets so you can enjoy all the benefits of the gig economy, without all the manual work for it. Check it out here: StaffAny