The Progressive Wage Model (PWM) is a not-so-new employment practice and wage structure in Singapore that was first introduced back in June 2012 by the National Trades Union Congress (NTUC). The goal of the Progressive Wage Model is to help workers in low-income sectors earn a meaningful wage by increasing productivity, training and upskilling, and developing clear career paths for our lower-wage workers.
As an F&B or Retail business owner, you'll need to know how the PWM affects your business, especially with the new expansion of PWM on 1 September 2022 to include the Retail sector, and the upcoming implementation for the Food Services sector in 1 March 2023.
We'll take an in-depth look at the PWM and explain how it works. If you want a little more help, we also have a handy PWM template to help calculate labour costs — the first of its kind in Singapore!
How does the Progressive Wage Model Work?
By now, you may have heard of the Progressive Wage Model. The PWM is a wage system that helps increase the wages of low-wage workers by upgrading their skills, improving their productivity, and mapping a clear career path for them.
When was PWM Implemented?
The PWM used to be a voluntary scheme when it was first introduced back in June 2012 for the Cleaning Sector, but it was made mandatory for the Cleaning Sector in September 2014. Since then, it has expanded over the years to include other sectors, such as the Security, Landscape, and Lift and Escalator sectors. These are regulated by their respective lead sector agencies.
The PWM was most recently expanded to cover the Retail sector, based on the 18 recommendations from the Tripartiate Workgroup on Lower-wage Workers. This means that about 46,000 full-time and part-time retail workers will benefit from sustained wage increases.
The Progressive Wage Model is part of the "4 "W"s multi-pronged approach to support the jobs and wages of lower-wage workers".
The 4 "W"s are:
Progressive Wages – uplifting wages with skills and productivity improvements
Workfare – supplementary income in cash for lower-wage workers, retirement savings, and encouraging training for upscaling
Workright – protecting employment rights
Workcare – improving work environments and public perception of lower-wage work
Is PWM Mandatory?
Yes, it is mandatory for the Retail Sector if you're a business that wants to hire foreign workers.
Who Does the Progressive Wage Model Apply to?
There are various PWMs in effect today across various sectors, including: Cleaning sector, Security sector, Landscape sector, Lift and escalator sector, and the Retail Sector. There will also be the upcoming Food sector, and Waste Management sector, as well as the Occupational Progressive Wage that cross sectors like administrators and drivers.
Together with the previous PWMs in place, the new expansion in the Progressive Wage Model is expected to benefit more than 82% of our full-time local low-wage workers.
The Retail PWM will apply to both full-time and part-time local workers in retail job roles, as well as those who are employed by firms which hire foreign workers, regardless of whether the firm is classified under the Retail Trade Singapore Standard Industrial Classification (SSIC) or another SSIC.
For part-time workers, the wage requirements are pro-rated on a 44-hours basis.
The Retail PWM covers these job roles:
Job Role
Duties Include
Cashier
assisting customers in the in-store checkout process
operating cash registers, optical price scanners, and more
issuing receipts
Retail Assistant
selling and explaining the function of goods to customers
stock checks
price tagging
Senior Cashier
mentoring of new cashiers
performing the duties of the cashier
Senior Retail Assistant
mentoring of new retail assistants
performing the duties of the retail assistant
Assistant Retail Supervisor
assists retail supervisor to oversee daily store operations
achieving sales targets
Retail Supervisor
accountable for achieving sales targets
performing the duties of the assistant retail supervisor
Retail Manager
end-to-end operations of a store
reviewing and analysing performance (daily / weekly / monthly sales)
conducting trainings and briefings
responsible for payroll, attendance, and leave related matters for employees
For more details, refer to the retail job roles and descriptions as stipulated by MOM
How Will the Progressive Wage Model Help Singaporeans?
The Progressive Wage Model is something that can definitely help to improve the standard of living for many people in Singapore. By implementing this model, companies are required to pay their employees higher wages, which will help to increase the overall standard of living in Singapore.
In addition, the Progressive Wage Model also encourages companies to hire more locals, as they would be required to pay the Local Qualifying Salary (LQS) to all of their local employees.
With the Progressive Wage Model, your business would also be able to retain your employees, and provide better services for your customers.
Getting the Progressive Wage Mark
To reward businesses who hire at least 1 worker covered either by the sectoral or occupational PWM, and pay all other local workers at least the LQS to all of their local employees, businesses will be awarded the Progressive Wage Mark. Discerning consumers and corporate buyers who are looking to support such businesses will be able to find them through the Progressive Wage Mark. Gaining visibility for supporting your workers is a great way to show your customers that you care about social mobility and about your workers.
Supplementary Budget for Wages: Progressive Wage Credit Scheme (PWCS)
From 2022 to 2026, the Singapore Government will co-fund the wages to help businesses adjust to increasing the wages of lower-wage workers. This will be done through the Progressive Wage Credit Scheme (PWCS).
No application is needed and the payout for 2022 will be received in the first quarter of 2023.
Here is what you can expect from the co-funding.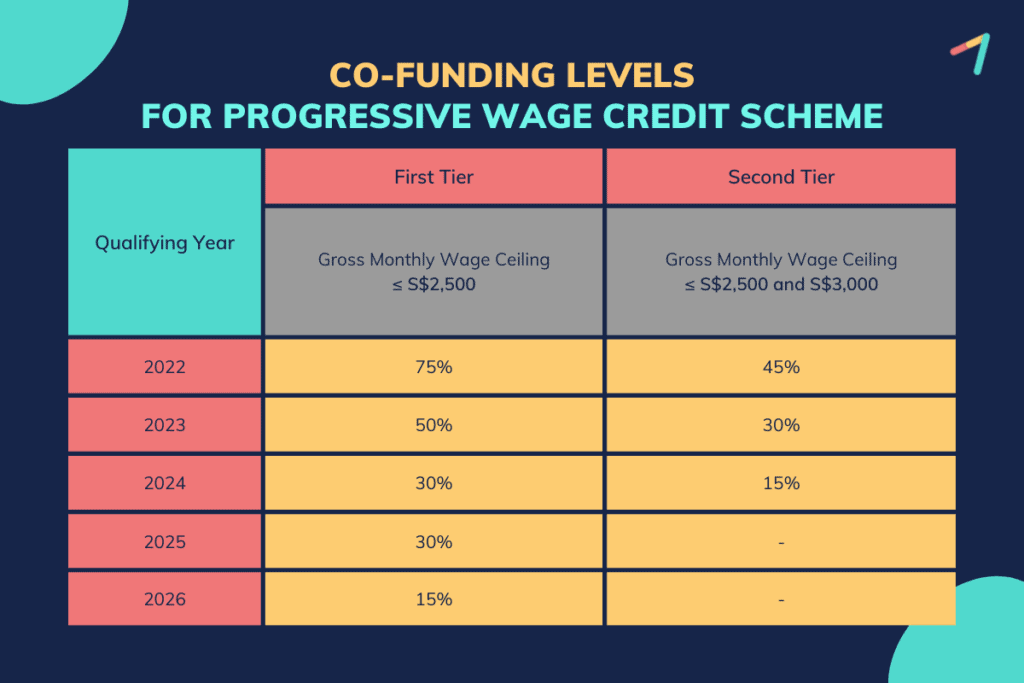 Singaporean and Permanent Resident employees are eligible for the Progressive Wage Credit Scheme, as long as the average gross monthly wage increase is at least S$100. According to the IRAS website, "Eligible wage increases in each qualifying year will be co-funded for two years."
How Does the Progressive Wage Model Apply for F&B and Retail Businesses
The PWM will be expanded to the food services, retail, and waste management sectors between 2022 and 2023. These changes are sure to affect your businesses, so it's important to know what the requirements are and how to meet them.
Retail PWM
The Retail PWM requirements, and any other applicable PWM and Local Qualifying Salary requirements, must be met by employers from 1 September 2022 in order for employers to apply for new Work Passes (e.g. Work Permit, S Pass, Employment Pass) or renew existing Work Passes.
But there's no need to worry, because there will be a 6-month adjustment period from the Ministry of Manpower (MOM) from September 2022 to February 2023. MOM will be focusing on educating businesses on the various Progressive Wage requirements, and employers will not be penalised if they have not complied during this transitional period.
For Retail PWM requirements, there will be an additional benefit of averaging gross wages over three months in order to account for fluctuations due to seasonality. The total monthly gross wages include the basic wage, any allowances (eg. travel, food, housing) and productivity incentive payments.
Training Your Retail Staff
Singaporean and PR retail workers need to minimally attending at least 1 Workforce Skills Qualification (WSQ) training module out of the list of approved courses to fulfill their Retail PWM training requirements. You can also conduct in-house WSQ training modules if these modules have the prefix "RET" in the accompanying Technical Skills & Competencies (TSC) code.
Hiring Retail Staff Who are Not Singaporean / PR
Take note that if your company is hiring foreign workers, you would be required to pay the Local Qualifying Salary (LQS) to all of your local employees, adjusted periodically. This would ensure that your company is following the guidelines set by the PWM and that your employees are receiving a fair salary.
Food Services PWM
The PWM for Food Services will be implemented from 1 March 2023.
Currently, there is no information on how PWM will be implemented for F&B and Food Services Businesses yet. This information will be updated when the Tripartite Cluster for Food releases its recommendations, and we'll update this article to include it then!
What is the Local Qualifying Salary that Businesses Have to Pay?
From 1 September 2022, companies hiring foreign workers would be required to pay the Local Qualifying Salary (LQS) of at least S$1,400 to all of their local employees, adjusted periodically.
The LQS is used to ensure that local workers are meaningfully employed. It used to be known as the "Full-Time Equivalent salary". The LQS covers all other local workers who are not covered under the PWM.
To calculate your foreign worker quota, you need to make sure that your employees (including your company's director" are Singaporean or Permanent Residents who are employed under a contract of service.
Local Workers are counted as:
1 local worker: LQS at least S$1,400 per month
0.5 local worker: LQS at least S$700 to below S$1,400 per month
The calculation of your foreign worker quota remains unchanged.
PWM – a Great Step Forward
The Progressive Wage Model is a great step forward for Singapore, and it will help to ensure that everyone in the country has a chance to earn a meaningful wage. The model will apply to specific job roles regardless of the sector, and companies paying Progressive Wages to all employees would be awarded a Progressive Wage Mark.
Use our template to easily calculate your labour costs with the Progressive Wage Model.
Make Scheduling Your Employees Easy with StaffAny
Keep track of your local and foreign employee's shifts with StaffAny. StaffAny helps business owners reduce work dedicated to scheduling and time-tracking, as well as reduce the cost of operations by minimising time theft and overtime spend.
With StaffAny, you can keep track of who's working and when, easily send out shift reminders or updates, and spend less time doing the nitty gritty work of scheduling.