Based on research findings conducted by StaffAny, F&B venues and premises in Singapore are now operating longer than usual. But which sector has been operating the longest? And given that the Singapore Government has regulations regarding working hour limits, how will this affect the F&B industry in the long run?
To find out more, StaffAny conducted research on more than 200 F&B places in Singapore consisting of 5 types of businesses, namely restaurants, bakeries, coffee shops, bars and cafes using data from Google Maps. StaffAny also conducted surveys to 30 F&B business owners/managers to find out how their employee shifting and remuneration strategy works. Let's discover some of the insights we pulled from this research.
F&B Operating Hours are Up to 11 Hours Each Day
The operational hours of eating and drinking places in Singapore are back to normal, many are even operating more than the regular working hours set by the government. For information, the Government of Singapore through the Ministry of Manpower stipulates normal working hours up to 9 hours per day, including workers in food sectors.
From the data collected by StaffAny, many F&B places have operating hours of up to 11 hours. Although some places operate up to 11 hours, the average F&B business in general limits their operations to 10 hours.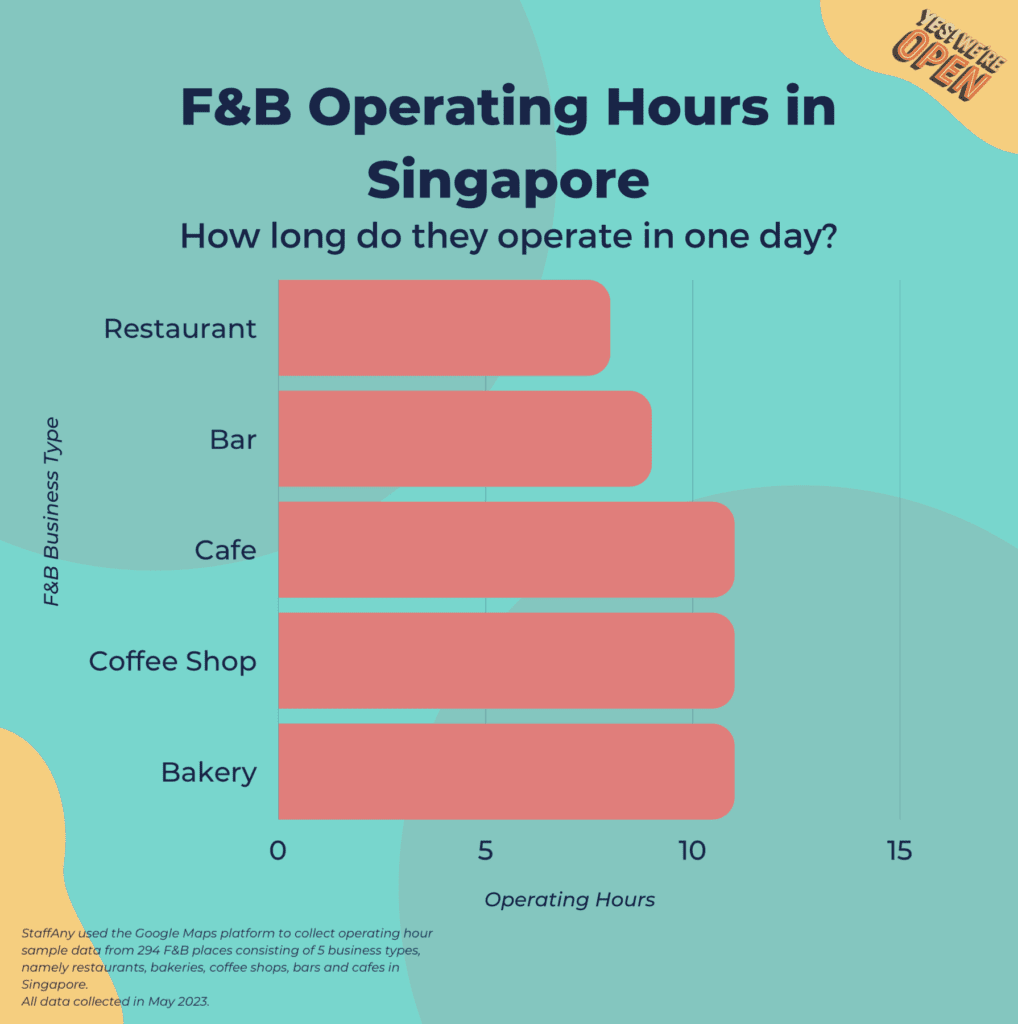 This operating hour trend is now common among F&B venues and premises. We observe, one of the factors influencing this trend is the government's decision to change the public health status to DORSCON Green earlier this year. With this change, people can more freely do activities outside their home, including eating, drinking or hanging out with their colleagues. F&B places can also maximise their services up to the permitted operating hours to accommodate social gatherings.
Bloomberg reported that reservations at restaurants and bars in Singapore are on the rise as the government has said it allows large gatherings. But apparently, restaurants and bars have the shortest hours of operation compared to cafes, coffee shops, or bakeries. According to data, the average restaurant only operates for 8 hours per day, followed by bars with an average operating hour of 9 hours in a day.
The short operating hours seem to be influenced by the different business approaches adopted by restaurants in Singapore. In this country, it is very common for restaurants to open for lunch and then close before reopening for dinner. From the operational perspective, closing during this period allows restaurants to save on labor and other costs. While bar operations only start after dark until late at night.
Bakeries and coffee shops are places with the longest operating time compared to other places. Based on the data obtained, these two places operate 11 hours on average in one day. In addition to a longer operational duration, bakeries and coffee shops also have the earliest operating hours in the morning, as early as 4 am.
Mornings are often a busy time at bakeries and coffee shops as office workers stop by for breakfast and coffee, especially shops located in the Central Business District area. The nature of their business seems to make operating hours longer than other types of F&B businesses.
Long Operating Hour, High Paycheck
The long hours of operation for F&B establishments in Singapore in 2023 also affecting how business owners pay their employees. StaffAny conducted a survey of 30 F&B business owners/managers to find out about the salary system. In order to achieve longer operating hours, the owners/managers avoid using a single shift. Around 63% of participants said they use a shift system in their shop.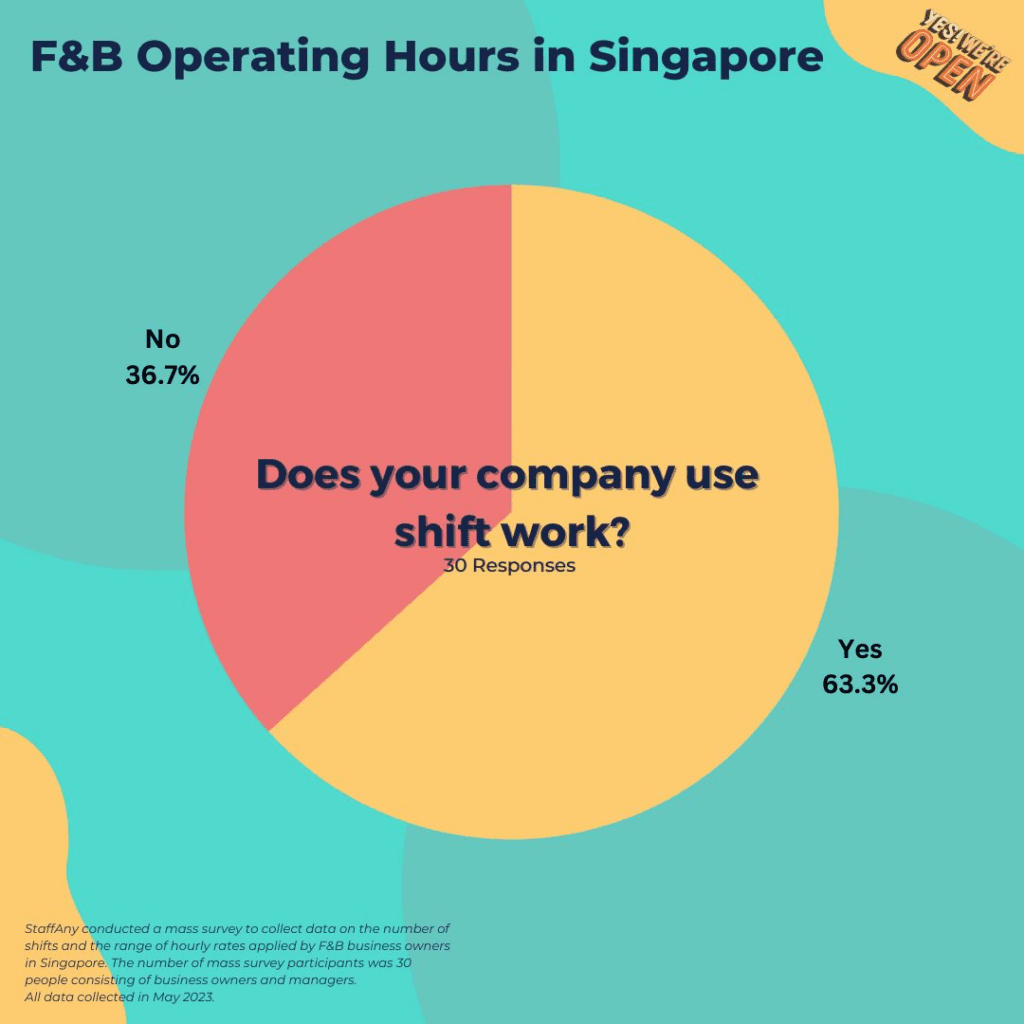 And of the participants who used the shift system, 84% of them said they applied for at least 2 shifts in 1 day.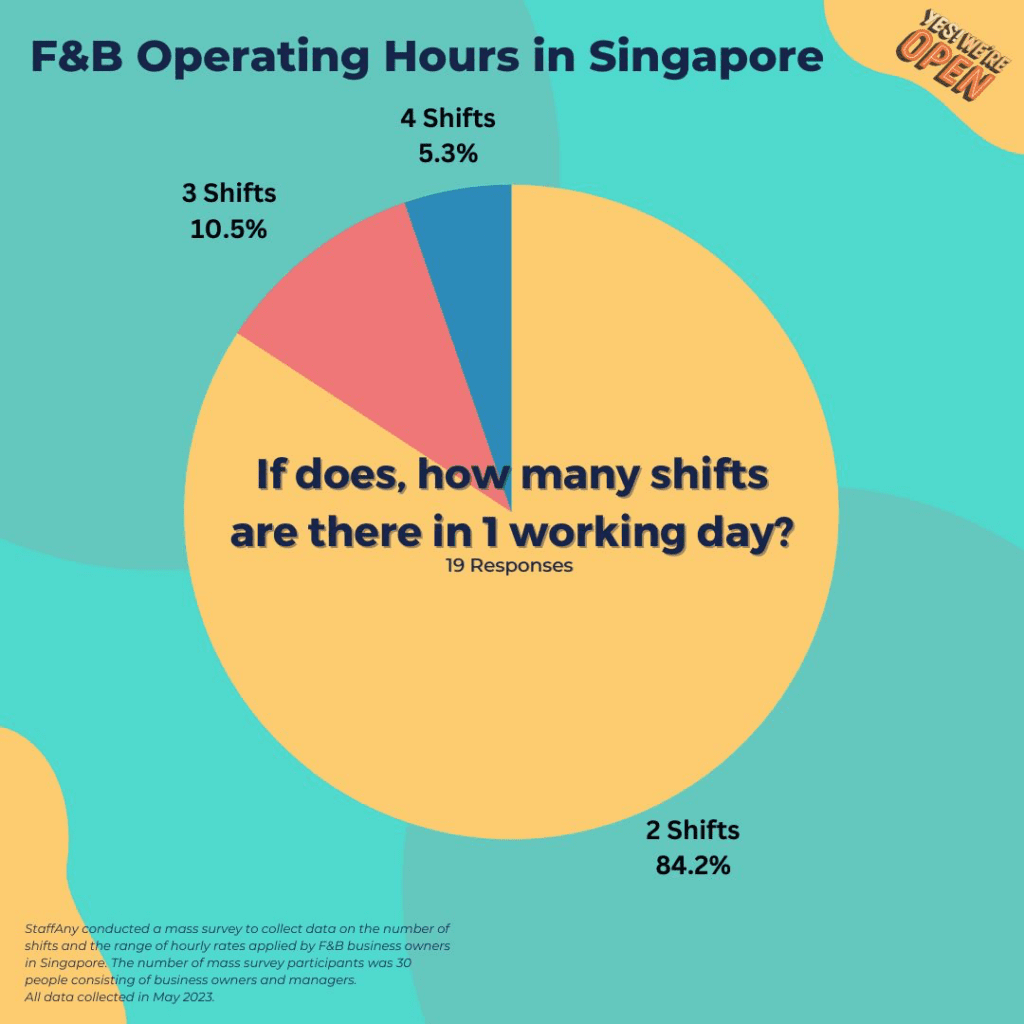 The implementation of split shift is actually not a new thing in the world of F&B. The split shift system discourages employee burnout from working long hours. It also reduces labor costs during off-peak periods by preventing overstaffing. In addition, this split shift also answers the need for a workforce without having to violate the work time limits set by the Ministry of Manpower.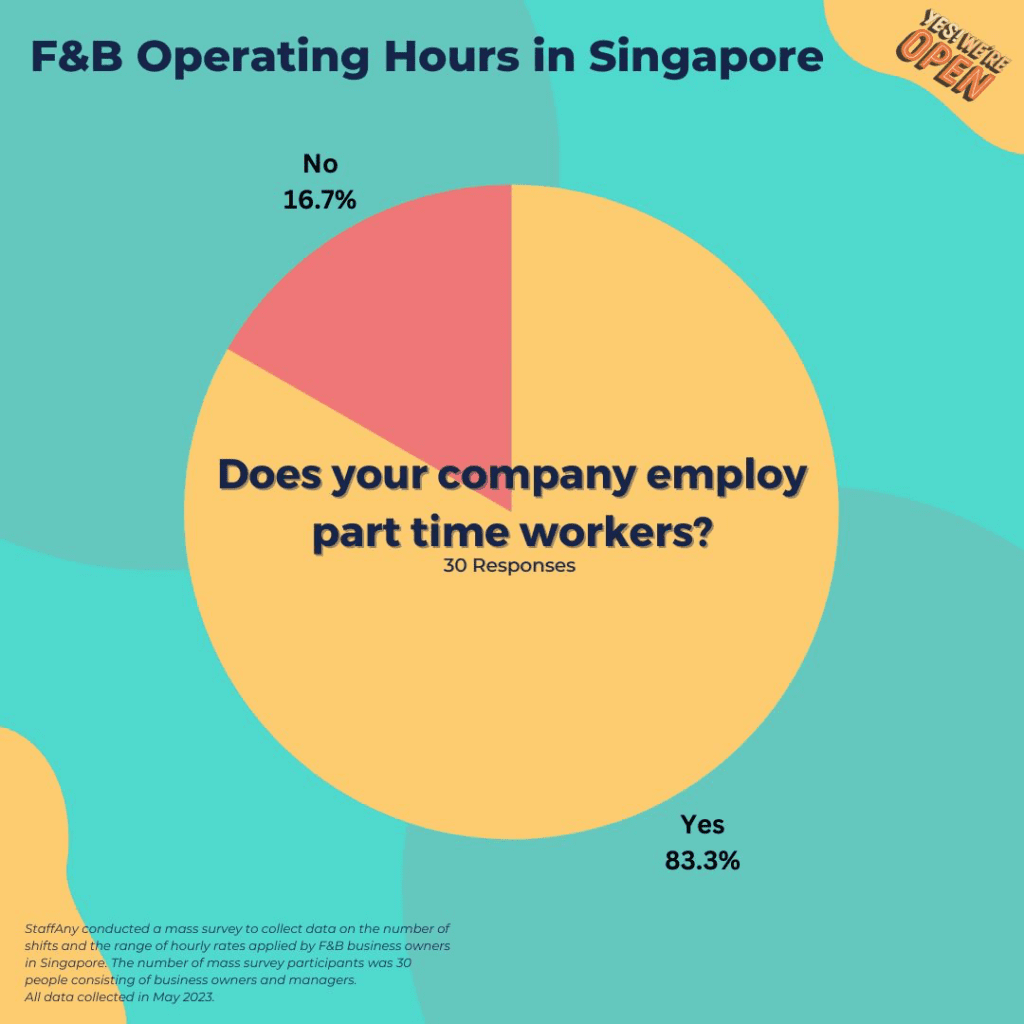 In addition to the split shift approach, the owner/manager of the F&B business also attracts part-time workers with an attractive hourly rate. As many as 60% of F&B business owners/managers who employ part-time employees pay their employees more than $10 per hour.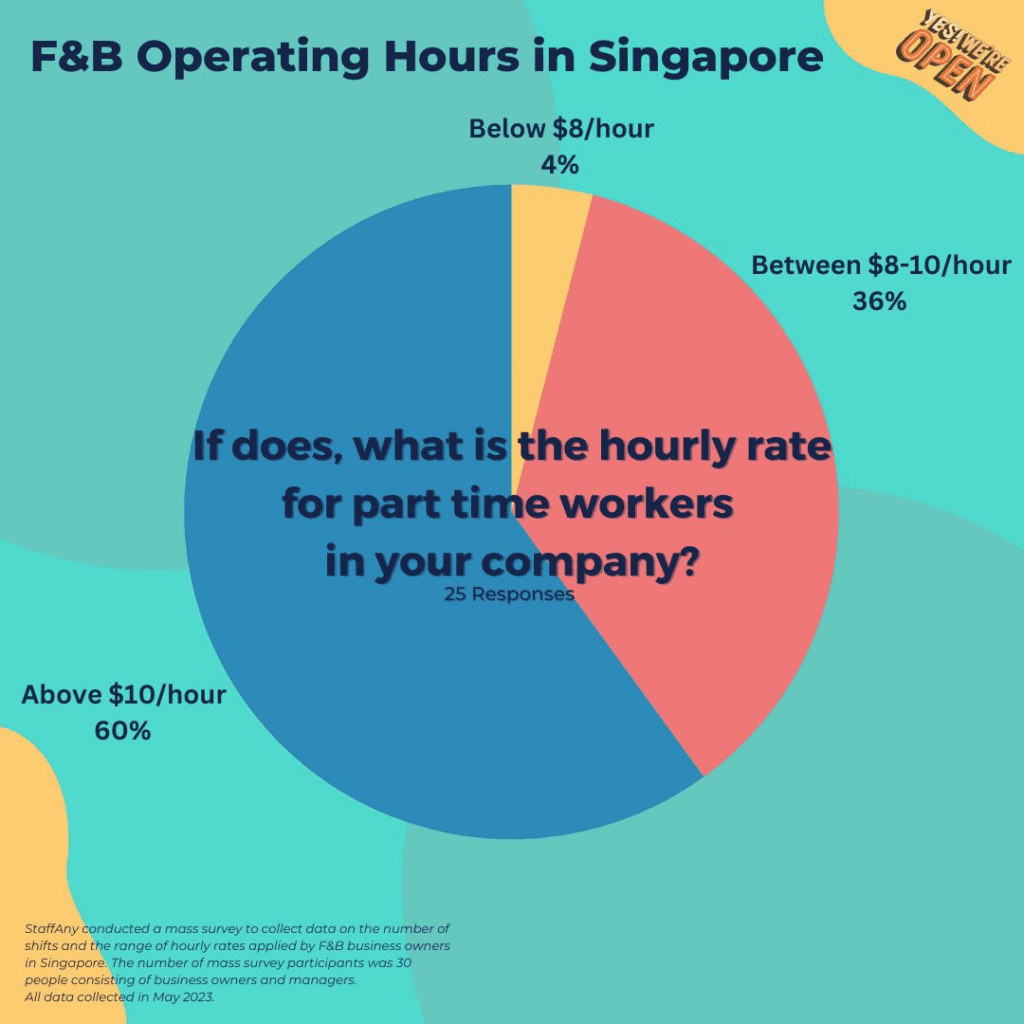 This higher wage has actually started to happen since 2022 when part-time workers are increasingly needed after social gatherings were allowed in Singapore. The Straits Times reported, due to stiff competition for manpower and soaring inflation rates, part-timers were paid, on average, up to a third more in 2022 compared with 2021. The average hourly salary of around $8 in 2021 has increased to $11 in 2022. And looking at the results of this survey, higher wages will continue in 2023.
Conclusion
In conclusion, the operating hours of the F&B business in Singapore are longer than the regular working hours set by the government. However, this application does not necessarily violate the rules because a number of business owners/managers implement a split shift system which ensures that each employee works according to the time set in the regulations. F&B business owners/managers are also quite open to using part-time workers to meet daily workforce needs.
***
Methodology
StaffAny used the Google Maps platform to collect operating hour sample data from 294 F&B places consisting of 5 business types, namely restaurants, bakeries, coffee shops, bars and cafes in Singapore. StaffAny also uses a mass survey to collect data on the number of shifts and the range of hourly rates applied by F&B business owners in Singapore. The number of mass survey participants was 30 people consisting of business owners and managers. All data collected in May 2023.
About StaffAny
StaffAny is a software-as-a-service startup that helps businesses reduce work dedicated to scheduling & time tracking and reduce operational costs by minimizing time theft and overtime spend. In addition to managing hourly workers, StaffAny tracks staff performance and automates end-of-month timesheet consolidations. The company today operates in three countries across Southeast Asia namely Singapore, Malaysia, and Indonesia. Contact us today and start experiencing the benefits of a connected workforce!