Time management software has been revolutionizing businesses since its birth and with this program being widely available in the market, more and more people are given the chance to experience seamless time tracking and employee management more easily.
This tool is highly efficient when it comes to its overall function and use cases. Working as an employee can be extremely tiring—but running a business truly is a lot of work! So if you want to simplify the flow of time tracking in the office and are eager to know how you can switch things up at work, read on!
Here are 6 key points on time management software:
1. What is a time management software and why do companies need them?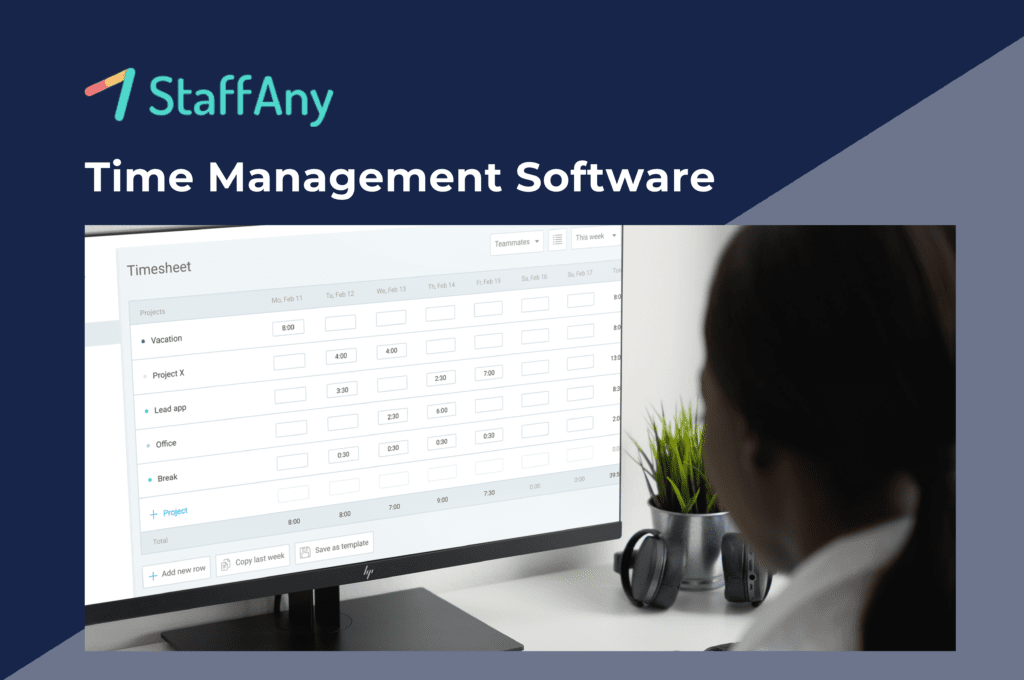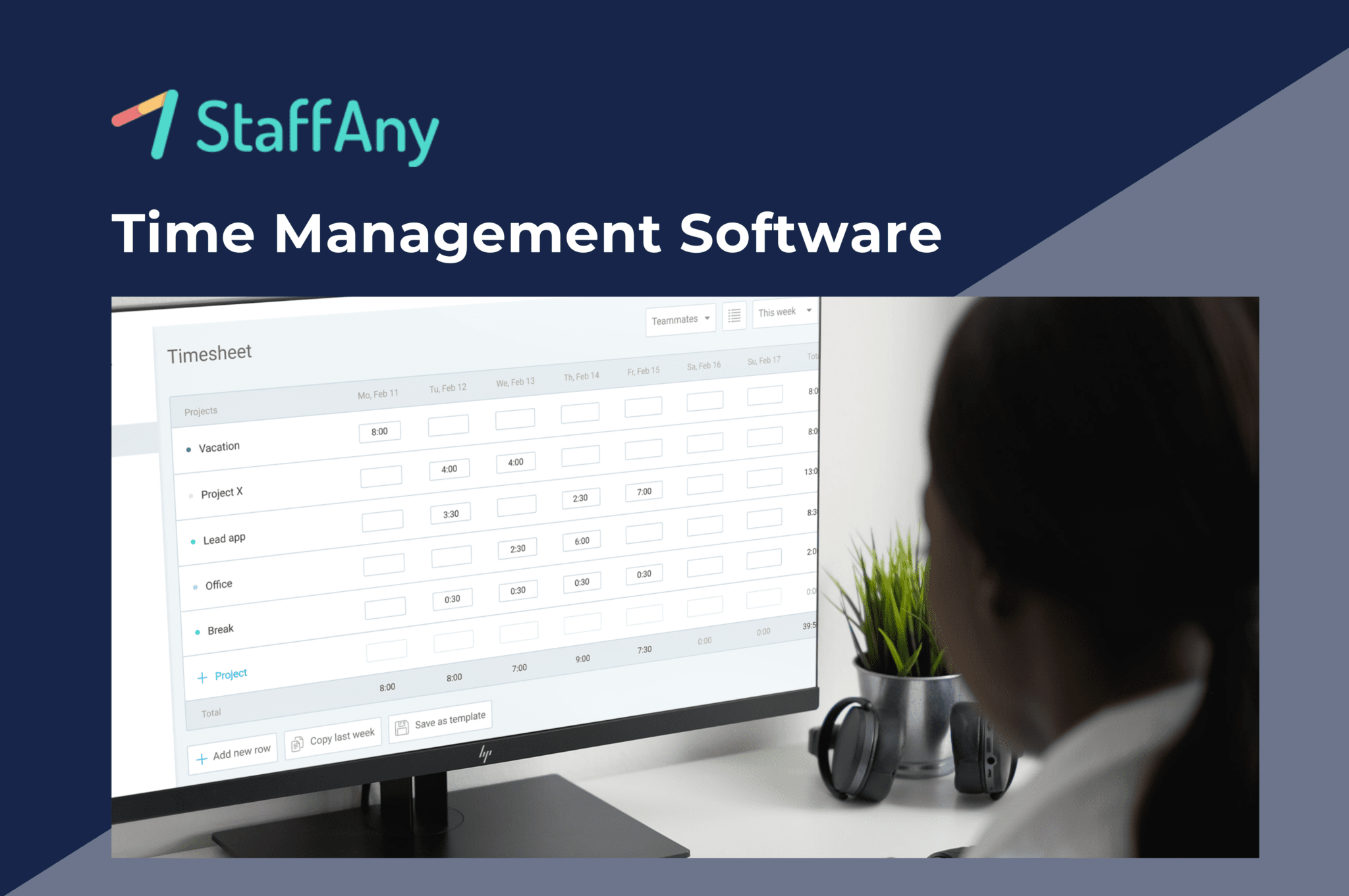 Tired of all the manual consolidation and inaccuracies in tracking your employee clock-in and clock-outs? If you still have punch cards lying around or are using biometric fingerprint systems, you might want to consider a time management software. It is a flexible tool used by businesses across different industries to track hours worked by employees. This is especially important in the blue-collar workforce where employees are paid by the hour, such as the food and beverage sector and the retail industry. With a time management software, it makes time tracking, timesheet consolidation easier, which allows for labour cost management and payroll preparation to run more smoothly.
Because of this, companies can not only cut back on tasks that take up traditionally huge amounts of time and effort, but also have the data and visibility to understand employee performance, punctuality and overall cost visibility. With its high-performance ability, it can complete simple and complex responsibilities from the inputting of clock-in and outs up to the generation of timesheets, data analysis, and creation of reports. Even the work of hundreds can be done in a snap of a finger by providing simple time-tracking features that affect the employee movement and payroll of the company, such as monitoring the employees' time spent on work. As such, you can now say goodbye to the old punch cards!
With a time management software, companies enjoy improved overall efficiency, enhanced productivity and performance, as well as avoid unnecessary costs. With its numerous strong points, investing in a tool that improves the business' entire system is a key strategy in achieving continued success.
2. What are the types of time management tools available?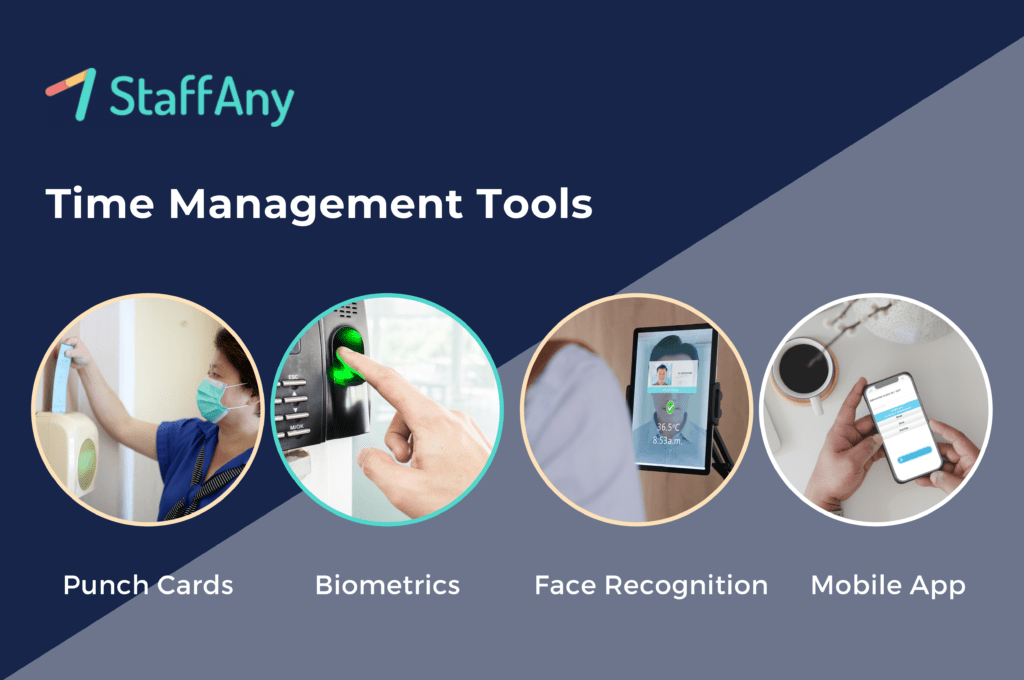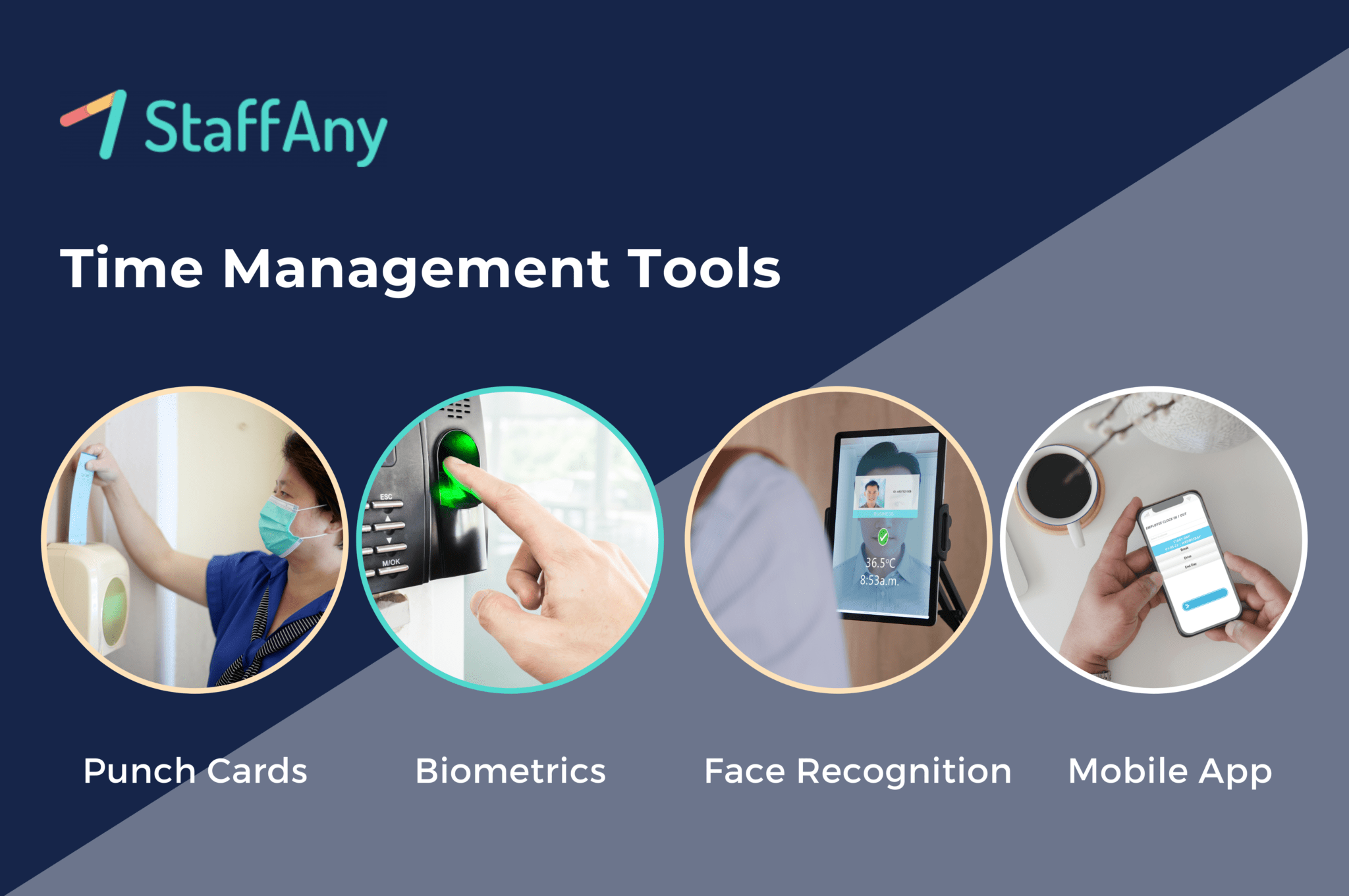 Punch cards go way back and for many, the convenience of writing through an actual pen and paper makes the experience more authentic and smooth. Since this approach is done manually, there isn't any quick way to do the documentation itself. When it comes to the cost, one might think that using punch cards is the cheapest option but the truth is, the expenses on paper alone is already significant given that it will be used everyday throughout the year; there will also be a huge cost needed for labor since people will have to manually input, transfer, and process the data afterwards.
Biometrics, a step-up on the traditional punch card, is also a popular tool. It is stable and easy to use since one can easily log-in and out with its fast scanning ability that's why it is best loved by people who are always on the go. However, this method has its own set of problems. Many users report to experience machine glitches and high repair costs, the machine being unable to detect fingerprints, as well as the inflexibility of checking data in real time. This technology is quite expensive as well since on top of the cost for the purchasing of devices, there are repair and maintenance fees to consider since it is prone to device issues and identity threats from malwares.
Facial recognition can be considered an upgrade and alternative to biometrics – a method that uses gadgets to pick up, control, and store data. While this is convenient, it can be costly as well. Companies will have to provide digital devices such as tablets that would serve as the entry point of data.
Mobile App – Here comes the latest revolution for businesses! The concept itself is smart, given that mobile devices are widely adopted across the globe. With how accessible it is, it has become one of the most preferred tools by most companies. And if you haven't already noticed, everyone has a smartphone that is either in their hands or in their pocket!
StaffAny, the best employee scheduling system in Singapore, has replaced the use of punch cards entirely. Many companies have attested to this tool's efficiency. Petron Grandsaga, a rising petrol station chain, completely leveled up their operations. For the longest time, they've been encountering time-tracking related issues because of their traditional punch card. Before fully switching to StaffAny, they tried to look for other options as well but haven't found any that aren't too expensive or technical. Today, no employees can manipulate their records anymore and the burden on managers having to manually monitor them has also disappeared. The best thing is, they estimated that for 30 staff, it saves them about RM 500-1000 per month!
The popular tool which is biometrics has also been replaced by StaffAny. Notable companies such as the Dimbulah Coffee expressed the issues they encounter with biometrics and how StaffAny has changed the game for them by reducing punctuality issues by 30-40%—a significant solution to their worries. being a permanent solution to their worries. They always had to deal with hardwaremaintenance and machine failures. It was such a waste of time, effort, and money for the company and the managers to go through the many discrepancies over the shifts and hours of the employees.
From the old punch cards that take forever to transfer and interpret, SMEs and big corporations have shifted to the more powerful and practical choice—StaffAny's system.
3. What pain points do people commonly experience with time management?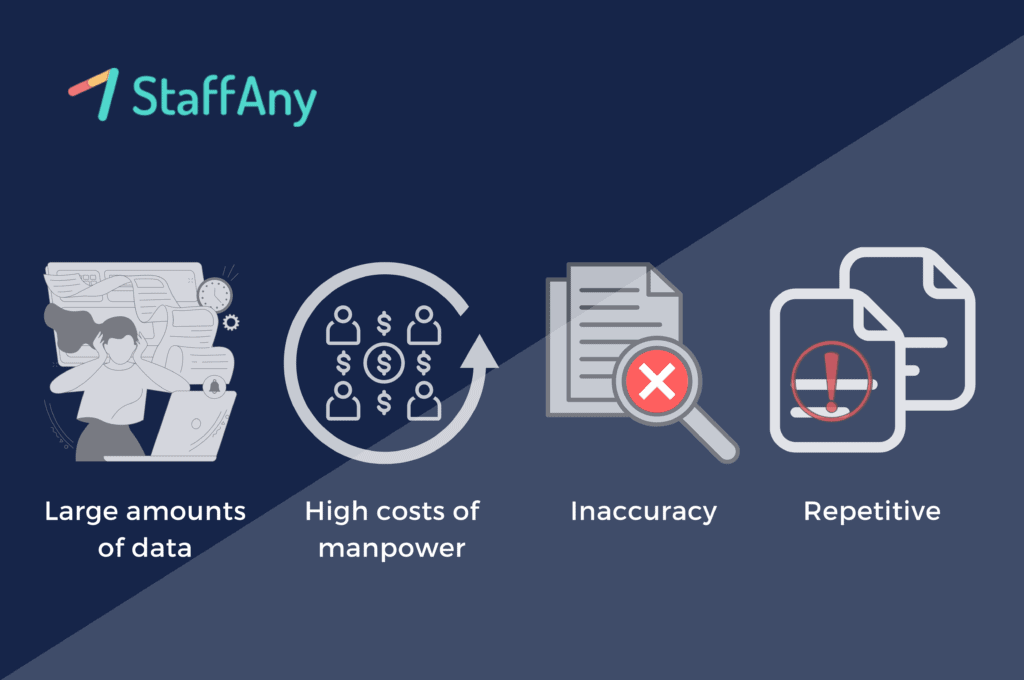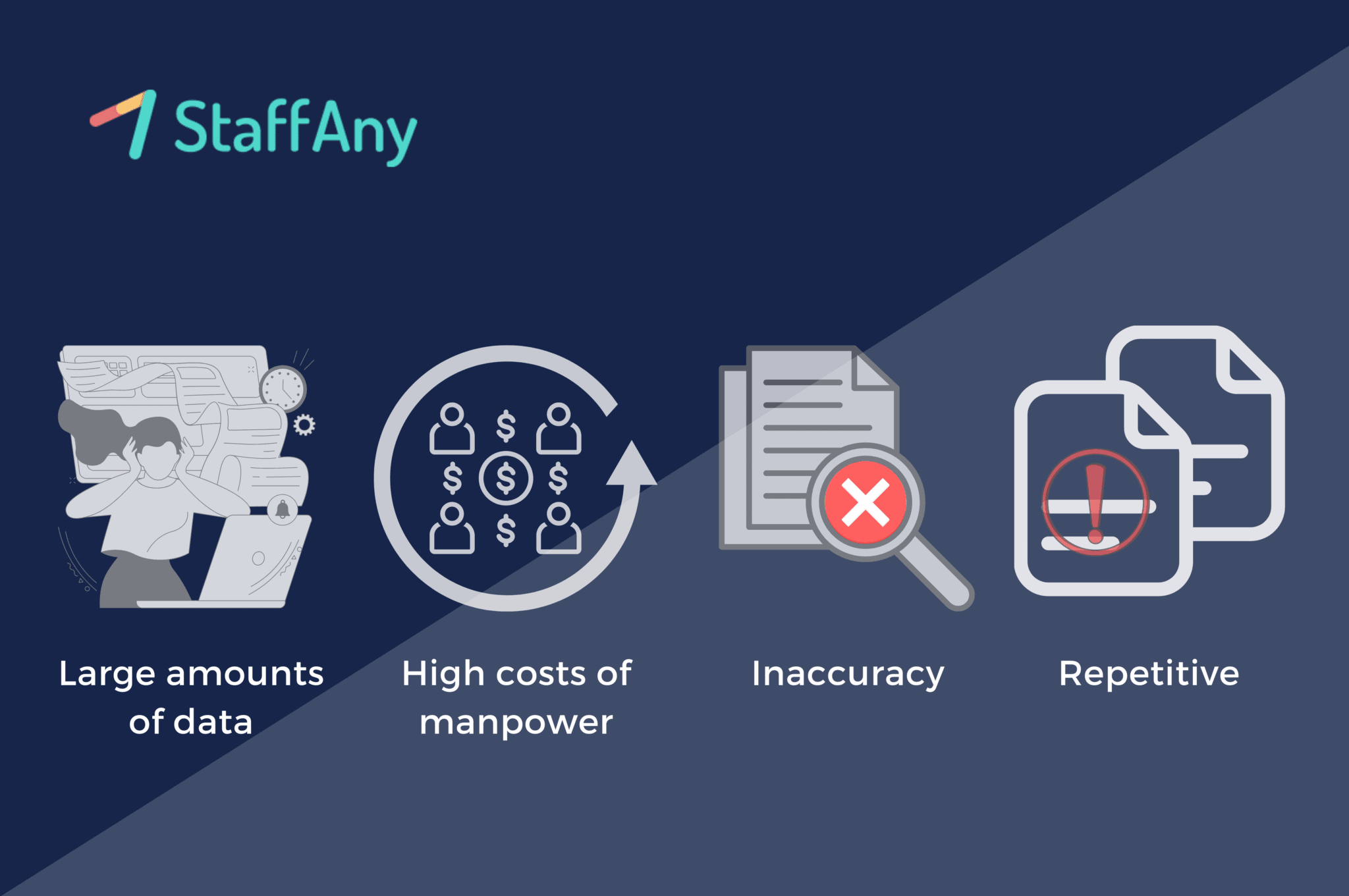 Time management softwares were built to address the pain points being experienced by people who deal with time management a lot. Having to manually deal with large portions of data alone can already be exhausting. For instance, recording the clock in and outs of employees using the traditional type of approach takes a lot of time, effort, and resources. And the tough part doesn't stop there, one has to deal with it after it's been inputted. The interpretation and processing of it all makes the entire flow complicated and impractical.
For business owners, the cost of having to hire too many people to do one job is a lot. It would take one or even two people a long time to finish all of it so the owners are left with no choice but to hire more and it's money not spent wisely because the huge chunk of the company's financial resources are going into just one part of the business.
Lack of transparency and inaccuracy in time tracking is also a common concern in time management. When employees do manual time-ins, the company has no way to track and monitor the employees' performance and rendered hours. This means that anyone can easily get away with delivering unfair duty fulfillment. With the help of a dedicated software, this issue can be addressed to help manage projects better which is a major time and budget-saver. It's just important to choose one with the kind of pricing that matches its service quality.
And frankly, people don't like doing scut work anymore. It's tedious, repetitively tiring, and now with the presence of digital softwares—it's already unnecessary!
Scheduling tools like StaffAny are reliable and cost-efficient. They have a multi-faceted system that includes various features that are essential in improving business operations such as an onsite time clock, smart timesheets, real time reports—all of which are directed towards building a more connected workforce. It's incredibly easy to use, efficient on its own, and definitely worth the price!
4. Does time management in an organization really improve productivity?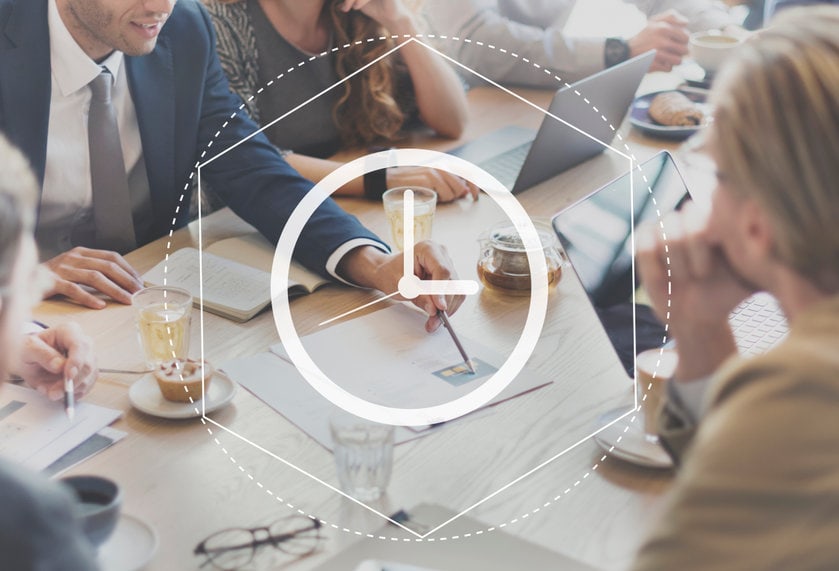 The short answer would be—yes, definitely! Although managing time seems simple, it actually isn't; in a busy and demanding environment, it can be tough to multitask and complete bulks of work within a limited time since logistics require thorough time tracking. The use of punch cards and biometrics is common among businesses but the manual processing of data can be too demanding. Worked hours, especially the rendered extras, need to be checked in detail to ensure that no employee is cheating. There are a lot of factors that contribute to the hindrance of productivity and the incorporation of proper time management in one's day-to-day routine: procrastination, added stress, the inefficient flow of work, and more. Most of these issues are rooted in the complexity of having to manually manage time. Because of this, people get easily exhausted from all the effort needed to be exerted in the organization of tasks. With the help of a smart tool such as time management software, productivity will significantly increase, and work activities will be more doable—creating a healthy and efficient working environment for all.
5. How does time management software help in employee management?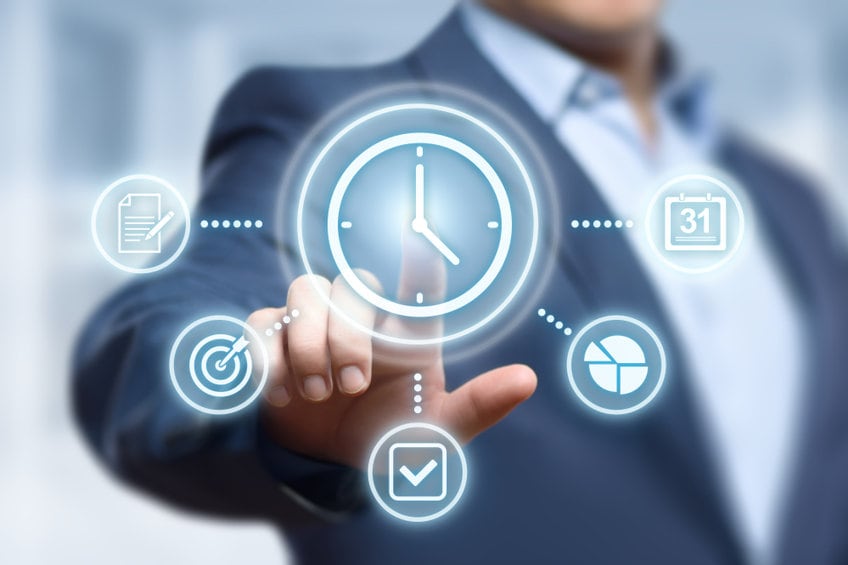 Time management software directly influences employee management. Since this tool was made to help employee management, the features that come with the software all function according to the team's needs. It quickly consolidates data and transforms manual work into a simple digital process. The tool is especially applicable to those who have HR and accounting-related duties because it eases the exhausting process that comes from managing and overseeing employee performance. With a software like this, time tracking is done more accurately, even positively affecting the disbursement of pay. The platform helps in avoiding discrepancies since it aligns both the managers and employees. Time management software offers real-time team visibility which contributes to a smoother flow of work between employees and department point persons in the company. Amazing, right?
So if you are looking to track the work hours of your employees easily and obtain real-time reports of it, it would be best to rely on the power of apps. This will help CEOs and supervisors manage their teams more efficiently.
6. What should you consider when getting time management software?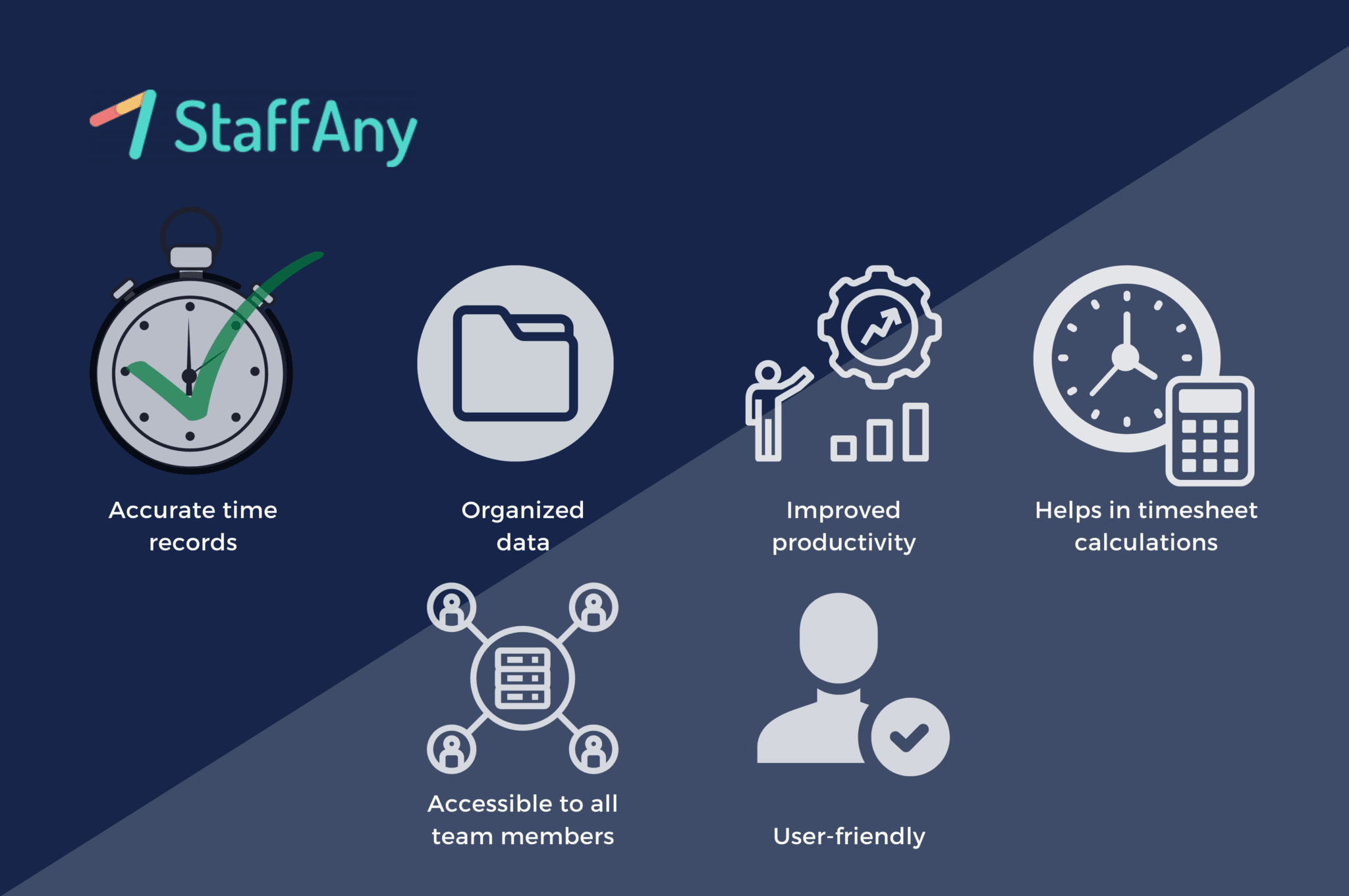 Choosing the right software for time management is essential to determine the success of a business. Management apps come in various forms, features, and pricing, so it's important to select the one that will make your business operations smoother and faster:
Capture time records accurately
The time-tracker feature must be accurate and precise. Since it's automated, no data should be inputted wrong. This will prevent the users from having to double-check everything or input the data themselves.
Data must be well-organized and easy to interpret
The data must be easily comprehensible and organized for the users to interpret it easily. It should smoothen the process of recording attendance, payroll, and compliance data so that the heads can monitor and follow through accordingly.
Improve staff productivity and punctuality
The management tool should be effective in promoting productivity and punctuality among the employees. Its system should motivate them to do their jobs more efficiently and show dedication in achieving the goals of the company. With technology like this, teams should have an easier time adjusting to challenging workloads every week—or even everyday.
Helps with timesheet calculations
Calculating the timesheet inputs manually can be stressful and time-consuming. The time spent on this matter can be utilized for other important aspects of the operations. Having a reliable time management software will help record and track time that was dedicated by the team members into work.
Easily accessible by all members of the team
Whether it's on the web or through devices running on Android and iOS, the company team should be able to access the software without any hassle. This way, the heads can continuously keep track of their performance even while out of the office.
User-friendly, easy to maintain
The software should have a user-friendly interface, has its own troubleshooter, and should be accessible. People work anywhere nowadays so it's important for them to have access to the time-tracker whenever and wherever they may be.
Conclusion
Now that you know the secret to stress-free time management, you'll realize that investing in the right tools will bring back more than what has been given out. Managing time and following a schedule enables business operations to have a seamless flow. This will allow the employees to work more productively and efficiently. Having a software for this matter will speed things up and save a valuable amount of time and money. And because technology was made to make our lives easier, it is important to know, understand, and take advantage of what they can offer. Most blue-collar or shift work companies track time, it's just a matter of how they do it. However, moving forward, companies need to realize that their tools are also very interrelated to staff productivity and expenditure.
So if you are looking for the best time management tool that is cloud-based, has multiple features, and is user-friendly, reach out to StaffAny! It is a time management software that creates stronger (and happier) workforce that will help bring businesses to new heights.