"We're not out of the woods"
We have come a long way since Singapore's initial surge of COVID-19 cases and many of us are wondering how we could stay in compliance with SafeEntry. As we celebrate the reduced number of community cases and anticipate the return to the (new) normal on 1 June 2020, we know one thing:
Contact tracing is here to stay.
With the easing of the tight Circuit Breaker measures, the government remains cautious. Compliance with SafeEntry and contact tracing measures may seem troublesome. However, it is crucial during this phase to reduce any new waves of infection and ensure we can all safely resume our daily activities.
Why does SafeEntry concern me?
SafeEntry is a national digital check-in system developed by GovTech. From 12 May 2020, all operating businesses are required to collect entry and exit information of staff and visitors on their premises for as long as required by law during the COVID-19 period.
Failure to comply with the requirements to use SafeEntry will be subject to the penalties stipulated under the COVID-19 (Temporary Measures) Act. The government has been strict on the various measures rolled out thus far, issuing composition fines where they have been found to be breached.
Okay, how does it work?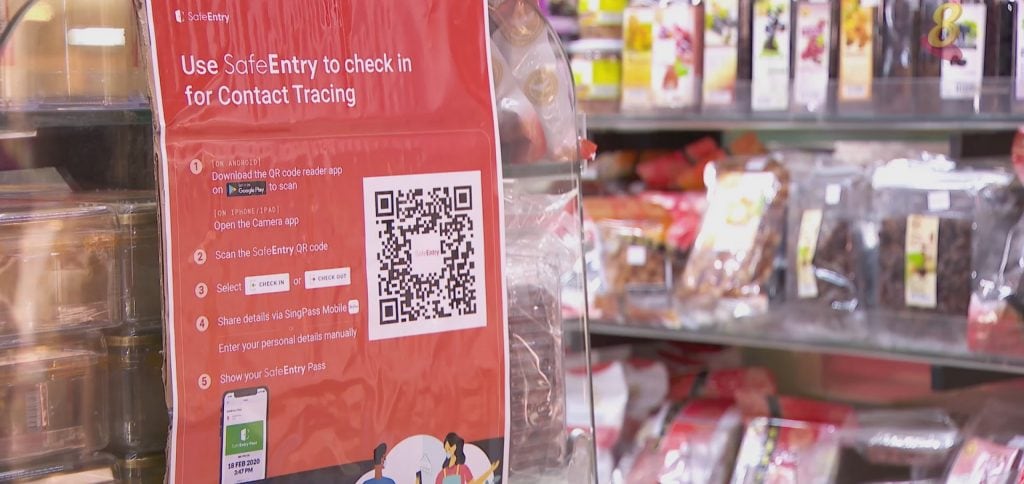 Most of us have probably gone through the process as visitors to essential services, such as supermarkets, clinics and F&B outlets.
Similarly, your staff have 2 options to check-in via SafeEntry: (1) provide their NRICs for scanning or (2) scan a QR code using their own mobile device – they can either authenticate their details through Singpass mobile, or manually enter their personal details (name, contact number and NRIC).
SafeEntry data is stored in cloud servers and this means only authorized government personnel have access to clock-in and clock-out timings recorded by SafeEntry, should contact tracing purposes arise.
This seems pretty simple. However, it is hard to ensure whether your staff have remembered to clock in, since this is a newly introduced measure. Some may also find the double clock-ins troublesome – first a company clock-in via punch card or biometrics, then a SafeEntry clock-in. Nonetheless, it's important to ensure your staff clock-in for SafeEntry to stay in compliance as a business. Find out more about a tool that combines both your regular clock-ins with SafeEntry here.
Hold up, did you say 12th May?
That's right! In fact, over the weekend prior to 12 May, there was a great surge in SafeEntry applications across Singapore. If you have yet to apply, you can choose to do so online for either SafeEntry NRIC or SafeEntry QR.
SafeEntry NRIC is suitable for business locations with high visitor and/or staff traffic. Businesses would need to staff entry and exit points with mobile devices or handheld barcode scanners to scan staff and visitors' NRIC to check-in; much like what we see at NTUC now.
Businesses are also encouraged to use the NRIC method if the majority of staff or visitors are less digitally savvy, carry older phone models and/or have little data connectivity.
For SafeEntry QR, businesses will have a unique QR code per location, to be printed and displayed prominently at entry and exit points. Staff will handle check-in themselves by scanning the QR code, making it comparatively hands-free for businesses. Detailed steps on how to set it up can be found here.
Wait… doesn't that mean even more steps for my staff and I?
Unfortunately, yes, if SafeEntry is separate from your current time and attendance tools. However, imagine a smooth workflow where your staff can clock in and out of work and swiftly wrap up with SafeEntry's process: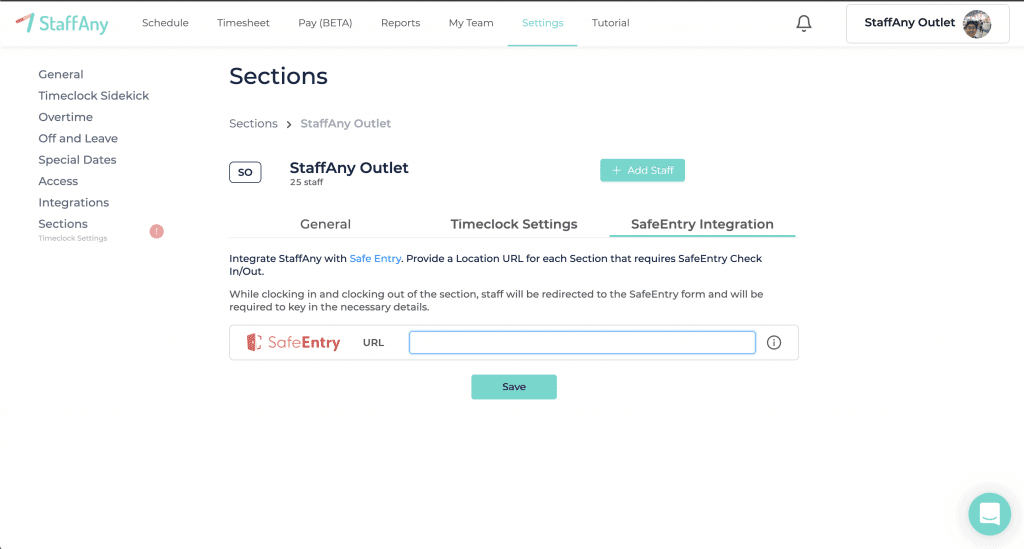 With the StaffAny <> SafeEntry integration, your staff will not forget to check-in to SafeEntry. In other words, this means that time and attendance management as well as compliance with SafeEntry are both settled at once. Our tool also helps with certain health checks and protocols such as temperature logging and health declarations.
As the month-end rolls by, your timesheets are consolidated. Payroll is ready for processing. You can sit back, not worry about falling out of compliance and let the automation work for you. It's always a safe entry with StaffAny!
TLDR: We're not out of the woods but we sure can make it out smarter