Whether you're an owner or a manager in restaurants or retail or anywhere in between where you have to schedule your employees, you know that keeping track of employee hours can be a real hassle. Not to mention, trying to schedule everyone for their shifts can feel like a full-time job in itself.
Thankfully, there are a lot of great employee scheduling apps out there that can take the hassle out of tracking hours and scheduling shifts. In this post, we'll take a look at 14 of the best apps for scheduling employees in the restaurant and retail industries, starting, of course, with StaffAny.
It's no secret that we built StaffAny (after all, you're reading this on the StaffAny website!). What you might not know is why we built StaffAny. Our Co-founder and CEO, Janson Seah, used to manage a bar way back in 2014, where he personally experienced how the tools that were available to him weren't the best way to manage shifts and hourly work. Together with his co-founders, he set out to build a scheduling tool that will end Excel hell, and help businesses gain back precious hours previously spent on managing timesheets and employee schedules.
So, What Is an Employee Scheduling App?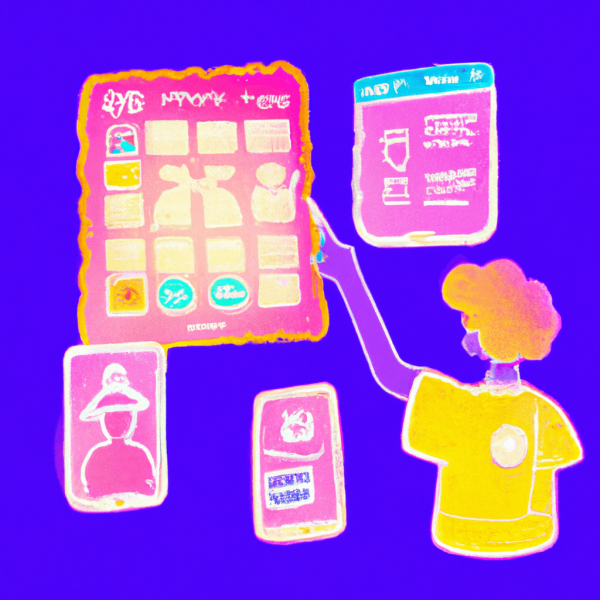 An Employee Scheduling App is a software that helps make employee scheduling and time tracking easy not just for businesses, but also for their employees as well.
Why Do You Need an Employee Scheduling App?
You need an employee scheduling app because it efficiently schedules employees days, weeks, and months in advance. With our app, StaffAny, you can create employee schedules, manage time off, and track employee availability.
How Can an Employee Scheduling App Help You Manage Your Restaurant or Retail Business?
Managing your staff can be difficult, but with the help of a good employee scheduling app, it can become a lot easier.
For starters, an app can help you create consistent schedules. This is important because it ensures that your employees know when they're working and helps to avoid any confusion.
An app can also help you manage employee shifts. This is helpful in ensuring that everyone gets the hours they need and that no one is overworked.
And finally, an app can help you keep track of employee availability. This way, you can easily see who is available to work and who is not.
Need Help Planning Your Roster?
Read More: 4 Factors to Consider When Planning Your Employee Roster
15 Best Employee Scheduling Apps for Restaurant and Retail Work
There are many employee scheduling software tools available, with different features to suit different needs, which means they're are great for scheduling hourly work. They're easy to use and offer a lot of features that will make your life easier.
If you're looking for an app that can help with tasks such as workforce management, timeclock, and shift scheduling, then take a look at some of the best employee scheduling apps of 2022.
1. StaffAny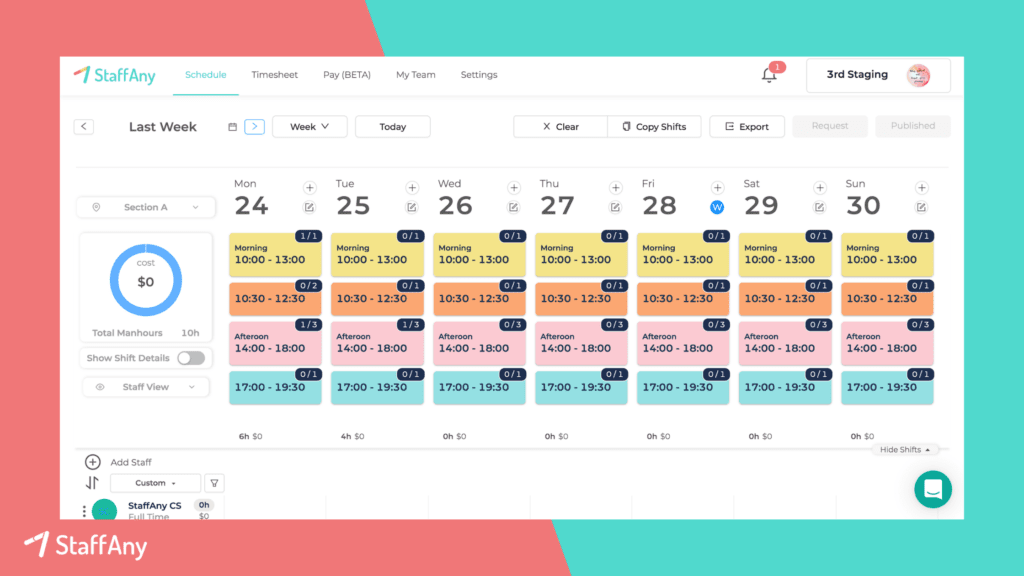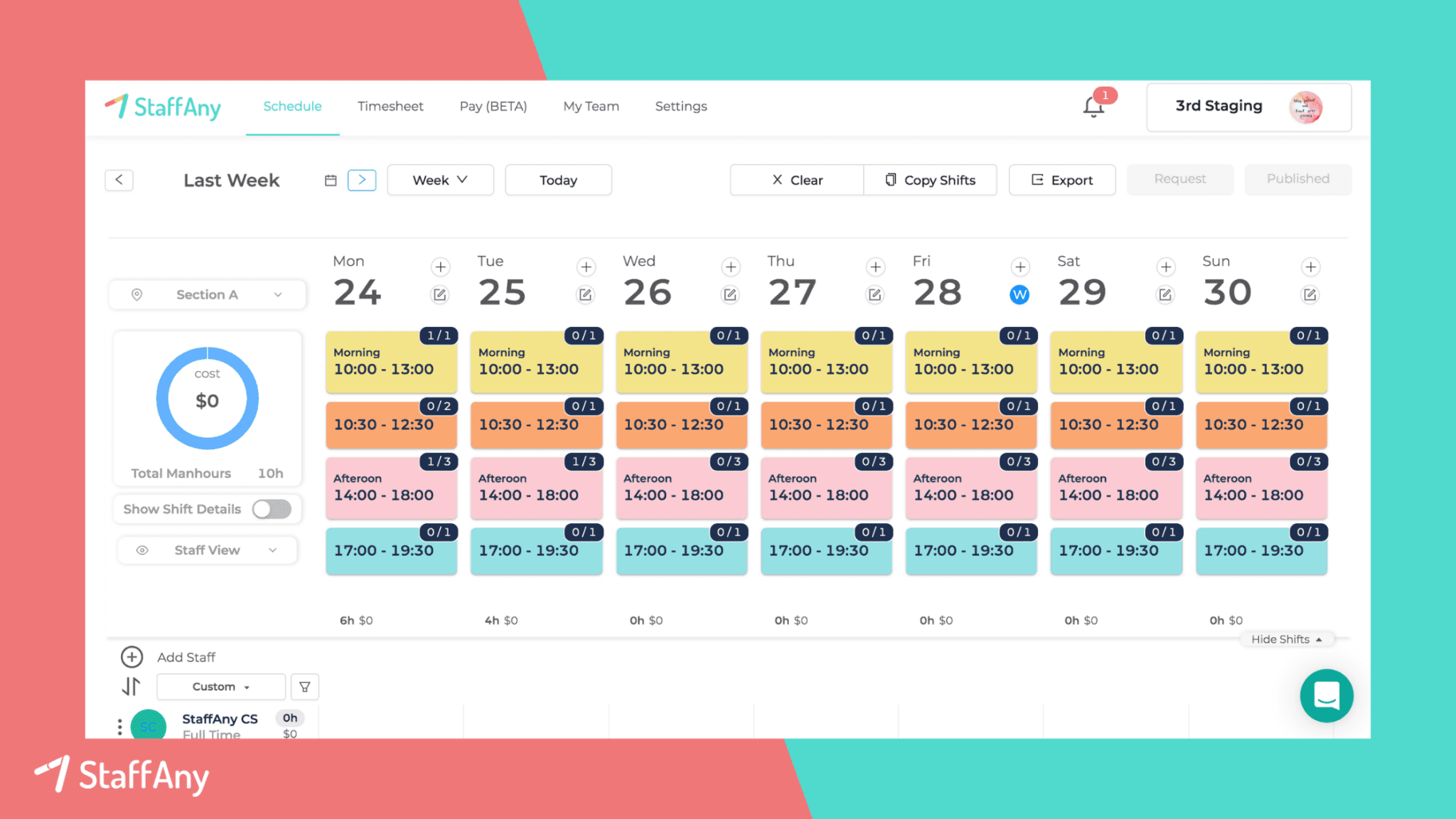 Obsessed About Our Customers
Let's start with us. At StaffAny, we're hyperlocal. As of the time of writing, we're in 3 markets: Singapore, Malaysia, and Indonesia. A lot of employee scheduling apps are based in the US or other countries, so even if their customer service is available during "business hours", those hours might not be when your business needs them the most.
We believe that a team that is proactive and can take charge of their work is the best team for you. We help your managers take time to be better leaders and make decisions while on the ground. Employees are also able to be notified before their shifts, get positive compliments, and feedback about their work.
All your employees need to do is simply scan a QR code to clock-in and clock-out. We're able to get geofence data and understand where your employees are located either through wifi or the GPS on their phones. With this Time Clock system, you're able to accurately track the work hours of your employees. Our Time Clock is also able to prevent early clock-in, and auto clock-out.
Our timesheets are smart, which means they're able to automatically consolidate any work data — including overtime calculations! Our Smart Timesheet will round out the hours worked so your budget is always kept in mind. If your business has multiple outlets, you're also able to see the details of all outlets in one place in order to calculate payroll.
More Features Include
2. Sling by Toast
Sling is an Employee Scheduling platform that allows you to build your schedules based in New York City.
Features Include:
Labour Cost Tracking
Task Management
Time Clock
3. TCP's Humanity
Humanity is a cloud-based employee shift scheduling platform headquartered in San Francisco.
Features Include:
Employee Scheduling
Time Clock
Payroll
Forecast
4. Connecteam
Connecteam is an employee management solution for your deskless workforce.
Features Include:
Employee scheduling
Employee time clock
Online timesheets
Quick task management
5. Deputy
The Deputy app is a great option for businesses in the restaurant and retail sectors. It allows employees to clock in and out from their smartphones, and managers can keep track of staff hours and overtime.
Features Include:
Employee rostering
Shift replacements & swapping
Leave & availability
6. Homebase
Homebase is an app that helps small businesses manage their work schedules, time clocks, payroll, HR, and more — so they can focus on their people.
Features Include:
Employee scheduling
Time tracking
Team messaging
7. Shiftboard
Shiftboard's focus is in Manufacturing, Energy, Healthcare, and Corrections. It supports industry-specific scenarios in its scheduling tool.
Features Include:
Employee Schedule
Agile Change Management
Labour Demand Planning
8. ShiftForce
ShiftForce is great for workforce management and shift work. Based in Kansas City, ShiftForce offers a task manager and a daily log on their platform.
Features Include:
Employee Scheduling
Manager Log Book
Task Management
9. WhenIWork
WhenIWork is a no-frills shift scheduling tool based in Minneapolis.
Features Include:
Employee Scheduling
Time Clock
Timesheets
10. Snap Schedule
Snap Schedule is ideal for businesses that need to create shift patterns for employees to help companies avoid scheduling mishaps.
Features Include:
Drag and Drop Scheduling
Schedule Plans
11. Shifts by Microsoft Teams
Focusing on frontline workers, Shifts by Microsoft Teams allows you to schedule workers, and manage your shifts.
Features Include:
Tracking Time and Attendance
Team Schedules
12. FindMyShift
FindMyShift is a staff rota software from the United Kingdom.
Features Include:
Employee Scheduling
Time and attendance
Reporting and Payroll
13. WhenToWork
WhenToWork is a software that allows you to manage and schedule employees.
Features Include:
Employee scheduling
Employee Time Preference
14. Harri
Built for the frontline and hospitality, Harri offers an employee experience platform to power guest experience.
Features Include:
Talent Acquisition
Scheduling
Biometric Time Clock
15. Coast
Coast makes your team more productive with scheduling and task tracking.
Features Include:
Work Orders Tracking
Team Communication
Scheduling
Pro Tips for Using Employee Scheduling Apps
There are a lot of employee scheduling apps out there, but which one is the best for your business?
Not sure where to start? Here are a few pro tips for using employee scheduling apps:
Make sure the app is all-in-one. This means that it has all the features you need, like time tracking, shift management, and communication tools.
Look for an app that has smart tools. This will help automate things like shift swaps and time tracking.
Choose an app with a user-friendly interface. You'll want an app that's easy to use so you can spend more time focusing on your business.
Find an app that's compatible with your devices. Make sure the app can be used on your computer, phone, and tablet.
Check out the customer reviews. This will give you a better idea of what to expect from the app and help you decide if it's the right fit for your business.
Employee Schedules Can Be Easy
Times have changed, and so have the ways we schedule our employees. No more Excel spreadsheets, Google Sheets, or WhatsApp groups!
There are now a plethora of employee scheduling apps out there that are designed specifically for hourly work in restaurants and retail. We've made a list of the best apps out there, so you can find the perfect one for your business.
It's no secret that we built StaffAny (after all, you're reading this on the StaffAny website!). We're immensely proud of the work that we do and the customers we serve. We're your always-on, always connected workforce management solution. Say goodbye to those outdated methods of scheduling!