According to Indeed, an attrition rate is a metric used to measure employees or customers lost over a period of time who are not replaced. The rate is shown as a percentage compared to the total workforce or customer base. Human resources employees often use an attrition rate to determine the number of vacant or eliminated positions.
Why Attrition Rate Matters?
A company's attrition rate can assist in identifying areas for improvement in order to keep productive personnel and grow their client base. Businesses can keep track of client retention, hiring costs, and employee longevity by knowing how to compute an attrition rate. Attrition rate is also known as churn rate.
There are various causes for the rising attrition rate. Resignation, promotion, termination, personal reasons, and retirement are a few of the frequent explanations. Above all, resignation is the most influential reason for the change in attrition rate.
Why Do Employees Leave Their Employers?
Still according to Indeed, one of the biggest causes of resignation is the desire to feel appreciated. It's challenging for employees to remain loyal to a firm or their employer if they don't offer adequate value.
So what actually happens at work, especially in our nation? We are all aware that keeping staff from resignation in Singapore is one of the biggest issues for businesses, especially food and beverage businesses.
Before we jump into further conclusions, let's first look at what the attrition rate is in Singapore and its neighbours.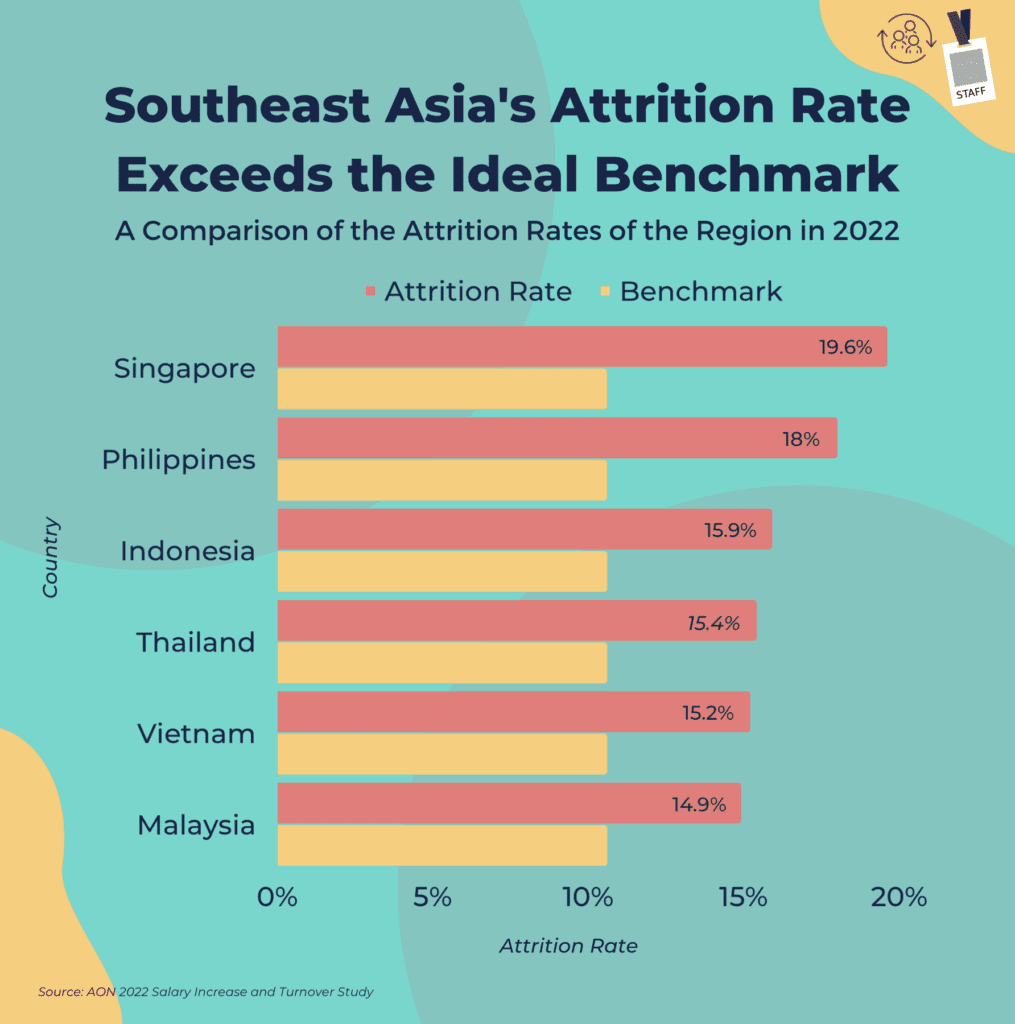 This attrition rate data refers to the third quarter of 2022, sourced from AON research.
From the data collected by AON on more than 700 companies in Indonesia, Malaysia, the Philippines, Singapore, Thailand, and Vietnam, it is revealed that our country has the highest attrition rate in the Southeast Asian region. The attrition rate in Singapore reached 19.6%. The Philippines followed Singapore's attrition rate with 18%. However, according to LinkedIn research, the ideal percentage of employees who leave is around 10% or below.
What Can We Draw From This Data?
It is true that it is quite challenging to make employees feel at home in Singapore. However, this high attrition rate does not mean doomsday for business owners. Attrition rates can be reduced with various approaches, including by providing more value to staff by offering the right compensation, benefits, support and employee resources.
Is your business struggling to accommodate employee compensation? EngageAny is ready to help you solve the problem. Learn more about EngageAny here.