It's getting harder to sustain a profitable F&B business. Consumers increasingly expect faster service and delivery times with more consistent dining experiences, and the stress of staying afloat in this industry can be overwhelming for many business owners. If you're an F&B business owner, something like this might have crossed your mind many times:
How to survive like that?
This is where technology can come in to increase efficiency, improve service delivery and enhance dining experiences.
In this article, we'll cover 4 areas where there has been major tech innovations that are currently shaping the future of the food and beverage industry. Some of these are quick solutions that you can quickly adopt in your business to increase efficiency and improve service delivery!
Cost-Cutting Technology
Restaurant Point of Sale (POS) Software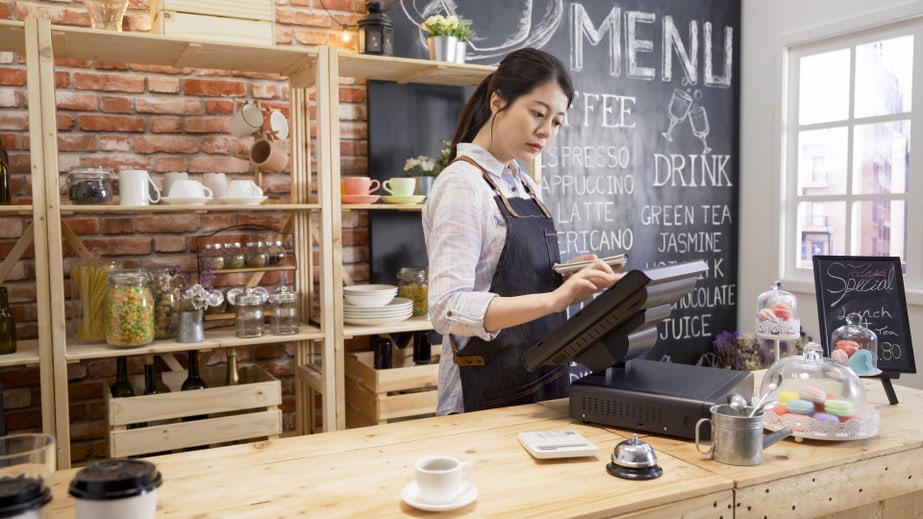 POS is one of the most common technologies used in restaurants, bars, and other establishments in the F&B sector. With POS systems and software, restaurants can take orders including online orders, deliveries and curbside, keep track of order changes, and track the completion of orders. It also has inventory management and customer database management capabilities.
Many people are familiar with on-premise or traditional POS systems, which runs on an internal network and may use bulky and stationary terminals. One benefit of advanced cloud-based POS systems is that you can carry mobile tablets around instead of having to install a terminal. Your waiter or waitress can send orders directly to the kitchen, instead of writing it down on a notepad and then having to key in orders at the terminal.
No more apologising to upset customers over wrong or forgotten orders!
The data is also accessible anywhere you have an Internet connection, and you can store a lot more data and you can check your data in real-time. You can also install iPads at every terminal so customers can order themselves – no more frantic waving to catch the attention of a waiter or waitress during peak hours!
A cloud POS solution often has a monthly charge of about $50-$100 per month and perhaps a one-time charge for iPads – which can be much cheaper than the hefty $3500 it can cost you to install a traditional POS terminal and extra charges for installation, training and tech support. Previously, food and beverage establishments like restaurants may have had to use different software and tools to achieve all of the functionality of a POS software, creating issues when data is not updated for certain software. An all-in-one solution like POS software makes it much easier for different teams and ground-level staff to coordinate and work efficiently.
Workforce Scheduling and Management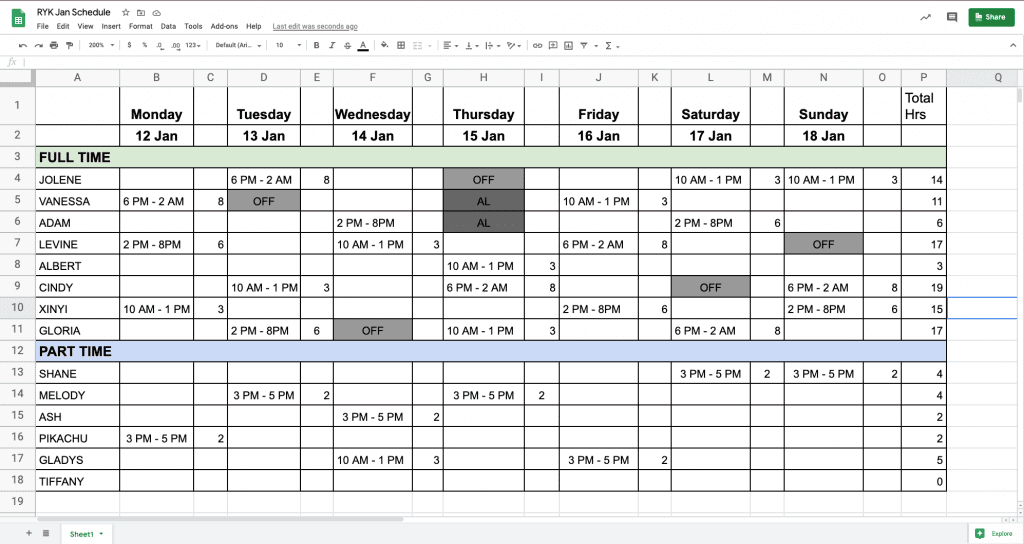 Proper employee scheduling is a core skill required for supervisors and managers in this industry. Unorganized workforce scheduling and management can cause employees to feel frustrated and can kill productivity.
Can you imagine an employee that always has to be called in last minute because there aren't enough people on the shift, or not having enough people scheduled during peak hours so everyone is stressed and rushing around? They might not be very happy, and unhappy staff leads to high turnover ☹.
Fortunately, F&B business owners and managers can use StaffAny, a mobile app that allows you to track employee hours, schedule tasks, automate timesheets, and manage leave applications.
It has been estimated that businesses that implement a solution to manage their workforce including scheduling can expect 6-10% cost savings on average. StaffAny has also joined forces with top HR SaaS companies such as Payboy, Talenox, and HREasily to help managers with coordinating employee profiles and transmitting data such as work hours recorded on the app to the HR SaaS software that you are using. With a much simpler process, you can manage payroll easily and conveniently.
StaffAny is also looking to integrate with top POS software companies like Reach POS to transfer sales data from this POS software to the StaffAny mobile app to enable clients to become even more efficient.
Invoice Management
Everyone knows cash flow is king for a business – and without a proper technology system to monitor operational costs, or to understand the biggest contributors to operating expenses and the reasons for any cost fluctuations, it can be difficult for owners to streamline costs.
You can optimize your invoice management with one of StaffAny's trusted partners, FoodRazor. It is a system that performs invoice management, purchase order management, and cost tracking. One of the most popular features is the ability to get notifications about price changes based on invoices uploaded and get real-time reports so you can take action immediately.
Staff Service Tools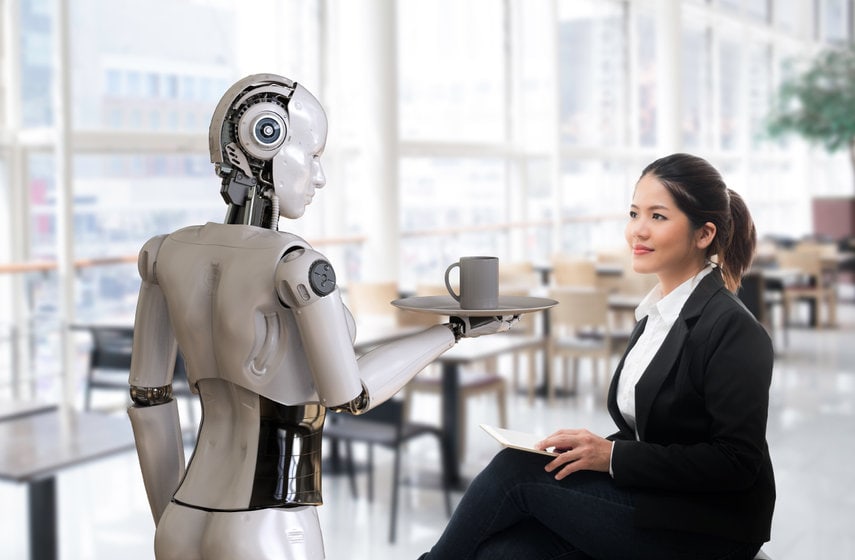 Highly rated service and good customer satisfaction are essential to keep consumers coming back and gather good reviews. One piece of technology that has been increasingly used to help food and beverage industries manage this is robotics. Brands like the Hai Di Lao food chain are already using autonomous robots to enhance customer service. You might not offer manicures or free-flow snacks to waiting customers, but customers will definitely appreciate avoiding the struggle of finding an available waiter or waitress and long waits to get what they need.
Robots provide automation benefits such as increasing kitchen efficiency and can perform essential customer service tasks like serving foods and distributing menus. You never have to struggle with finding enough front-line service employees, hiring them, or training them. Koufu is currently using smart tray-return robots to tackle the issue of few patrons returning their trays and reducing the cleaners' workload.
An ingenious way to clear tables quickly and get customers seated faster!
Menus have also been transformed by new technology. One key adaptation during COVID-19 was the introduction of electronic menus that are now readily accessible on tablets. In many F&B establishments now, a consumer only needs to scan a QR code to access these online menus and can order without having to call for a waiter. Businesses could also save resources that would otherwise be used to print numerous menus.
Food Management
Food Preparation Robots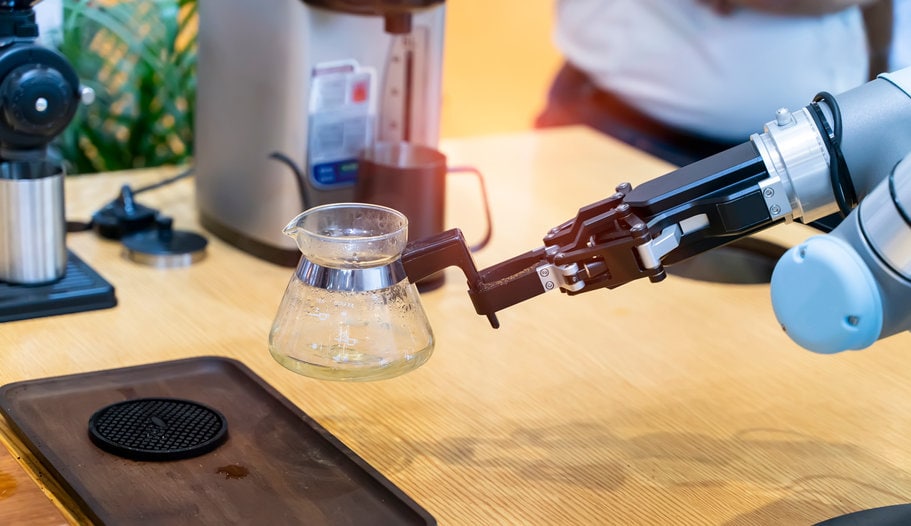 You might know how it feels like to return to a place where you enjoyed an amazingly delicious dish, and then have it taste disappointingly normal the next time around.
This is where robots come in! Robots are now being used to prepare food because they deliver more consistent output as opposed to human chefs.
Tech startup Epic Food and Beverage launched the first robotic-concept restaurant "Hawkee" in January 2019. It had a fully automated system from ordering to food preparation and food production, while the robot chef D.I.A.N.A. could prepare dishes in less than four minutes!
One point that greatly impressed customers was the ability of DI.A.N.A. to prepare tzi char dishes that retained the signature wok hei fragrance that Singaporeans love. More brands are following suit with robots that can make coffee precisely and whip up delicious egg dishes.
Unlike a skilled human chef who must be hired and trained, installing a food preparation robot is much easier. The best part is that robots can cook food of the exact same flavour and quality every single time. Customers never have to complain about the chef for that day and food production managers can maintain quality control.
Food Waste Management
Food waste is, unfortunately, an issue for most developed countries. More businesses are using technology to provide solutions. For example, we are getting better at recycling and treating food waste, such as installing on-site food waste facilities at certain schools, hotels and shopping centers to decompose food waste into high-quality compost.
Even hawker centres are getting in on the action as these systems have already been set up in seven centres as a pilot experiment. The data gathered will help us to pinpoint more centres that can benefit from food waste management facilities.
Revenue Maximising Technology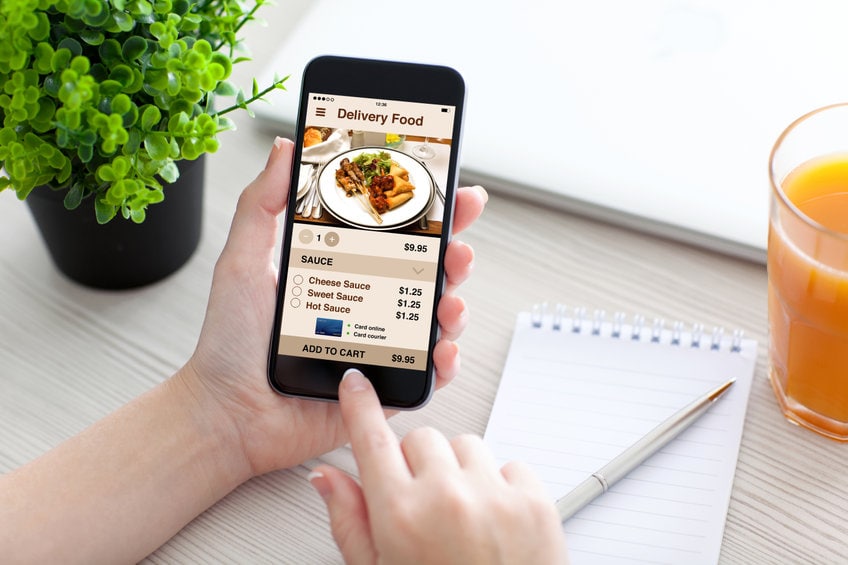 Food delivery apps such as Deliveroo, FoodPanda and GrabFood, along with restaurant reservation-focused apps such as Eatigo and Chope, are becoming more and more popular. These platforms allow restaurants to sell food to consumers who are far from their physical location. This trend has significant benefits for both startups, established businesses and chain restaurants in the F&B industry.
A consumer who might be unaware of your offerings may learn about your business via the app, order your food to try, and eventually become a regular customer. There is an increased demand for delivery services in the market and by being on the apps, you can increase awareness of your business!
Moreover, these technology apps sometimes offer discounts and other deals to their customers that they promote using their own advertising spend on multiple marketing channels, while F&B establishments reap the benefits.
Ushering In The New Era Of Change
A wave of technological change is sweeping the food and beverage industry. F&B owners who adopt new technologies quickly in response to market forces and trends, and leverage on them well, can quickly derive efficiency benefits and improved customer service.
This doesn't mean, however, that F&B owners can take their focus away from the core elements of providing good food and service. Robot servers and advanced POS solutions can't save a business that struggles with dish quality and poor service. Future technology simply builds on what businesses already have to improve consistency and efficiency in their processes.
Still using traditional methods to track times, create timesheets and schedule employees? Speak to us at to find out how you can improve efficiency with new technology!