FREE SINGAPORE PAYSLIP TEMPLATE WITH MOM OT, CPF & SDL CALCULATION
Manage Your Company's Payslip Seamlessly and Efficiently
during Payroll
Hassle-free payroll at your fingertips. Automatically generate a payslip template for your salaried or hourly staff on payday and instantly email them with basic information, salary and hours worked!
Direct Export from
StaffAny's Timesheet
Hi StaffAny users! Allow us to introduce a quicker and easier way to transfer your staff information and worked hours into a payslip table, with a click of a button.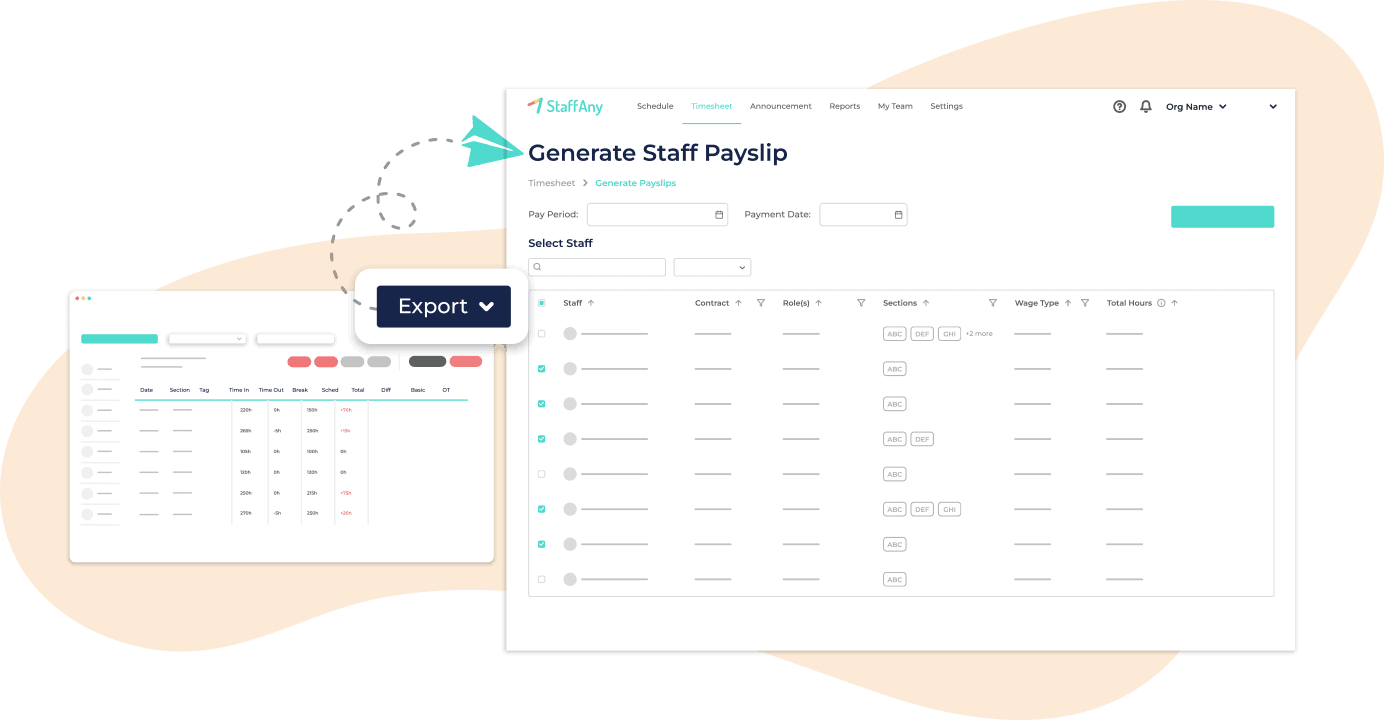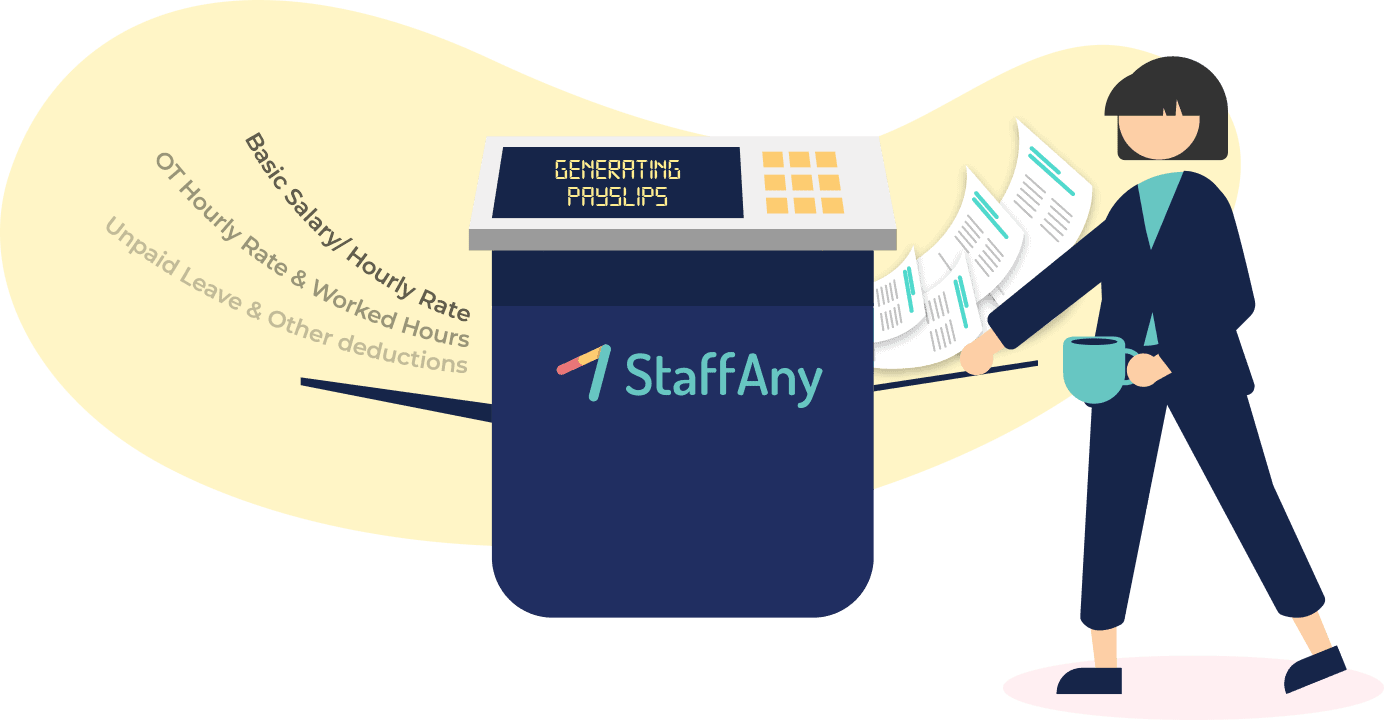 Efficient Payslip Consolidation
Save your precious time in managing staff payroll.


Contains CPF contribution calculator, automated MOM OT Calculation, and SDL calculator.


Download staff payroll information as CSV for bookkeeping.
Distribute Payslip with Ease
Send payslips to all staff personally via email.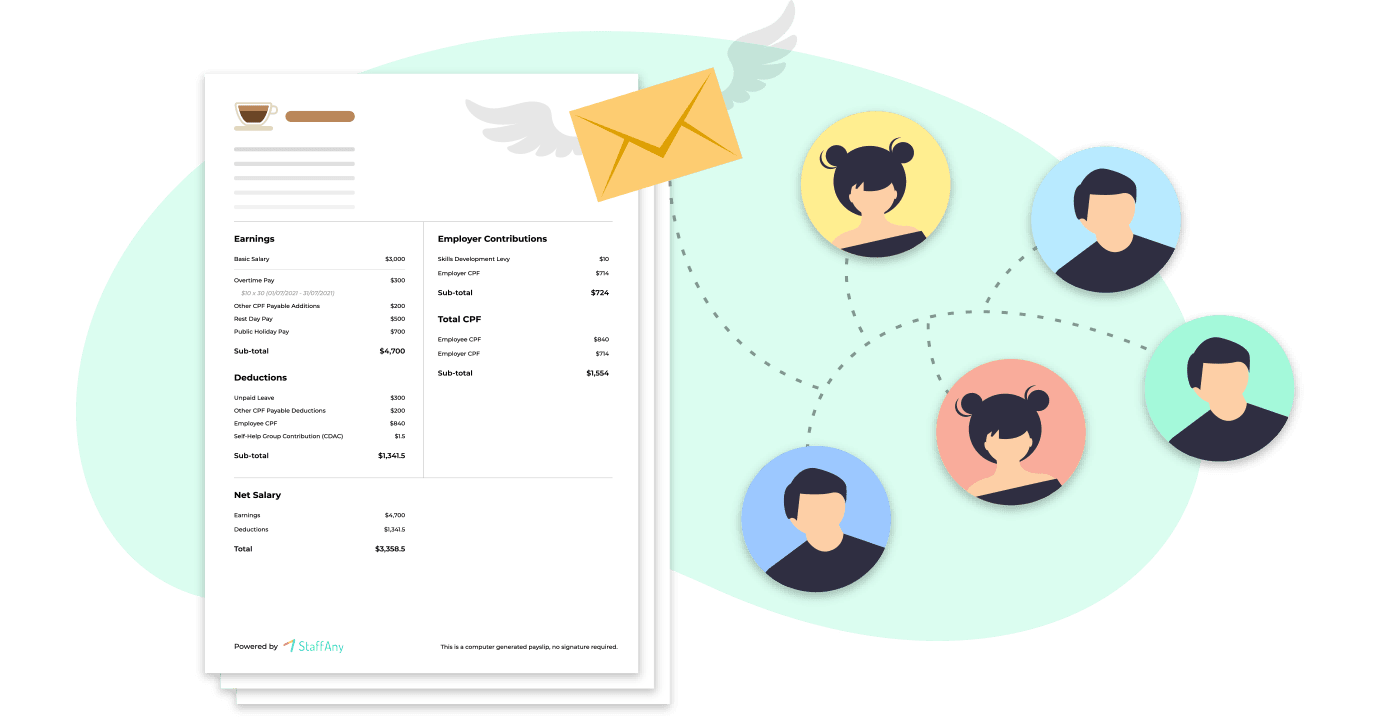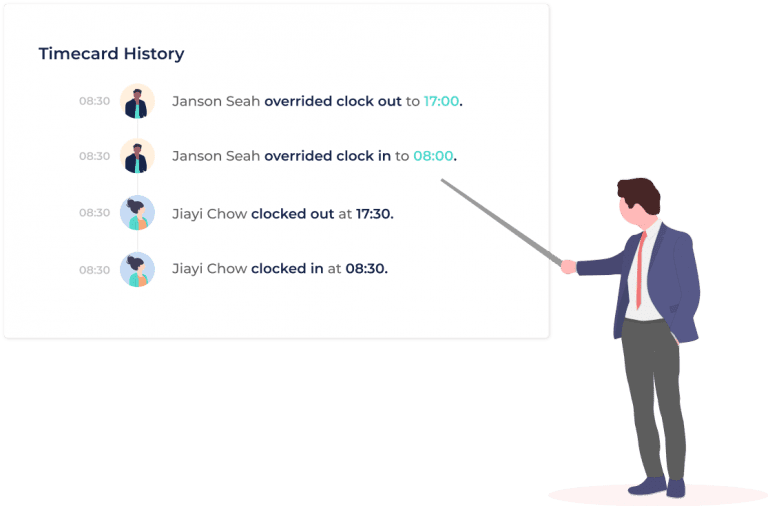 Get Traceability When You Go Back In Time
Because Accuracy is key for HR
We're all for transparency – all edits made are logged in an audit trail, so you know what happened at that point in time.
We use StaffAny because it gives us a better overview of what's going on, in real time! This allows us to better plan and adjust multibranch operations seamlessly.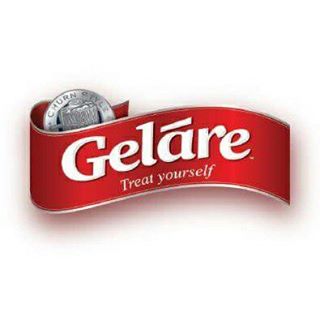 Edmund, Ops Development Manager
Gelare Ice Cream
Get things done without comprimising accuracy and speed!
Frequently Asked Questions
A payslip is a one-page document given to staff at the end of each week or month, stating the amount of money earned and tax deduction.
HR managers and business owners in Singapore who manage staff's monthly payslips.
StaffAny provides scheduling, timetracking, timesheet and payslip. After you manage the scheduling. Employees can clocking in time and monitor the timesheet. On payroll period, push the timesheet data to our software payroll and generate the payslip template seamlessly to the employees.
An online payslip system can automate the complete calculation process. Meaning payslips can be processed seamlessly, accurately, and on time, no matter where your staff works from.
Payslip systems are often integrated with HR software, so yours should incorporate attendance, leave, and other timesheet data required for automated calculation.