The First Labor Cost Projection Template For Progressive Wage Model by StaffAny
Use our Template for Progressive Wage Model (PWM) – The first of its kind in Singapore to easily calculate and project your labor costs and how it affects your company revenue in advance, so you can be ready when the Progressive Wage Model (PWM) rollout begins in March 2023.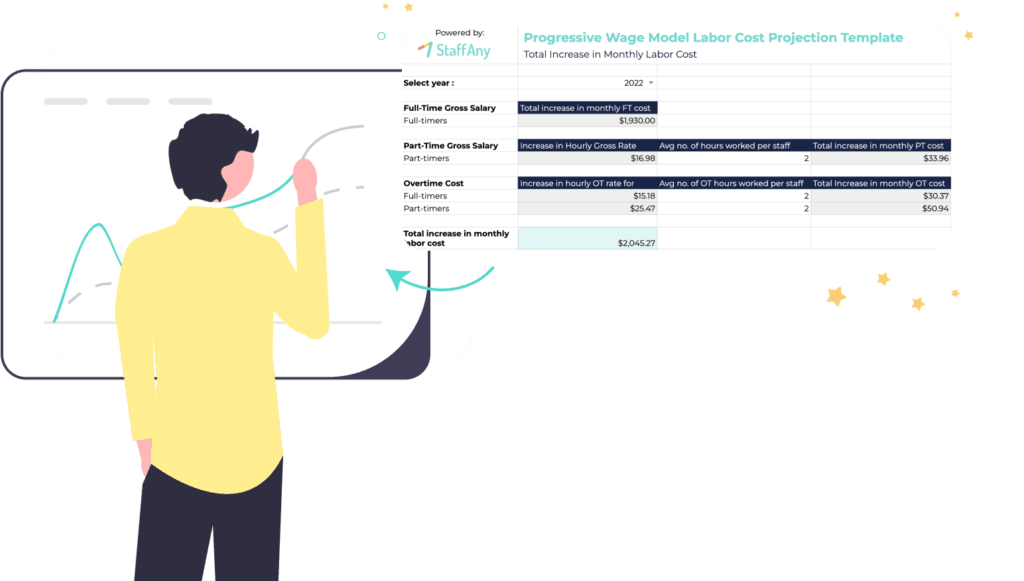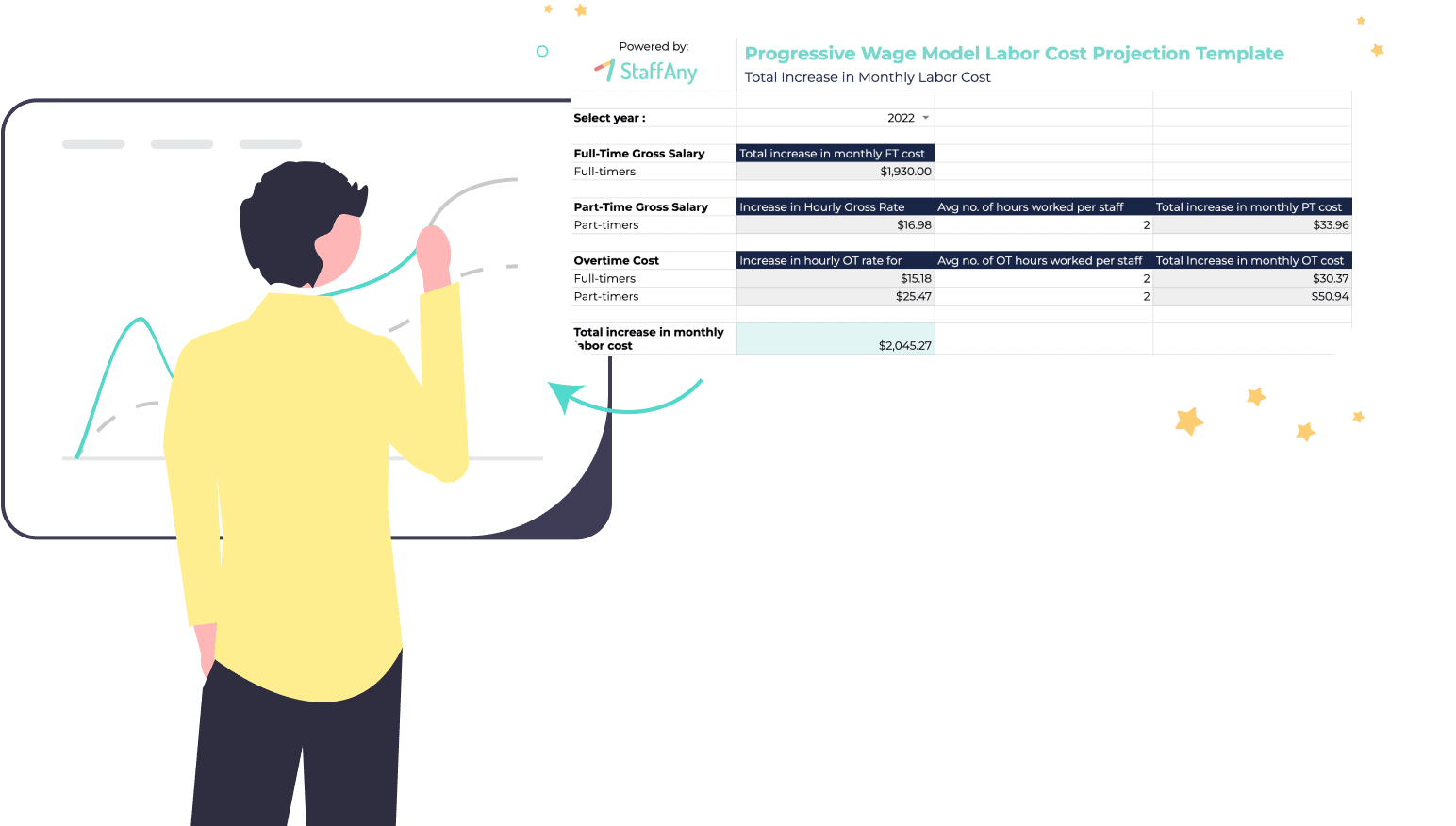 How Can Our Template Help You?
1. Set your operational strategies faster than other businesses.
2. Get a head start in manpower planning and costing with Singapore's first PWM labor cost template. Download the Template Today!
Find it beneficial? Share it with others and show them how to anticipate differences in labor costs in the future.
Did you know?

StaffAny has helped companies across multiple countries in several other ways.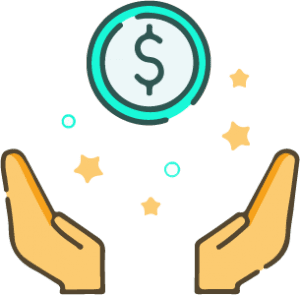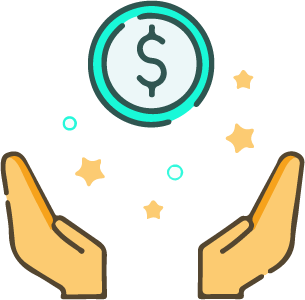 Up to $24K annual labor cost savings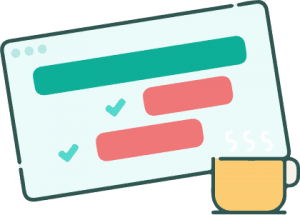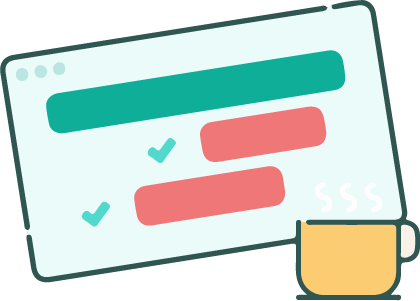 50% faster timesheet consolidation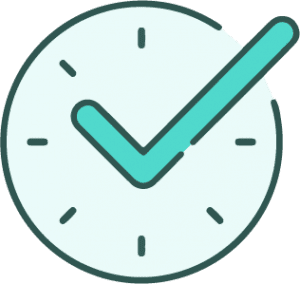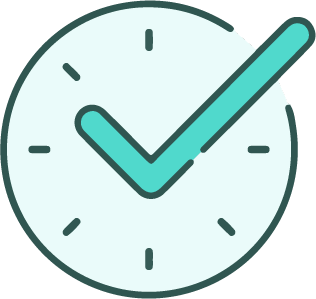 30-40% decrease in staff lateness
For Owner/ HRs Who Want Better Cost Control
Our labor cost calculator automatically updates you on weekly labor costs based on your schedule. Take control of your labor costs to optimize and achieve your target manpower budget. Lower your operating cost to increase your take-home profits. Save as much as up to $24K annually.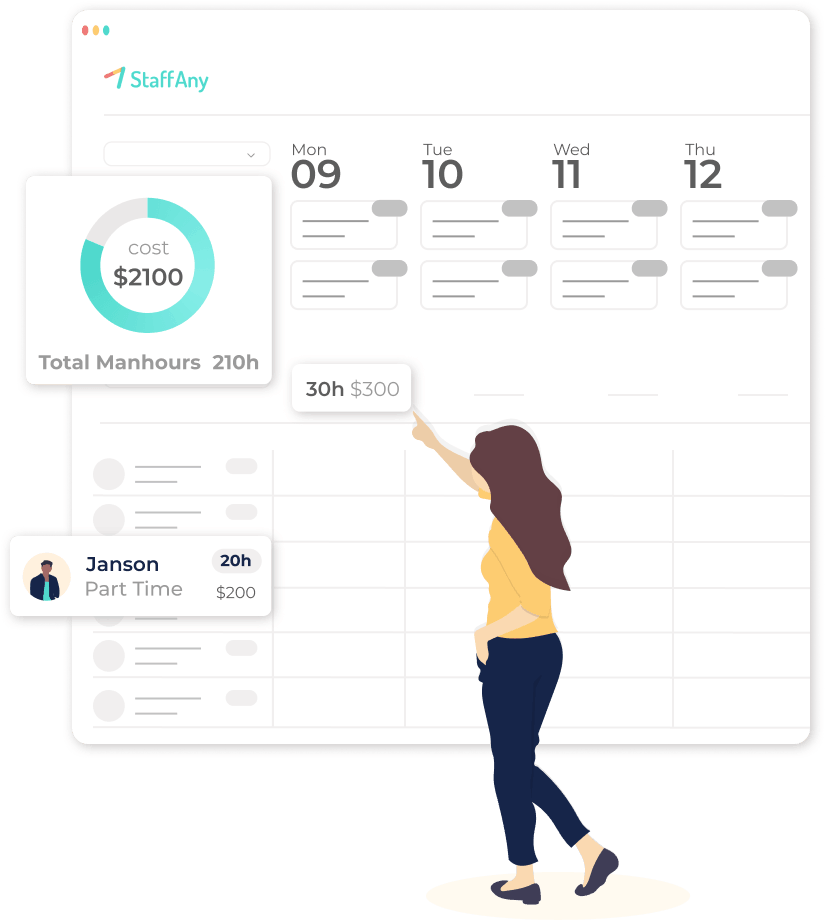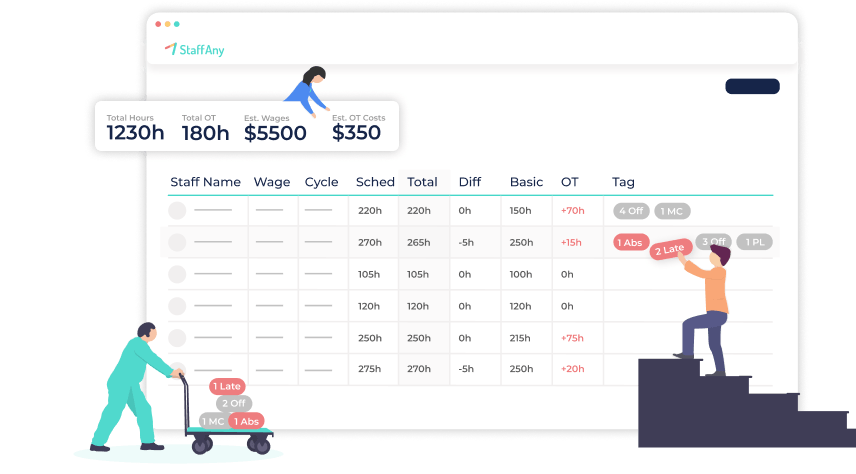 Modern Time and Attendance software with features that empowers you with real-time visibility and decision-making abilities, resulting in efficiency, cost savings and faster timesheet consolidation, as much as 50% faster.
More Punctuality, Increasing Efficiency and Better Control
Our time clock sidekick automates rounding, early clock-in prevention, late and overtime prevention, and auto clock-out to help control your budgeted costs. Decreases staff lateness by 30%-50%.
Frequently Asked Questions
The PWM requirements cover all Singapore citizens and permanent residents who are:
1. Full-time or part-time employees in Food Service job roles on a contract of service, and
2. Employed by firms which hire foreign workers, regardless of whether the firm is classified under the Food and Beverage Singapore Standard Industrial Classification (SSIC) or another SSIC.
3. PWM will cover job roles such as Food Preparation and Wait Staff, Cook/ Senior Cook and Team Leader/ Assistant Supervisor/ Supervisor. There will also be minimum employee training requirements, such as Food Hygiene certification.
From 1 March 2023, employers must meet the PWM requirements to renew or apply for new work passes.
You can choose one or the other, but they have differing pros and cons.
For example, an increase in staff's base wage leads to a corresponding increase in the overtime rate of each employee and the employer's CPF, which results in higher costs. However, the base wage remains competitive in the industry, which will benefit your company in the long run.
On the other hand, if you decide to increase your employee allowance, you will incur lower short-term costs. However, your company will suffer compared to others offering attractive long-term pay.