Need Other Resources Besides JustLogin?
StaffAny helps businesses in the shift-work industry manage their workforce with ease: plan schedules, manage timesheets, communicate easily. With the many features it offers, StaffAny is the best JustLogin alternative on the market.
Although both JustLogin and StaffAny facilitate payroll and online leave application management, there are a number of significant differences between these two. Here's a list of the top reasons why you should consider StaffAny as an enhancement of JustLogin.
StaffAny Creates Work Shifts Quickly and Simply
StaffAny makes the process much quicker and effortless with advanced features such as Real-Time Staff Availabilities. To make a schedule, simply click on the Shift and assign the relevant staff. To reduce misplanning, the software allows you to visualize employee schedules across multiple branches in a single view and quickly identify conflicting work schedules. Say goodbye to scheduling errors and manual timesheet syncing.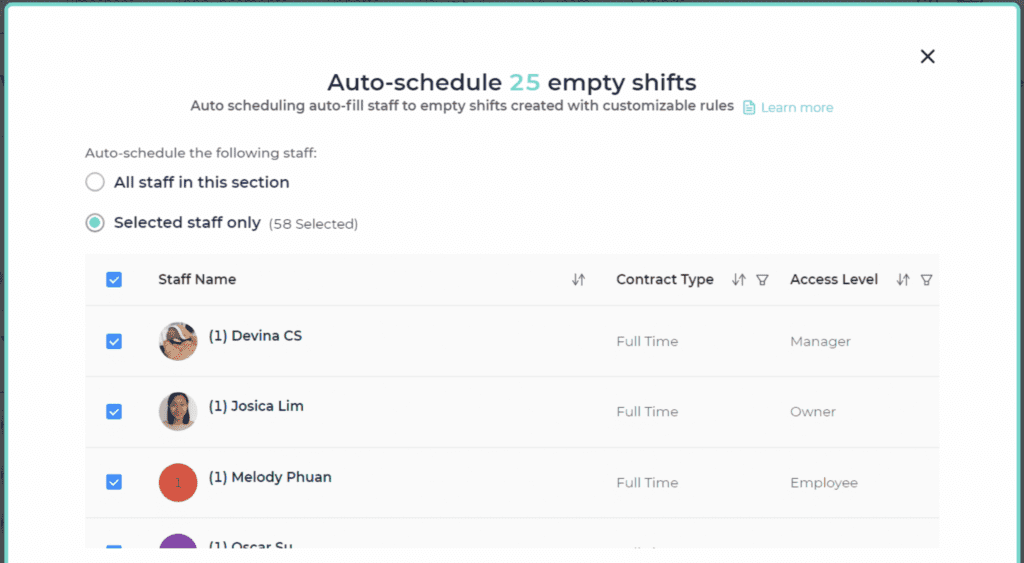 Cloud Clock-In Technology
It allows employees to clock-in from their mobile devices. No hardware or expensive setup fees required. Additionally, businesses with multiple branches can have advantages, especially when employees need to travel between locations. This cloud clock-in technology saves time and complexity in consolidating work hours. Moreover, the platform offers multiple secure methods for clocking, such as QR time clock, GPS time clock, WiFi time clock, etc.
Automated Timesheet Consolidation
Paying shift workers is quite difficult as you need to ensure the calculation of their shifts. Paying full-time workers and shift workers with different pay rates between hourly, daily, weekly, or monthly rates is even more complicated. When it comes to payday, this can cause headaches for those needing to process payroll. With the Automated Timesheet Consolidation, the software automates overtime calculations, work performance, and any discrepancies so you can save a lot of time and worry-free for small business owners and HR administrators.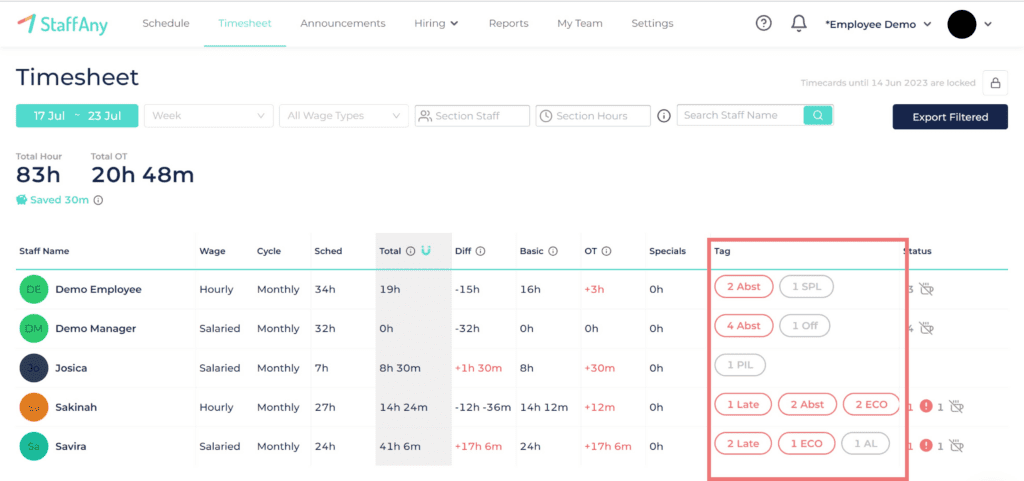 See How JustLogin Compares to StaffAny
| Feature | StaffAny | JustLogin |
| --- | --- | --- |
| | | |
| | | |
| | | |
| | | |
| | | |
| | | |
| | | |
| | | |
| | | |
| | | |
| | Free, or start from SGD89/month | Subject to number of software |
Restaurants and Retailers
StaffAny - Made for the Shift Work Industry